Hamilton: The Man Behind the Musical
Alexander Hamilton's legacy has recently caught the public's imagination through the hit Broadway musical "Hamilton." The Founding Father's unique life and brilliant mind inspired everything from the ratification of the Constitution to one of the most famous duels in U.S. history.
As part of its annual celebration of Constitution Day, Millikin University's Department of History and Political Science hosted an event in Shilling Hall on Sept. 20 to discuss Hamilton's life as well as the most influential document in American history: the United States Constitution.
Dr. Dan Monroe, associate professor of history, and Amber Lusvardi, lecturer of political science, shared Hamilton's biographical timeline with an audience of Millikin students, faculty and community members.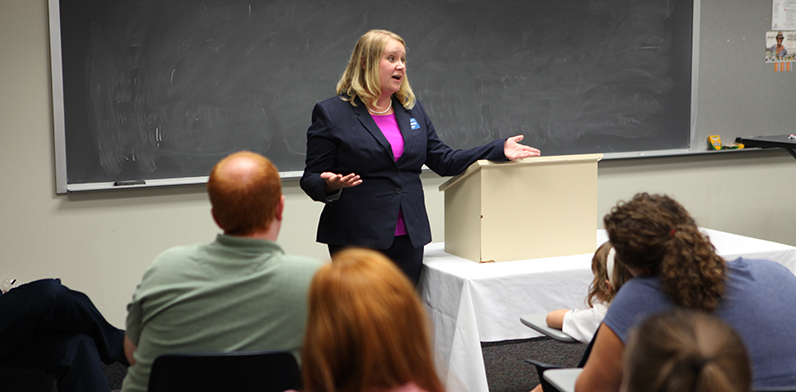 "I love that there is a popular Broadway musical that gets an entire generation of people interested in one of our Founding Fathers," Lusvardi said. "Dr. Dan Monroe and I decided to narrow our discussion down to a few things that we thought Hamilton exemplified – the American dream, his involvement with the Constitution and the dark side of politics."
Hamilton came to America alone at the age of 15, fought at President George Washington's side during the Revolution and saved the fledgling United States from financial ruin. A major author of the Federalist papers, Hamilton was also the United States' first secretary of the Treasury.
Lusvardi opened the discussion sharing moments from Hamilton's early life as Monroe offered insight into Hamilton's political background.
"Hamilton is a man of great intellectual gifts," Monroe says. "He had a belief in a strong central government and favored closer relations with Britain. He believed that most people's principal motivations were their own self-interest."
As the nation's first Treasury secretary, Hamilton crafted a monetary policy that undoubtedly saved the nation from ruin. Among the features of the Hamilton plan were the payment of federal war bonds, the assumption of state debts by the federal government and the creation of a mechanism for collecting taxes.
During his tenure as Treasury secretary, Hamilton clashed repeatedly with another cabinet member, Thomas Jefferson.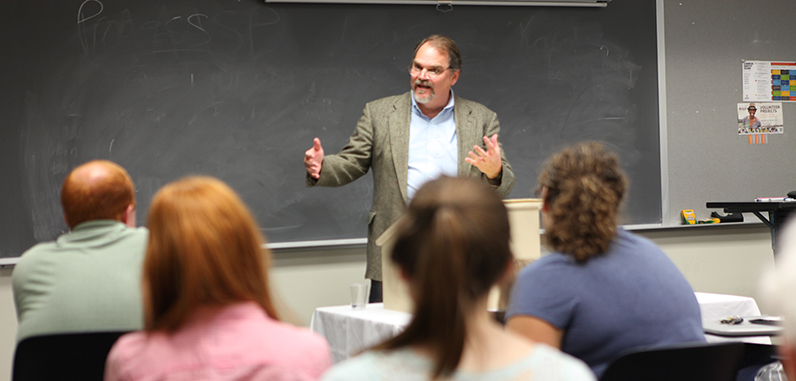 "Hamilton felt that the federal government should be constantly concerned with economic growth," Monroe said. "Hamilton also felt that the federal government should pay interest on any kind of debt or bonds during the Revolutionary War because that would then latch the rich or well-born to the support of the government."
Lusvardi concluded the discussion by setting the stage for Hamilton's duel with Aaron Burr. Burr ran independently for the New York governorship in 1804, but lost. Burr then read in a newspaper that Hamilton had called Burr "the most unfit and dangerous man of the community." Convinced that Hamilton had ruined the election for him, Burr demanded an explanation. Hamilton refused to comply and Burr challenged Hamilton to a duel.
The duel was held on July 11, 1804 in Weehawken, N.J. After both men drew their guns and shot, Hamilton was fatally wounded, but Hamilton's bullet missed Burr. Hamilton was brought back to New York City where he died the next day on July 12, 1804.
Monroe noted, "Hamilton's opinions are very advanced for its time. If Hamilton had been absent I don't think the country would have gotten off to as good of a start as it did. He was an administrative genius and we owe him a great debt of gratitude."
View Coverage