"He will bring excitement, energy and fun to the program."
Millikin University Athletic Director Dr. Craig White announced on Dec. 9 that Carlton Hall has been named the Big Blue's new Head Football Coach. Hall, Millikin's Defensive Coordinator for the last two years, takes over the position effective immediately.
"Carlton Hall is a person who builds relationships," said White. "He has a presence and can connect with people. His football background is extensive, and he will use this knowledge to teach the young men at Millikin the game of football. I expect him to have great success in the coming years, and I very much look forward to working with him."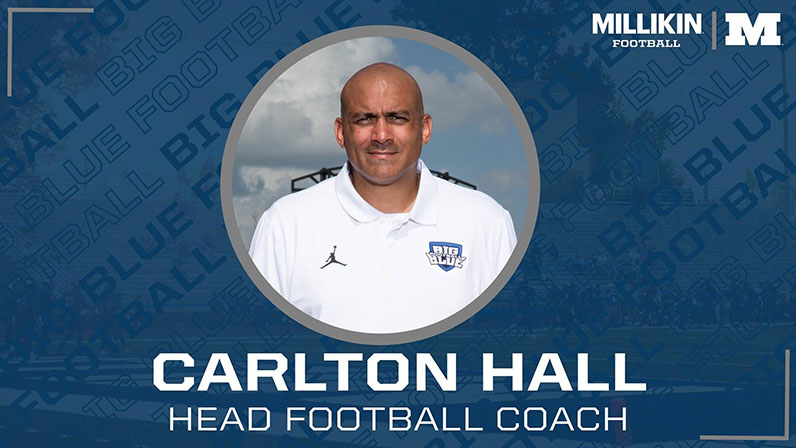 Hall noted, "This is an incredibly special opportunity. First of all, I would like to thank President Reynolds, Dr. Craig White and the Board of Trustees, for having the faith and confidence to hire me as the 25th Head Football Coach at Millikin University."
"This is a truly great day for Millikin football—for our program, our current players, former players, recruits and fans. It is my honor to be the head football coach at Millikin and it will be our duty to create and generate relationships that will not only last for the next two, three or four years with our players, but for the next 40 or 50 years," said Hall.
Hall joined the Millikin staff back in April 2020 directing the Big Blue defense and coaching the linebackers. Hall has over 16 years of collegiate coaching experience.
Prior to coming to Millikin, Hall spent three seasons at Southern Oregon University as Linebackers Coach. While there he coached five All-Conference First Team linebackers. Hall was part of a staff that led Southern Oregon to a 12-1 record in 2017 and to two of the best defensive seasons (2017 and 2018) statistically in school history. Hall's coaching highlights include stops at Williams College, Yale University, the University of Houston and Harvard University. Hall spent four seasons as the defensive line coach at Harvard and helped lead the team to two Ivy League Championships. While at Harvard, he coached 17 All-Ivy players and two players who went on to play in the National Football League.
"I want to make sure our student-athletes have a well-rounded experience while in college," said Hall. "Our main goal, going forward, will be to assist and support our current student-athletes in all their endeavors. Not just on the field, but off the field as well."
Hall played collegiately at Vanderbilt University where he was a three-year starter at linebacker. He was voted All-SEC and selected for the East-West Shrine All-Star Game. Hall led the Southeastern Conference in tackles with 97. Hall signed a free agent contract with the San Diego Chargers in 1998.
Hall earned a Bachelor of Science in Human & Organizational Development and Psychology at Vanderbilt University.
What others are saying about Coach Hall:
"I was thrilled to hear that Carlton will be the head coach at Millikin University. He will bring excitement, energy and fun to the program. His vast football knowledge, experiences and great work ethic will be great for the program and players. He will do a great job developing the players on and off the field."
Aaron Kelton, Cornerbacks Coach/Recruiting Coordinator-Howard University
"Carlton Hall is going to be a wonderful leader for Millikin University. He is an uncommonly bright person with common sense to match. Carlton works hard on relationship-building with players and coaches. Leadership, which comes naturally to Carlton, coupled with a strong work ethic to get the details of the X's and O's and techniques right will make him successful at Millikin."
John Shoop, former Chicago Bears Offensive Coordinator