Millikin theatre students use crosswalk musical to promote production
You could say the issues that are portrayed in "Hair, The Musical" are still relevant in today's society. Those issues will be brought to the stage April 11-14 as Millikin University's School of Theatre and Dance will present the production of "Hair, The Musical" at Albert Taylor Theatre inside Shilling Hall on Millikin's campus.
"Hair" follows a group of politically active, long-haired hippies of the "Age of Aquarius" living in New York City and in the shadow of the Vietnam War. The group challenges the government's role in drafting their friend into service while exploring their right to live in a world of peace, joy and free love.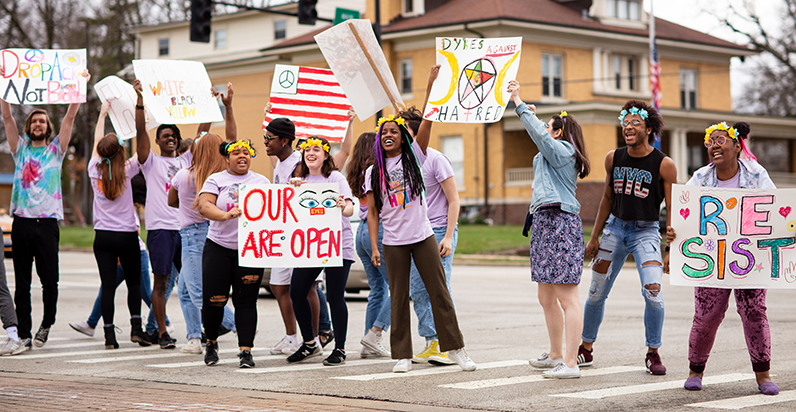 Ultimately, the main character must decide whether to resist the draft as his friends have done, or to succumb to the pressures of his parents to serve in Vietnam, compromising his principles and risking his life.
"Hair" book and lyrics were written by Gerome Ragni and James Rado, with music produced by Galt MacDermot. After an off-Broadway debut on Oct. 17, 1967, the show opened on Broadway in April 1968 and ran for 1,750 performances. Numerous productions have been staged around the world, spawning dozens of recordings of the musical. A Broadway revival opened in 2009, earning strong reviews and winning the Tony Award and Drama Desk Award for Best Revival of a Musical.
Millikin student Cydney Washington, a first-year student from Montgomery, Ill., is among the 18-member cast. "We all have good parts. We are all the focal point," she said in a recent interview with the Herald & Review.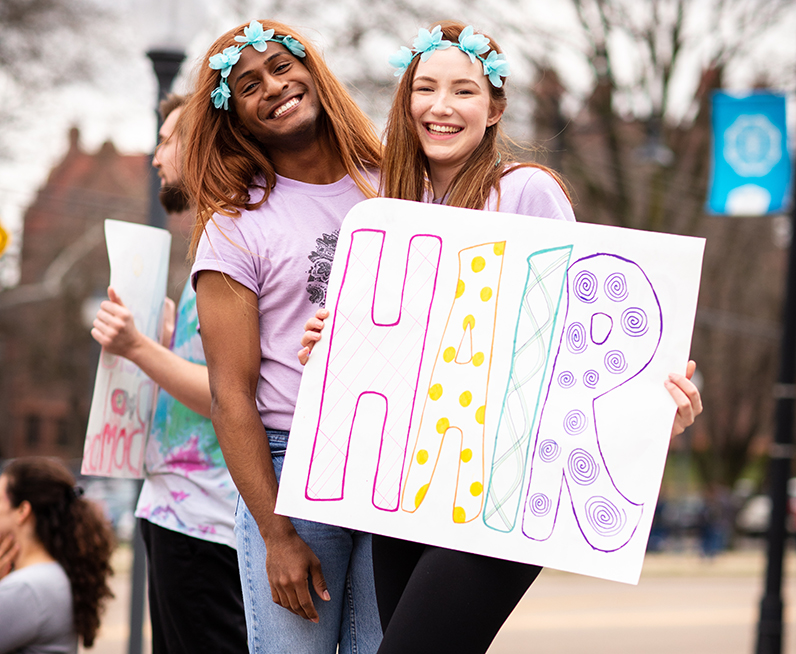 One of the traditional features of the show is the various hair styles. "There is a lot of different hair represented in the show," said Director Sarah Crockarell, assistant professor of theatre at Millikin. "But they are not wearing wigs."
To help with the promotion of the production, the cast held their own version of a "Crosswalk Musical" on April 5. The students took over the intersection of Fairview Avenue and Main Street on Millikin's campus and performed three short songs from "Hair." A large gathering of students, faculty and staff were on hand to support the cast.
In an interview with WAND-TV, Ariya Hawkins, a senior musical theatre major from Chicago said, "It's amazing to have that support and it's great to see familiar faces from Millikin's campus and people we've never seen before driving on through. Everybody has some access to the show which is great."
Following the last performance of "Hair" on Sunday, April 14, cast members, as well as Sarah Crockarell, will partner with headlineSpavilla hair salon to cut ponytails. The ponytails will be donated to Hair We Share, a non-profit organization that creates wigs through hair and money donations that they donate to people across the nation who suffer from medical hair loss. The cast will also be selling flower crowns/barrettes and colorful hair extensions before each show.
Millikin School of Theatre and Dance
The Millikin School of Theatre and Dance produces numerous performances in venues on and off-campus, including musicals, plays, operas, children's theatre and dance concerts, as well as productions through its student-run theatre company, Pipe Dreams Studio Theatre.
Millikin's School of Theatre and Dance is a nationally recognized program, offering conservatory-style training rooted in a liberal arts education. The School of Theatre and Dance's approach to education offers students valuable insight and hands-on experiences that will prepare them for professional success. Nationwide, Millikin's respected theatre alumni are routinely hired for projects in television, film and live theatre, including top Broadway shows.