Graphic Design students awarded at Self Employment in the Arts Conference
The annual Self Employment in the Arts (SEA) Conference is an opportunity for faculty and students to attend workshops and share best practices in entrepreneurship as artists. This year's conference, held Feb. 24-25 in Lisle, Ill., featured the 8th annual SEA College Juried Art Show where Millikin students took home two awards.
Each year, the conference solicits submissions from participating colleges and universities for the College Juried Art Show. The competition juror selected 37 pieces for the exhibition, including artwork from the following Millikin students: Hunter Wenstrom, a junior graphic design major from Durand, Ill.; Deborah Corr, a sophomore English writing major from Sycamore, Ill.; Sydney Doherty, a senior graphic design major from Lake Saint Louis, Mo.; Sarah Suits, a senior graphic design major from Loami, Ill.; and Taryn Pepping, a senior art therapy major from Johnston, Iowa.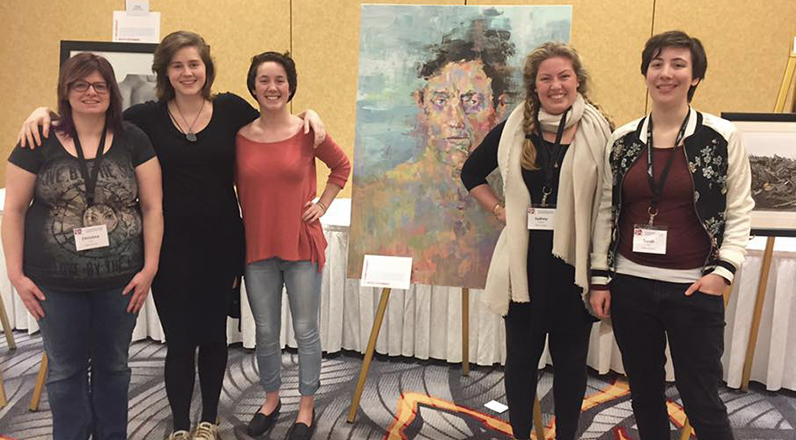 For the third straight year, a Millikin art student was awarded Best in Show; this year's winner was Sydney Doherty for her painting "Damned if I Do." Sarah Suits was awarded one of the four Juror's Awards for her printmaking piece "Dear Annelida." Doherty's award came with a $300 prize and Suits' a $100 prize.
"The annual College Juried Art Exhibition is an opportunity for college level art students from around the country to enter their artwork in a professionally juried exhibition," said Lyle Salmi, associate professor and chair of the Art Department at Millikin. "It is precisely these types of opportunities that allow students to actively participate in the business of their career as artists."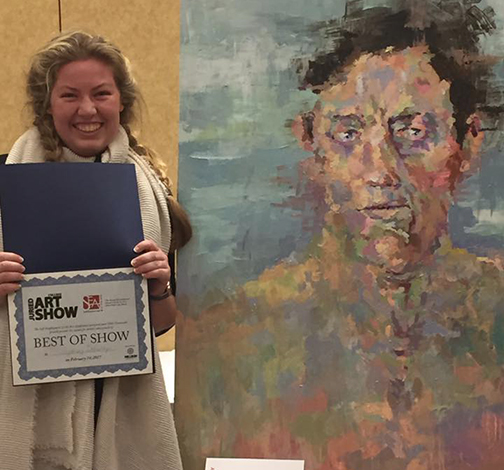 In describing her work, Sydney Doherty says, "I do contemporary portraiture and work a lot with layering and brush strokes. There was so much great artwork at the conference and to be awarded Best in Show was surprising. The feedback I received from the juror was very important because it's invaluable to have outside eyes look at your art, especially as a student."
This year's Juried Art Show Guest Judge was Contemporary Artist Chris Cosnowski. Cosnowski is an artist living and working in Chicago and has been teaching at the American Academy of Art since 2003. He received his Bachelor of Fine Arts from the Columbus College of Art and Design in 1992 and his Master of Fine Arts from Northwestern University in 2000. He has exhibited his artwork extensively throughout the United States as well as London.
Salmi noted, "The fact that the juror selected Sydney Doherty's painting as Best in Show signifies a level of accomplishment that is noteworthy. It suggests that there is significant talent and direction in an artist's work."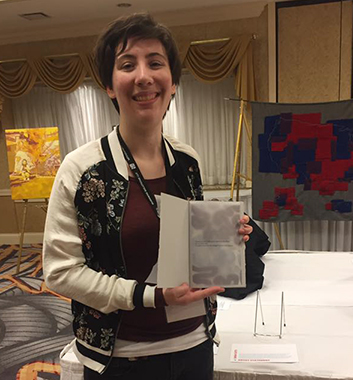 Sarah Suits' work, "Dear Annelida," was a handmade book made out of printmaking paper and linoleum-cut prints featuring prose. "As an art major, you don't get an idea of the real art scene until you actually get into a juried art show and learn how to properly light your photos or write an artist's statement," said Suits. "As a student, it's important to enter as many juried shows as possible."
In addition to the art show, students attended roundtable discussions on topics such as artist development, getting started as a creative entrepreneur, social media incentives and crowdfunding.
Thirteen Millikin students attended the conference along with six Millikin faculty members. Sara Theis, instructor of theatre/production manager, and Mark Tonelli, assistant professor of music at Millikin, each presented at the conference.
SEA is a program geared towards helping emerging visual, performing, literary and media artists gain the resources and connections they need to be successful self-employed artists. Programming includes conferences, workshops, panel discussions, webinars, competitions and more. For more information on Self Employment in the Arts, visit selfemploymentinthearts.com.