Global Perspectives
As part of its annual celebration of International and Hispanic Heritage Month, Millikin University International Fellowship students shared their recent study abroad experiences during an event on Sept. 22 in Lower Richards Treat University Center.
Millikin's International Fellowship Program offers an opportunity for students with financial need to study abroad during their sophomore, junior or senior year. Each spring and fall, students are informed that they may submit a proposal outlining their intent to travel, the desired location and course of study. A selection committee, called the International Fellows Committee, consisting of faculty and administrative staff, is designated annually by the Millikin University Center for International Education (CIE).
During the event, 13 Millikin students made presentations highlighting their experiences with photos and sharing what they learned while studying abroad.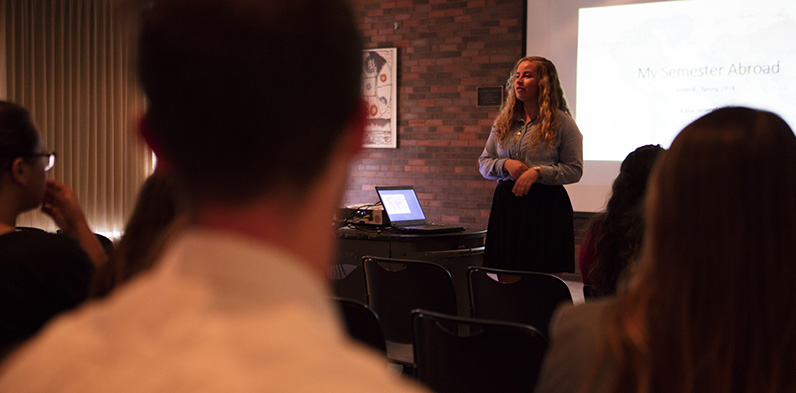 Emily Chudzik, a senior English writing major from Frankfort, Ill., spent a semester in London and studied at Shakespeare's Globe Theatre.
"It was an experience of a lifetime," Chudzik said. "I got to meet incredible people and see many historical landmarks. It was meaningful to see people from different cultures and backgrounds come together. I'm glad I had the opportunity to travel abroad."
Kathryn Stromsland, a senior biology major from Gillespie, Ill., spent her spring 2016 semester studying overseas in Ireland. Stromsland studied at Maynooth University, Ireland's smallest, yet fastest growing university.
"Maynooth is larger than Millikin, but to Ireland, it's their small university," Stromsland said. "I used some of my time to travel all over Europe as well. I learned how to communicate and talk to people that came from a different background or culture. I learned how to travel independently and I made my happiness a priority."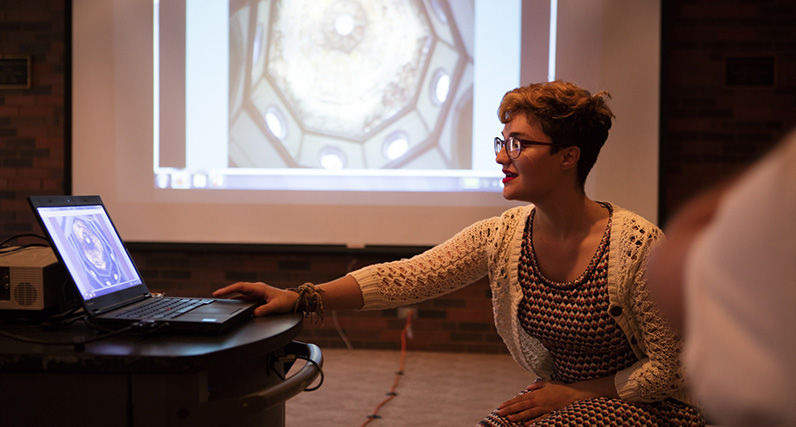 Miranda Ryan, a senior music education-instrumental major from Homewood, Ill., spent the summer studying abroad in Florence, Italy.
"The Fellowship program gave me the opportunity to experience the world this summer and I'm very thankful for that," Ryan said.
Other students who presented included Ecstasy Reed, a junior biology major from Decatur, Ill.; Joel Kimling, a senior theatre major from Cincinnati, Ohio; Gregg Boomer, a senior entrepreneurship major from Decatur; Cori Grzenia, a senior music education-vocal major from Lombard, Ill.; Nathan Trout, a senior business management major from Highland, Ill.; Francesca Rios, a senior biology major from Paris, Ill.; Rachel Head, a senior theatre major from Indianapolis, Ind.; Justice Miller, a senior athletic training major from Alsip, Ill.; Natalie Mendez, a senior marketing major from Burr Ridge, Ill.; and Erin O'Brien, a senior theatre major from Algonquin, Ill.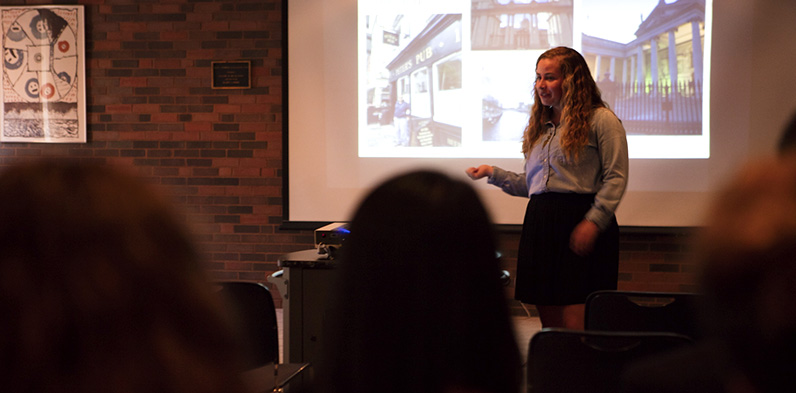 Millikin's International Fellowships are as follows:
Bruce and Kay Nims International Fellows Program
Bruce and Kay Nims are members of the Millikin class of 1972 and 1973, respectively. Through their family foundation, they have established the Nims Foundation International Fellows Program in accordance with their goal of supporting education, youth and international/cultural projects. Bruce Nims is the retired Chairman of the Board of Nims Associates, Inc., a computer consulting firm, and a Millikin Trustee Emeritus. He serves as Millikin University's Entrepreneur-in-Residence in the Center for Entrepreneurship.
Marie Folrath McDermott International Fellows Program
Marie Folrath McDermott was a member of the Millikin class of 1940. She was a long-time resident of Decatur and enjoyed participating in events on campus. She especially enjoyed auditing classes at Millikin. She had fond recollections of classes and travel trips with the late Professor Graham Provan. Her love of travel and learning led to her daughter providing memorial funds to establish travel fellowships.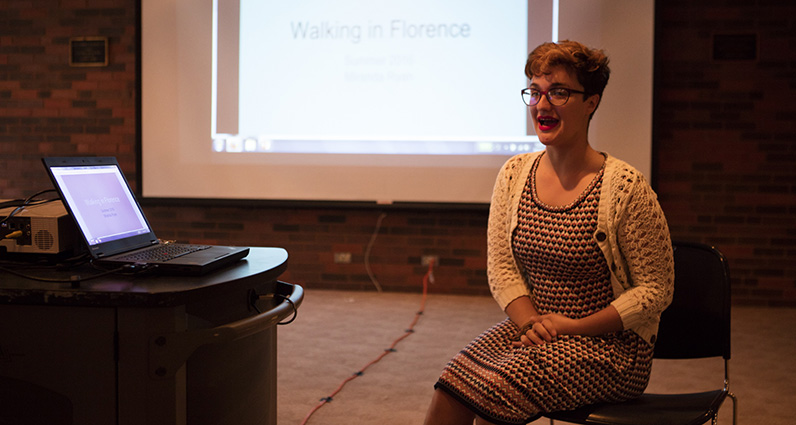 Douglas E. Zemke International Fellows Program
Funds for fellowship were established by the Trustees of Millikin University in 2010 with the invitation to alumni and friends to support a fund recognizing the retirement of Millikin's 13th President, Douglas E. Zemke, class of 1966.
The Cornerstone International Expedition
Adrian Koehler is a member of the class of 2003. Because Adrian has experienced the fulfillment of travel and working with people in other nations, he established this award for one or more nursing student to have the opportunity to study in a developing country. Funds for this award are made through a foundation, Cornerstone Project, for whom Adrian serves as the executive director.
For more information on the International Fellows Program, visit millikin.edu/study-abroad.