Millikin students gain international exposure to the world of sports in the UK
Millikin University's January Immersion term offers a unique combination of courses that take place on campus and online, as well as a number of travel courses for students to gain international experiences before the start of the spring semester.
This year, we decided to catch up with one of the travel courses called The Sport Industry in the United Kingdom (UK). A group of seven Millikin students spent seven days in the United Kingdom to examine some of the contemporary issues affecting the sport industry in the UK, and to visit a number of iconic London sporting venues such as Wimbledon, Twickenham Rugby Stadium and Premier League soccer venues.
To capture this experience, we've asked each of the students to share a blog highlighting their experience, examining the impact of sports on society in the United Kingdom, and of course, to share some of their photos.
The following post comes from Caleb Williams, a senior political science major from Bradley, Ill.
I can't believe how much of London and Winchester we have been able to see and experience in these short two weeks. From rugby and tennis venues to learning how to do the Windgate Test at the University of Winchester.
It was amazing to see a mixed group of Millikin students come together and enjoy an once-in-a-lifetime adventure. I may not have any other class with the four athletic training majors, the sports management major and the history major, but this one was a rememberable one.
While at the University of Winchester, we had the opportunity to learn from the students and see their perspective of the sports industry. Being an outsider, it was nice to see that there is still a passion and appreciation for traditional sports such as baseball and cricket.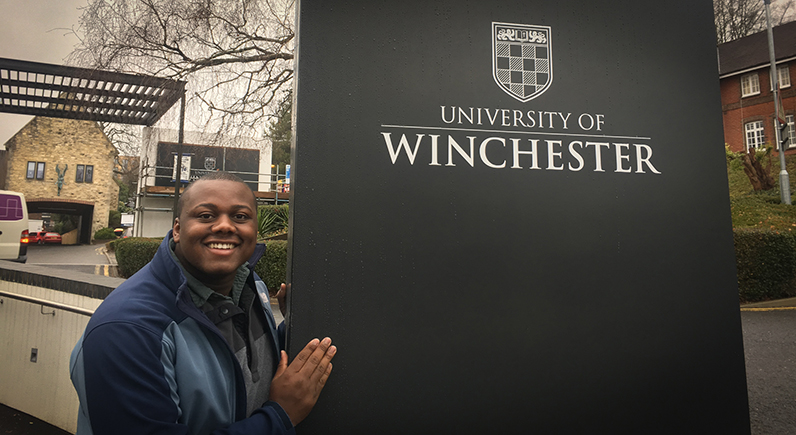 Visiting the United Kingdom in January, I will say you can feel the pressure – economically and politically. From construction to the British Parliament voting on another referendum about Brexit.
As a senior political science major, conversations about Brexit and Theresa May, making a last-ditch appeal for Members of Parliament to back the Withdrawal Agreement is my sports talk. Brexit is similar to the United States in its current situation when it comes to immigration. For the UK, staying in the European Union brings concerns of an overflow of immigrants and the country is already surpassing its threshold. In the U.S., there is a belief that we can control who gets into the country by building a physical wall on the U.S.-Mexico border. In both situations, there is a polarized division within the countries that seem unbearable, but by compromising, I believe we can come to an agreement that benefits both parties.
As a Long-Vanderburg scholar, the idea of diversity and embracing other's differences is clear in London. When you walk down the street you will notice the variety of shops and restaurants. The food ranging from Turkish Pide and Indian Mutton, to the good old traditional British Fish and Chips all next to each other was my favorite experience.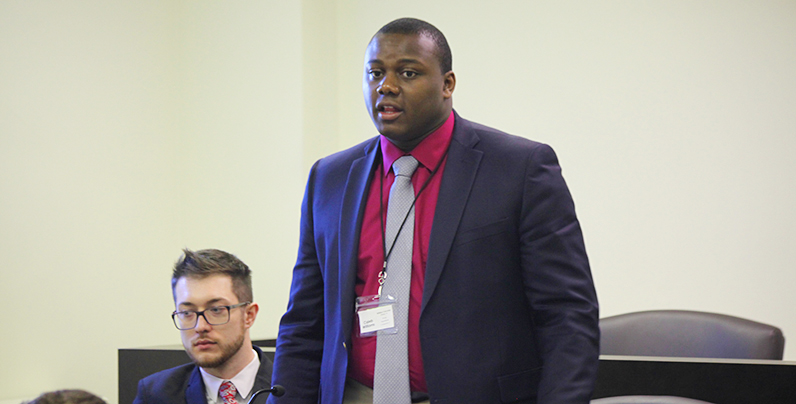 Hearing joyful conversations in different languages was a breath of fresh air. Common misconceptions about the British people is that they are rude and disrespectful, but I found the people in London and Winchester to be quite pleasant and kind. I found myself lost several times on the trip and would stop and ask for help, and the local citizens were happy and cheerful to help. Though you can get the same hospitality in the U.S., it was nice to experience it from someone with a posh English accent.
I'm grateful to be a part of the Long-Vanderburg program at Millikin. I don't think I would have been able to have this experience without it. For me, it's not just about the diversity, it's more about how you see others interact with one another, and how you are able to learn something new and unique from just taking a moment and listening to others. Sharing experiences with others and being able to see the world from their perspective is eye-opening and I cannot wait to share my experience and see other Millikin students experience this amazing trip.
I strongly encourage every Millikin student to challenge themselves and pursue their own global educational experience. Not only will you see the world differently, but you will build a network that surpasses the United States, you will appreciate individuality, and lastly learn to tolerate the uncertainty.
View additional posts: