Tomorrow's Teachers learn best practices at Millikin Conference
Students from around Illinois, aspiring to become teachers, had the opportunity to learn about the education field during the 4th annual Tomorrow's Teachers Conference hosted by the Millikin University School of Education on Oct. 26 on Millikin's campus.
Over 80 high school junior and senior students took part in a number of sessions led by Millikin faculty members on topics covering project-based learning and innovative education.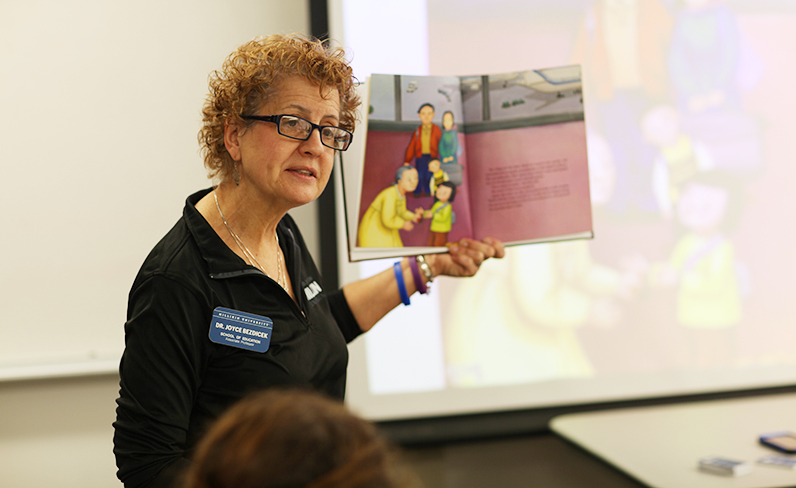 "We are trying to show the students who are attending this conference what to expect from their education program when they go to college," said Dr. Christie Magoulias, director of the School of Education at Millikin. "Throughout our program, our students partner, they engage, they reflect, and they start that process all over again within their discipline."
One of the 30-minute conference sessions included an inside look at STEAM Education (Science, Technology, Engineering, Arts and Mathematics) led by Dr. Anne Rammelsberg, associate professor of chemistry, and Dr. Chris Cunnings, assistant professor of education.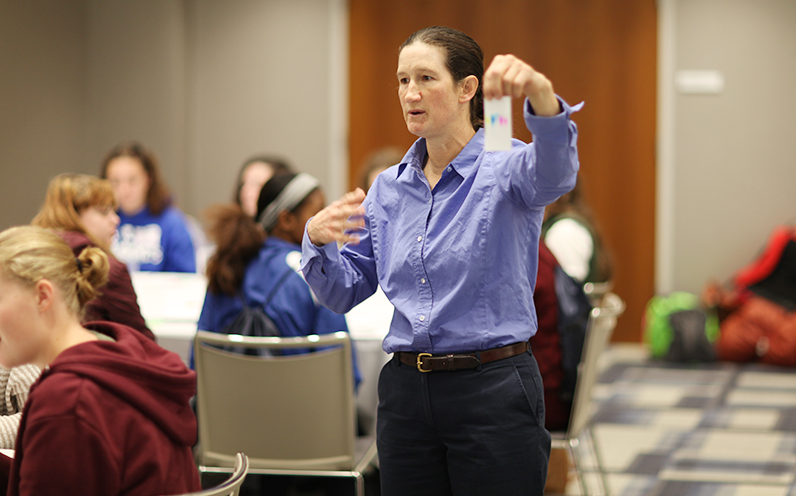 "A lot of people know what STEM is, but STEAM is about integrating the arts," Dr. Magoulias said. "When you do that, you help kids who may not feel they're technology or mathematically inclined, but they know they are artistic someway. By incorporating this into STEM education, you draw more kids into understanding. Music is science, sports is science, and we try to help them see how STEM is happening in the arts and in anything else."
Additional sessions included a special education simulation hosted by Dr. Denice Love, assistant professor of education, and a simulation on English as a second language led by Dr. Joyce Bezdicek, associate professor of education, and Dr. Hee Young Choi, assistant professor of education.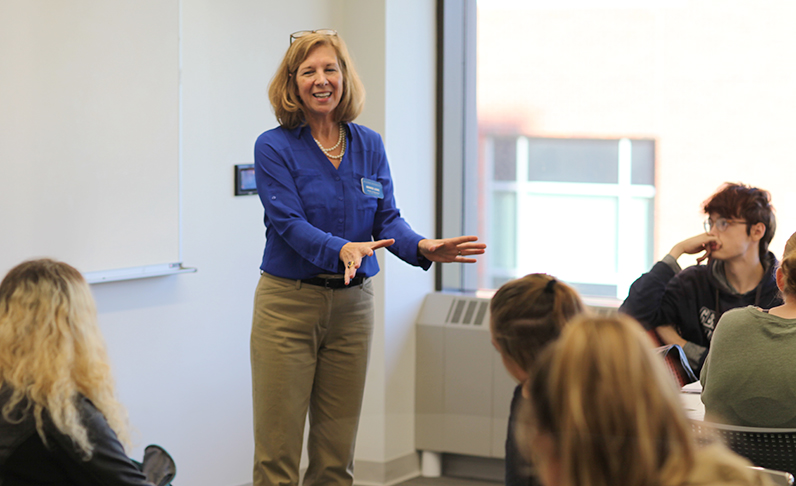 "The students are trying to put themselves in the shoes of somebody who is an English language learner or who has special needs so they can see what it's going to be like to work with those students," Dr. Magoulias said.
The high school students also participated in a global education presentation hosted by the English Language Center. During the presentation, Millikin international students shared what they learned about education in their home country and education in the U.S.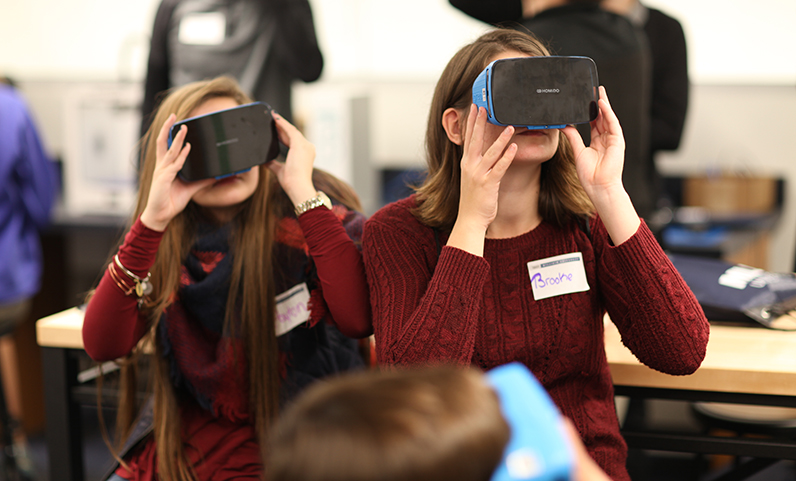 The students also gained insight into the future of education by taking part in a virtual reality experience in the New Technologies Studio in Millikin's University Commons. Rachel Bicicchi, educational technology coordinator in the Staley Library, demonstrated how the technology would be utilized in the classroom.
The students were also given tours of Millikin and Dennis Lab School, and learned about the college experience from current Millikin education students during a panel discussion.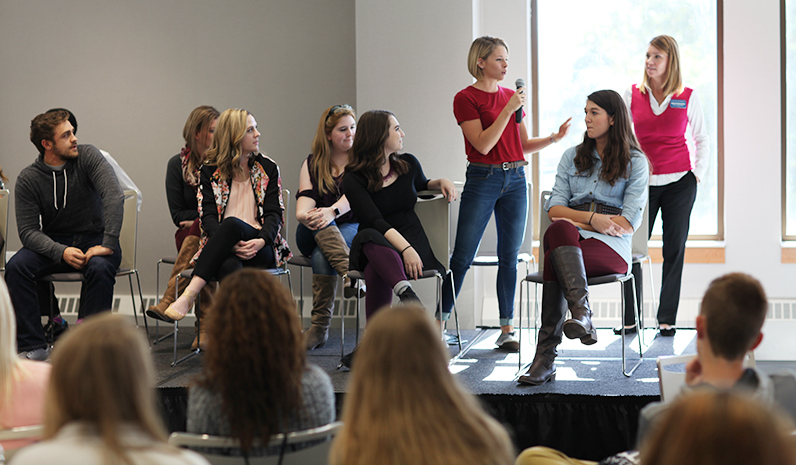 Dr. Magoulias noted that one of the additional goals of the conference is to engage Millikin alumni and to inform them of the conference so that they could come back to campus and take part. One of the alums in attendance was Nichole Folkman Coers '06 who currently teaches English at Hartsburg-Emden High School in Hartsburg, Ill. Every year, Coers brings a group of students to the Staley Library to do research and access databases.
"We have a future educators association at our school and we had several students who wanted to attend the conference," Coers said. "I think the conference has so many interactive components and the students experience things that I can't offer them at our small school. Here, they can see how things are done at other schools in the area and in college."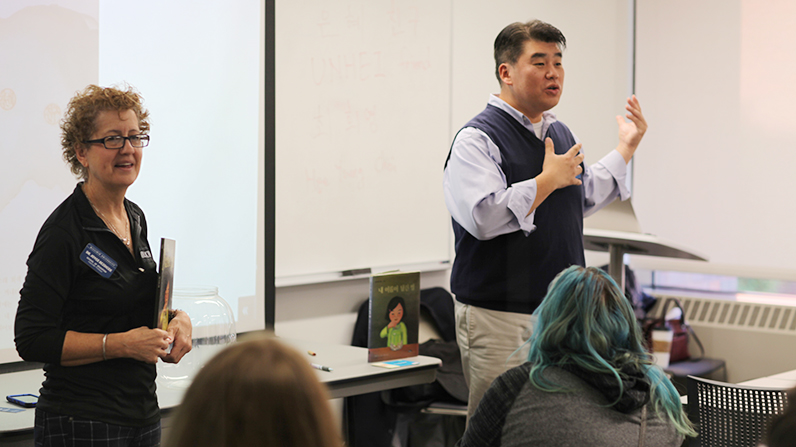 In addition to learning about the education field, each of the high school students received a $500 scholarship to Millikin University for attending the conference.
"The students are spending a day immersed in professional development," Dr. Magoulias said. "But we also have professional development days for Millikin students as they prep for internships. We wanted to award these students. If they choose to come to Millikin, we are better off because they are one step closer to being ready because they attended this conference."
The idea for the Tomorrow's Teachers Conference was started in 2012 when enrollment for teachers was plummeting across the country. Millikin School of Education faculty wanted to host the conference in hopes of changing the dialogue about what it means to be a teacher and understanding the profession.
"It's a collaborative, vibrant and viable profession to be a part of and it's so rewarding," Dr. Magoulias said. "We want to get students excited about education and we want to help them see all the possibilities."
View Coverage