Millikin wrestlers honored for work in the classroom and on the mat
Four Millikin University wrestlers were named Scholar All-Americans by the National Wrestling Coaches Association (NWCA) on March 13, 2020.
Juniors Bradan Birt, a sport management major from Epworth, Iowa, and Taylor McGiffen, an exercise science major from Alton, Ill., along with first-year students Zac Blasioli, a business major from Wood River, Ill., and Brayan Reyes, a psychology major from Springfield, Ill., were honored for their work in the classroom and on the mat.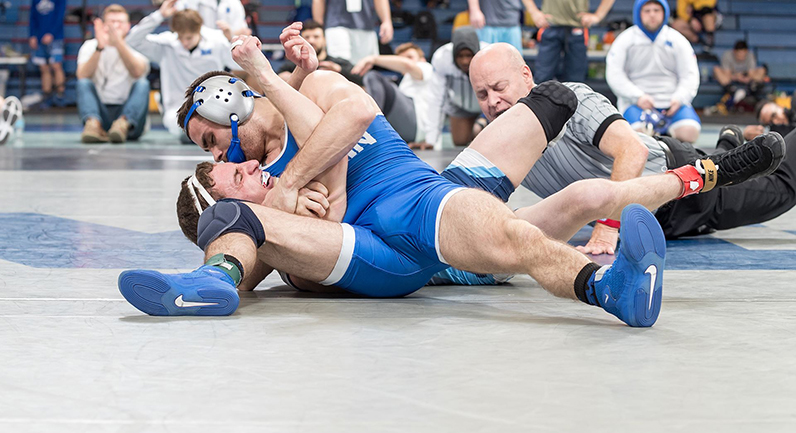 To earn the award, the wrestlers achieved at least a 3.2 cumulative grade point average with a .655 or better winning percentage or were a place winner at the NCAA Regionals.
Birt (36-1), Blasioli (20-5) and McGiffen (19-5) each qualified for the NCAA Division III Wrestling Championships. Reyes was 10-4 on the season.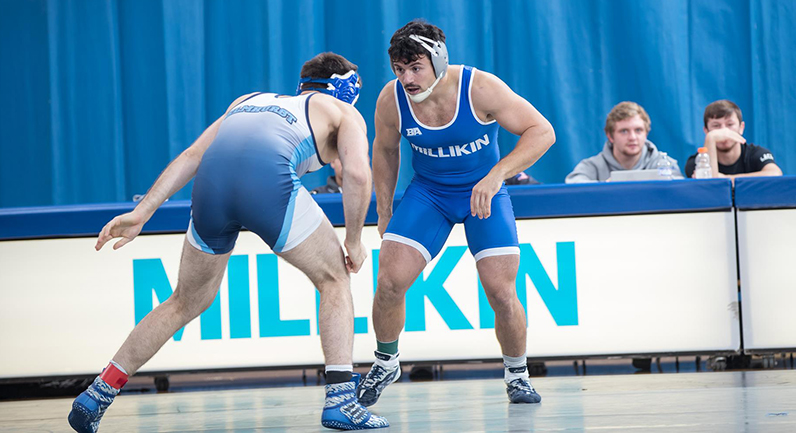 The Millikin University wrestling team won the 2020 College Conference of Illinois and Wisconsin (CCIW) Wrestling Championships team title on Feb. 13 at the Griswold Center on Millikin's campus. It was the first ever team title in Big Blue wrestling history.
Millikin edged North Central College 135-134 with the championship not being decided until the third place match at 285 pounds, won by Millikin's Frank Tomaskovic, a senior from Oak Lawn, Ill. Millikin Head Coach Ryan Birt was named the CCIW Coach of the Year.
Millikin won four individual titles starting with senior Tristan Birt, of Gibson City, Ill., at 157 pounds and Bradan Birt at 165 pounds. It was the second title for Tristan Birt who won at 149 pounds in 2019 and it was the third straight title for Bradan Birt. Bradan Birt was named the CCIW's Most Outstanding Wrestler.
McGiffen at 174 pounds and Logan Hagerbaumer, of Quincy, Ill., at 197 also claimed CCIW Individual titles.