Flute performance major Madeline Moylan awarded Hollis Prize
​Millikin University's Hollis Prize is the highest award that may be received by a student instrumentalist or vocalist within the School of Music. The 15th annual Hollis Prize was awarded on Saturday, April 1, following a recital in Kaeuper Hall, Perkinson Music Center, on Millikin's campus. The concert featured performances from Millikin University's top three music performing students.
This year's finalists were Wally Pochron, a senior music performance-instrumental major from La Grange, Ill.; Michael Anderson, a senior music performance-instrumental major from Chicago, Ill.; and Madeline Moylan, a junior music performance-instrumental major from Breese, Ill.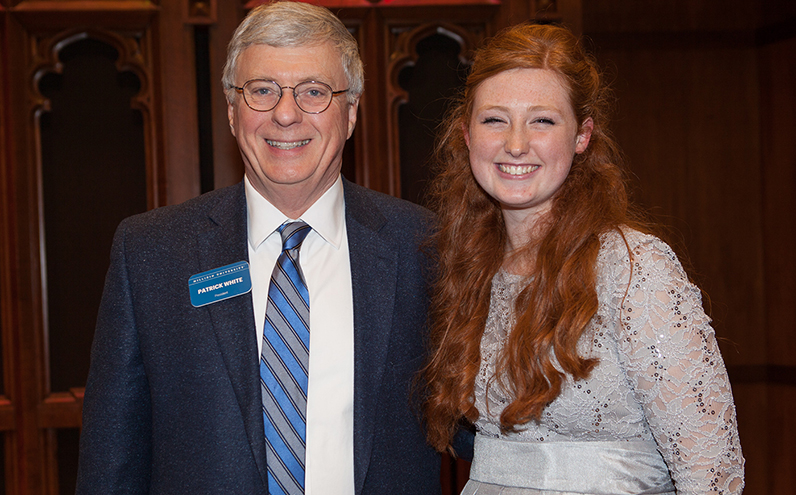 Madeline Moylan was named the winner of the 2017 Hollis Prize competition. In recognition of her achievement, Moylan will perform a recital on Sunday, April 9, at the Gail Borden Public Library in Elgin, Ill., beginning at 2 p.m.
"Madeline is an outstanding young musician and is a most worthy recipient of the Hollis Prize," said Dr. Stephen Widenhofer, director of Millikin's School of Music. "She has a great future ahead of her."
A junior flute performance major, Moylan is an Honors student, a Presidential Scholar and a James Millikin Scholar. As well as pursuing her degree in flute performance, Moylan studies piano with Dr. Silvan Negrutiu, assistant professor of music at Millikin, and has performed in student recitals and for guest artists presenting masterclasses at Millikin.
"It was a surprise that I won because the other two competitors were both very accomplished musicians and they played so well," said Moylan. "It was an exciting opportunity."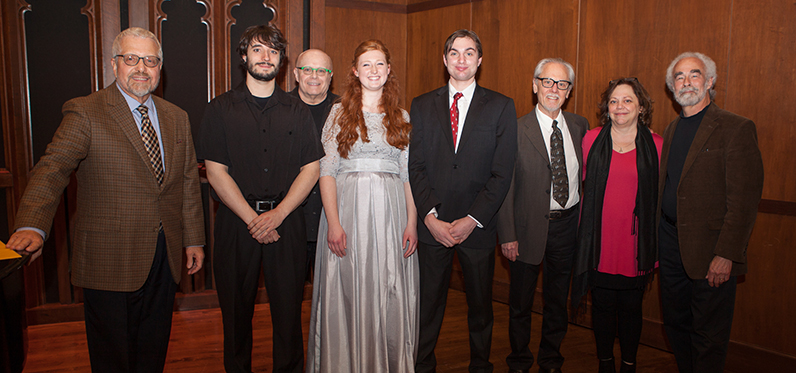 Moylan performed a selection from Bach's "Flute Sonata" in B minor as well as the first and third movement of Aaron Copland's "Duo for Flute and Piano." Moylan also performed Doppler's "Hungarian Pastorale Fantasy for Flute and Piano."
In the future, Moylan aspires to perform as an orchestral musician and teach at the college level. After graduation, she plans on continuing her studies in music.
In reference to her time at Millikin's School of Music, Moylan says, "For me, being able to connect with the faculty is very important, especially when you're trying to grow as a musician. The faculty don't shy away from giving students great opportunities. The way everything is set up in the School of Music has really worked well with my learning style."
First awarded in spring 2003, Millikin is one of only a few schools in the country to offer this type of prestigious prize through a music competition. The winner of the Hollis Prize is chosen by outside faculty judges and receives a $2000 award; runners-up each receive $500.
The Hollis Prize Recital is generously funded by Dr. C. Kimm Hollis, a 1972 Millikin graduate, and professor of music and artist in residence at Hanover College in Hanover, Ind.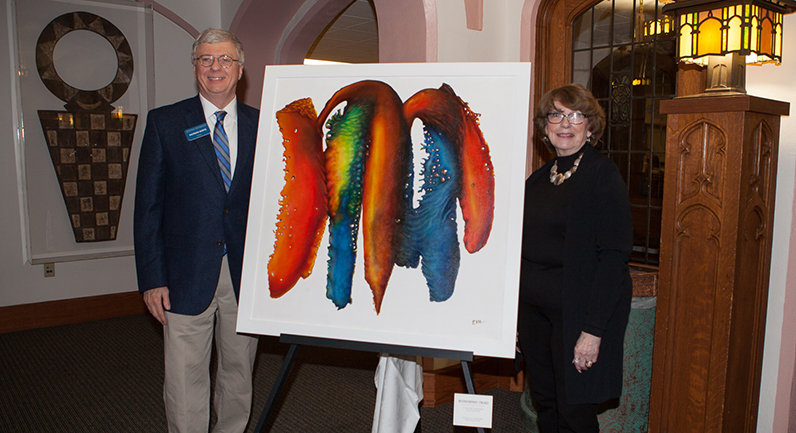 In commemoration of the 15th anniversary of the Hollis Prize competition, Dr. Hollis provided a gift of artwork to Millikin University on April 1 to be installed in the entry hallway of the School of Music building. The artwork is titled Biomorphic Triad and was created by Elinor "Elle" Howard Smith.
Hollis Prize Performers
Wally Pochron, percussion
Originally from La Grange, Ill., Wally Pochron is a senior music performance major at Millikin University and percussion instructor with the Preparatory Department. He enjoys performing a wide variety of styles, and is currently a member of the Millikin-Decatur Symphony Orchestra, Percussion Ensemble, Latin Jazz Project, Jazz Combo and Jazz Band.
Pochron has performed at the Jazz Education Network Conference, Midwest Clinic for Band and Orchestra and Havana Jazz Festival. As a soloist and Latin percussionist, Pochron has performed in masterclasses or studied with Katarzyna Mycka, Ronnie Kot Wenzell, Jose Eladio Amat, Alejandro Carvajal Guerra, Donald Skoog and previous Hollis Prize recipient Angela Kepley. While at Millikin, Pochron is a student of Brian Justison, professor of music, and Jeremy Brunk, assistant professor of music at Millikin.
Pochron has been accepted into the graduate program at Eastern Illinois University, or may pursue a freelance career in the Chicagoland area.
Michael Anderson, alto and baritone saxophone
Michael Anderson is a senior instrumental performance major studying saxophone with Dr. Perry Rask, professor of music at Millikin. Anderson attended Wheaton North High School in Wheaton, Ill., where he played baritone saxophone in the top groups all four years.
While at Millikin University, Anderson has been a member of the Millikin Symphonic Wind Ensemble, Jazz Band I, Saxophone Quartet I, Latin Percussion and Jazz Combo I. As a student at Millikin, Anderson has had the opportunity to travel with the top jazz combo to Columbia, South America to work with students in the area, and to Havana, Cuba with the Millikin Latin Jazz Project to perform at the Havana Jazz Festival.
Most recently, Anderson was chosen as one of two students to perform with the Millikin Symphonic Wind Ensemble during a concert on April 23, 2017. He will be playing "Fantasia for Alto Saxophone" by Claude T. Smith. As lead alto in Jazz Band I, Anderson has been recognized as an outstanding soloist at the annual Elmhurst Jazz Festival for the past three years.
Following his studies at Millikin, Anderson intends to enroll at Minnesota State College Southeast in Red Wing, Minn., to pursue instrument repair. Anderson will continue performing with hopes of attending graduate school for saxophone and jazz studies.
Madeline Moylan, flute
Madeline Moylan, a native of Breese, Ill., is a junior flute performance major. Moylan is a student of Dr. Laurie Glencross, associate professor of music at Millikin, and plays flute and piccolo in the Millikin Wind Ensemble, Millikin Decatur Symphony Orchestra, Millikin Flute Choir and the Eidolan Quintet. She performed as a featured soloist with the Millikin Wind Ensemble in Spring 2015, as well as in masterclasses for Bernard Goldberg, retired principal flute of the Pittsburgh Symphony, and Sir James Galway, renowned international flute soloist.
Recently, Moylan spent a semester abroad in Dublin, Ireland studying at the Royal Irish Academy of Music with William Dowdall and had the opportunity to perform with the Royal Irish Academy of Music Junior Wind Band at the National Concert Hall in Dublin.
Moylan is a member of Millikin's Music Fraternity for Women, Sigma Alpha Iota, Millikin Piano Club and the Millikin Flute Society. Recently, she became a member of the Alpha Lambda Delta and Phi Kappa Phi honors societies.
The mission of the Millikin School of Music is to develop the whole musician – artistically, intellectually, technically – through the integration of theory and practice in an environment where students become active learners through their relationships with faculty, who themselves continue to grow as artists, scholars, and teachers. For more information on the School of Music, visit millikin.edu/music.