Millikin's Olivia Grbavac embracing new leadership role
The Millikin University women's volleyball team is off to a fast start for the 2021 season starting 10-1, including going 4-0 in the Millikin Invitational as well as earning a College Conference of Illinois & Wisconsin (CCIW) victory over No. 15 Carthage College on Sept. 15.
The Big Blue women's volleyball team moved up three spots to No. 14 in the latest American Volleyball Coaches Association (AVCA) poll, released on Sept. 21. Carthage remains the only other CCIW team on the list at No. 24.
Millikin recently swept the CCIW Student-Athlete of the Week honors in women's volleyball with Tori Stuart and Olivia Grbavac receiving recognition. Stuart, a junior outside hitter from Florissant, Mo., averaged 4.58 kills per set during that time frame. Grbavac, a first-year setter from Skokie, Ill., totaled 52 digs, seven blocks and eight service aces for the Big Blue.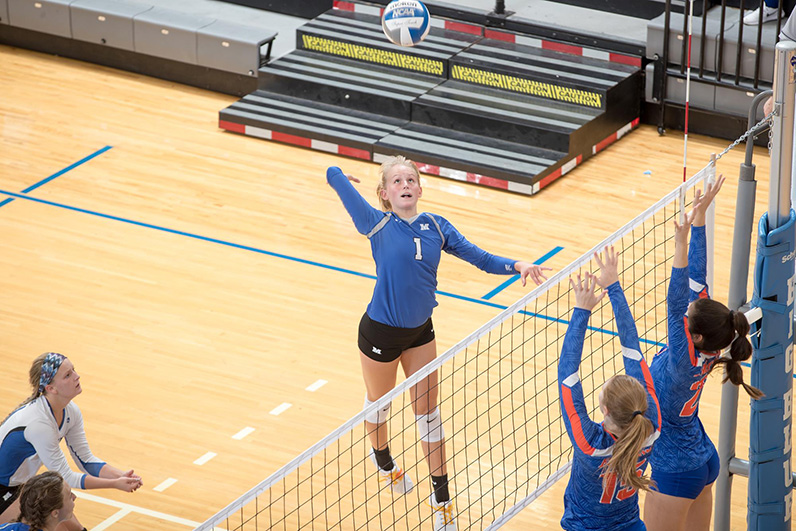 Tori Stuart
It's been quite the first month for Olivia Grbavac who became the team's starting setter after Reece Brown was injured.
"Physically, it has been really tough. Playing five sets can be really tiring but when you have such a strong team, with good passers who are willing to work hard, you forget about your legs and you can focus on every point," Grbavac said in a recent interview with the Herald & Review.
Millikin head coach Debbie Kiick said, "We had some pretty big losses to graduation last year. Our setter and our libero, who were strong leaders for us, both graduated, so we weren't sure how things were going to start off. Immediately on day two, our setter had an injury and then we really had to restart. We have a great blend of experience and freshmen who pass really well, and that combination together has been strong enough to keep us in position to win."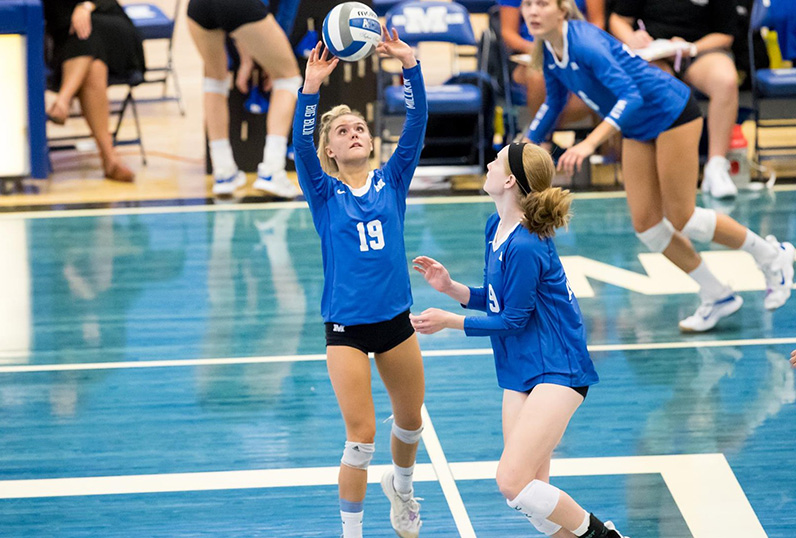 Olivia Grbavac
Grbavac has embraced her new leadership role after transitioning from Skokie to Decatur, Ill., to begin her time at Millikin.
"In the beginning, I was a quiet little freshman and so it was kind of rough. Now that I've opened up and the seniors and captains do nothing but check in on you. They are always there for you," Grbavac said. "Off the court is what's really important … to build that connection with the hitters and we've done that. They make me feel confident and that is what is important."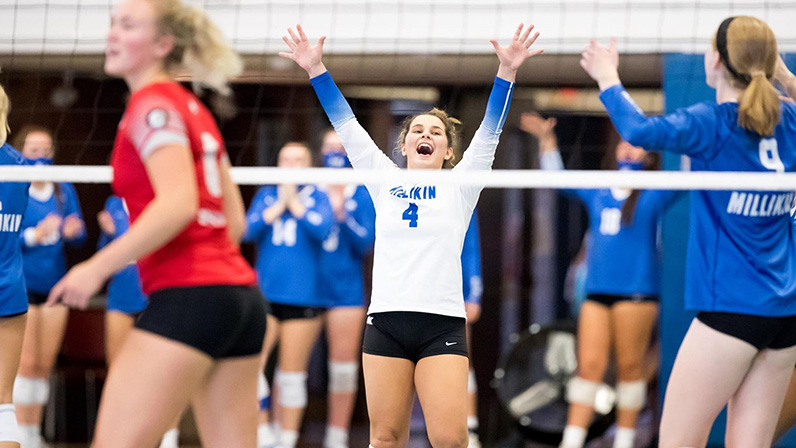 Julianna Vassallo
Kiick says Grbavac and Stuart's play on the court have been key to the start of the season.
"Olivia has had to run a faster offense, develop chemistry with our hitters and learn the college game. That was a stretch for her, and it really pushed her to have to get better fast. She has grown greatly in the last month from her skills to her volleyball IQ to her intensity with her teammates," Kiick said. "Tori is having a great season and she is definitely a go-to for us. In fact, we have to work on relying on everybody otherwise teams are going to load up on her. She is a key terminator for us."

Lauren Brummel
Grbavac is grateful for the support she has received from her teammates and coaches. "I didn't really expect much [for my first season]. I didn't think I would just come in here and be handed a position. I knew I had to work hard and being able to show off what I can do and what my teammates can do has been great," she said. "Having the team and coach that care about you so much has been great. [Coach Kiick] pushes you because she knows what you can do. It has been amazing."
Stuart added, "I am so thankful to have this team. Going through COVID was mentally tough on everyone and coming back to a school that is really supportive of athletics has been amazing. We have a really strong team, a strong school and a strong coaching staff, and that is what is getting us through this time."