"Whatever I do after Millikin, I know I will be well-prepared because of my experiences as a student-athlete"
Twin brother and sister Korbin and Kalli Farmer never intended to go to college together. The two had gone to school together their entire lives while growing up in Columbia, Ill.; they had the same class schedule and even the same group of friends.
When it came time to look at colleges, Korbin said Millikin University was the first to come knocking at the door, but he'd kept that a secret from his sister. It was on Korbin's first campus visit that the basketball coaching staff had learned that Kalli played softball, putting the bug in the ear of co-head softball coaches Whitney Sowers and Katie Tenboer.
Both Korbin and Kalli were being recruited athletically by Millikin, but the two also displayed excellence in the classroom earning Millikin Presidential Scholarships. To be awarded the Millikin Presidential Scholarship, students must have a 3.5 or higher GPA on a 4.0 scale, an ACT score of 27 or higher and/or an SAT score of 1260 or higher. While enrolled at the University, Millikin Presidential Scholars are expected to maintain a 3.3 cumulative GPA, participate in the Millikin Honors Program, be active in the campus community and meet regularly with the University President.
Holding true to being active members of the campus community, the Farmers founded the Fellowship of Christian Athletes (FCA) student organization at Millikin. FCA is a nationwide organization that was founded in 1954 that aims to "use the powerful medium of athletics to impact the world for Jesus Christ" through the professional, college, high school, junior high and youth ranks.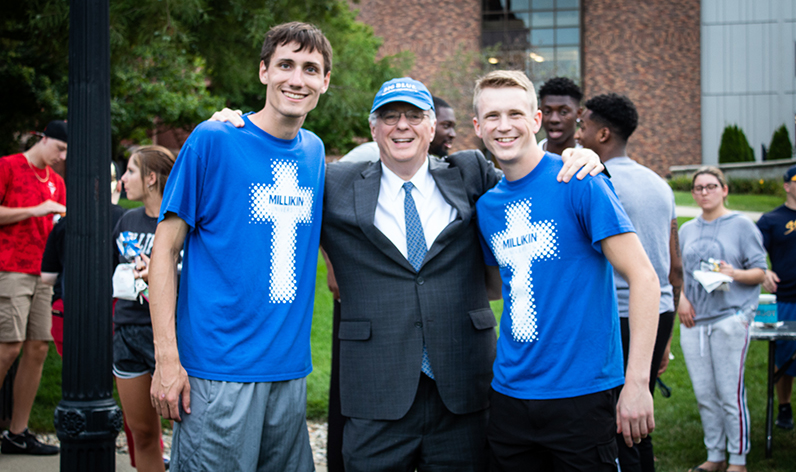 "Without a doubt my favorite memory at Millikin was the Faith Community Kickoff that FCA and Newman Catholic co-hosted at the beginning of this school year. Seeing Kalli and I's efforts and faithfulness to that organization culminate to this massive event was such a blessing," said Korbin Farmer.
While the Farmers were stewards to the campus community and soared academically, the twins were also particularly talented in their respective sports.
Korbin has played a key role on the basketball court for the Big Blue since his freshman year, playing in almost every varsity contest over the last four seasons. This year, the senior forward was a key piece defensively for the Big Blue, recording the second-most blocks on the team with 20. Farmer averaged 5.6 points per game and 4.5 rebounds per game in his senior campaign for Millikin.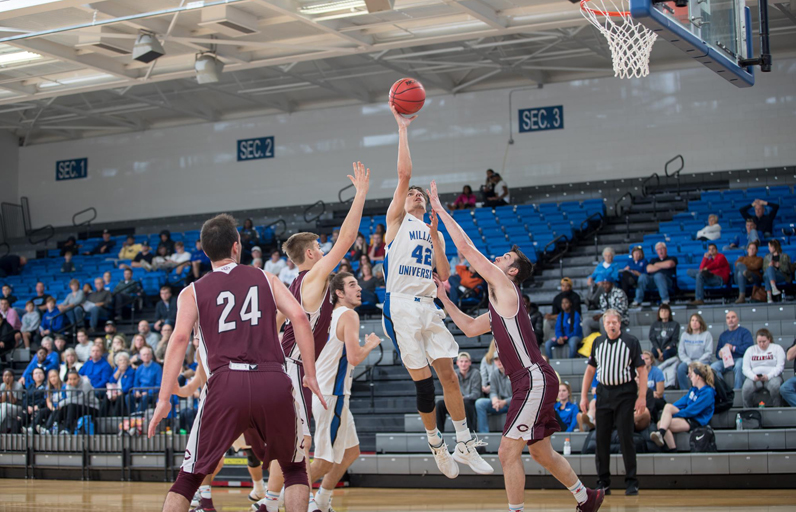 In his career at Millikin, Korbin has been recognized by the College Conference of Illinois & Wisconsin (CCIW) for his academic excellence, earning Academic All-Conference honors every year of his career.
"Korbin is a special young man, not because of one moment or one situation," said Kramer Soderberg, assistant men's basketball coach at Millikin. "Korbin is a special young man because of the consistency of his character. Day in and day out he was an example to his teammates, coaches and fellow students of what it looks like to be a college athlete."
Mark Scherer, men's head basketball coach, noted, "Korbin is the consummate leader by example in our program. He always has time for our younger players when they need help. Sometimes that's on the court, but more often than not it is with their studies or day to day life."
On the softball diamond, Kalli has been a standout for the Big Blue. Prior to this season Farmer started every game at shortstop and made a move behind the plate to catch when her team needed her to step up and fill the role.
In her time with the Big Blue, Kalli has amassed a long list of accomplishments on the field and in the classroom. As a junior, Farmer was recognized by the CCIW being named to the All-Conference First Team and NFCA All-Great Lakes Region First-Team, earned CCIW Player of the Week honors, was named Team MVP by her teammates and achieved Google Cloud Academic All-American status with her high academic performance.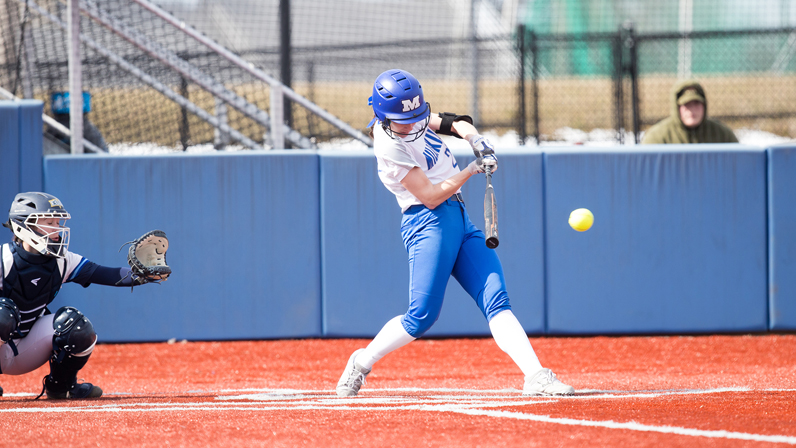 Farmer again earned CCIW First Team All-Conference honors her sophomore year, was voted Millikin's Best Defensive Player and gained national recognition by finishing tied atop the list for NCAA Division III's Toughest to Strikeout after recording zero strikeouts all season. As a freshman, Kalli was named to the NFCA All-Great Lakes Region Third Team, CCIW All-Conference Second Team and earned Newcomer of the Year by the CCIW.
Like her brother, Kalli also earned CCIW Academic All-Conference honors every season.
"Kalli undoubtedly puts everything she has into everything she does," said Whitney Sowers, co-head softball coach. "That is something that does not go unnoticed by anyone and something that affects everything she does in a positive way."
Katie Tenboer, co-head softball coach, added, "Kalli is a leader in many ways and maybe most significantly in the way she goes about making every decision on and off the field. She is beyond selfless for her teammates and everyone around her and that is a quality that has allowed her to continue to grow exponentially. This carries over into every aspect of her life, let alone in what she has given to our softball program."
Unfortunately for Kalli, her senior season was cut short due to the COVID-19 pandemic that has put the entire world on hold.
"I'm not sure if I have the words yet to completely describe what it was like to learn that our season ended so abruptly," said Farmer. "I'm still in denial that it's not temporary. I'm extremely grateful for the short time we got to compete together this year."
Farmer and the rest of the softball team were competing in Clermont, Fla., when they learned of the cancellation of their season. As has been the story for their entire lives, Korbin was right there with his sister to cheer her on during their trip and to pick her up when she needed it the most.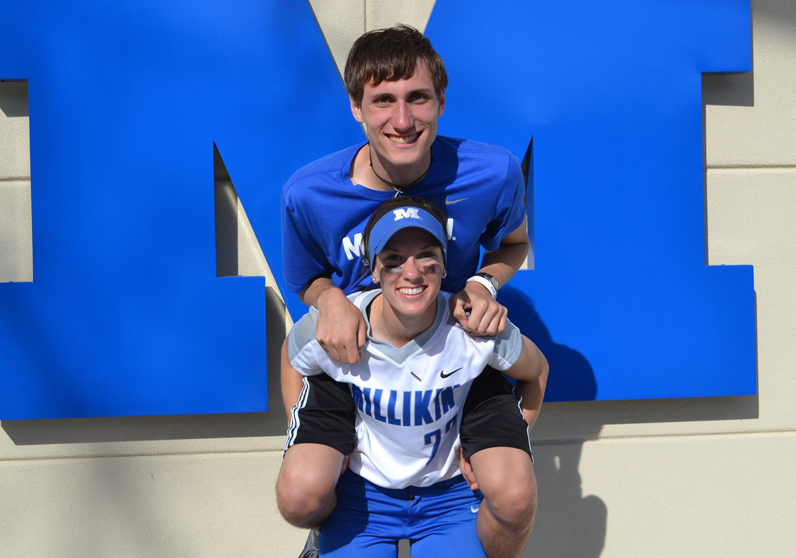 "My older sister Kassi and I were in Florida watching the spring games when we heard the news. We were both upset and frustrated alongside Kalli, but we knew at the time that we needed to be the support that Kalli needed," said Korbin Farmer.
As is the case with the rest of the Millikin University student community, the Farmers are getting used to their new "normal" finishing the rest of their college careers remotely at their home in Columbia.
"It's not ideal that we are finishing our semester at home. That's not how it's supposed to be, that's not how I wanted it to be, but we are rolling with it as much as we can," said Kalli Farmer. "I think now more than ever is a time where we have to be flexible as students. Our professors are working so hard to still teach us and give us the content we need to know before graduation, and I know that can't be easy. In a way, it is nice that Korbin and I have each other to lean on during our last few weeks of classes. When you're stuck in the same house together you kind of have to help each other out, well for the most part at least."
The Farmers will graduate as planned in May 2020, with Kalli earning her bachelor's degree in sports management and Korbin receiving his in mathematics and philosophy. Kalli plans to continue her education upon graduation pursuing a master's degree while Korbin plans to "walk, talk, eat, breathe and sleep."