Fare Thee Well: A Message from Chris White
Our newest issue of Millikin Magazine serves as a retrospective of all that President Patrick E. White and his wife, Chris, have done to strengthen our beloved University as we continue to move boldly into the future.
To see more from the spring 2020 issue of Millikin Magazine visit millikin.edu/magazine.
Seven years ago, when he was considering the plea of a headhunter to "throw his hat into the ring" as a candidate to serve as interim president of Millikin University, Pat suggested to me, "Let's go take a look — make a stealth visit to see what the campus and students are like." I agreed.
That late February visit to Decatur, across the prairie of brown field stubble with gray skies marking the end of a dreary midwestern winter, opened our hearts and minds to great possibilities for the next chapter in our lives dedicated to higher education. The campus was just digging out after a nine-inch snowfall, and classes were raggedy as students, faculty and staff were gearing up for spring break.
Pat and I put on the personas of parents — well, maybe grandparents — checking out the University in advance for our prospective student. As we strolled about campus, we heard lovely passages of music — vocal and instrumental, Broadway show tunes and Italian arias — escaping from windows in a hall called Perkinson. We saw clumps of runners in shorts and running tights racing down the sidewalks along Fairview to Main Street. We shopped at a lovely little storefront gallery downtown called Blue Connection and chatted with the student managing it. We heard basketballs hitting the backboards at Griswold.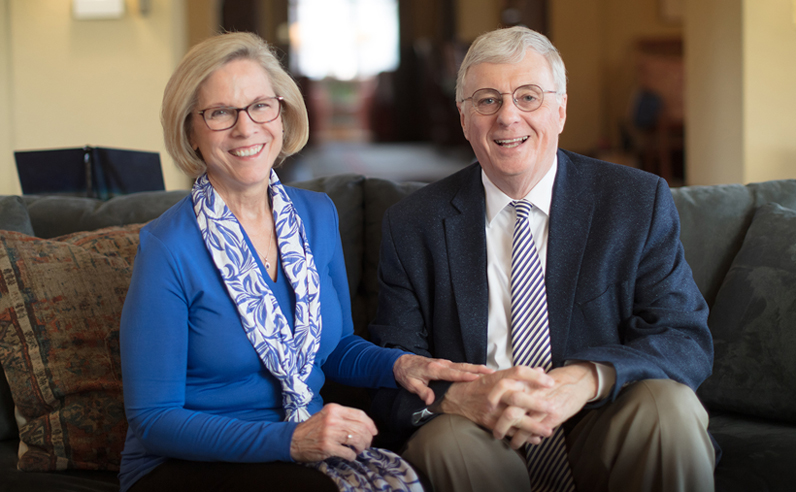 Continuing on, we saw students queued for lunch as lovely aromas filled the hallway at a bunker-like place called RTUC. We admired students hunched in chairs typing on laptop keyboards in Staley Library. And literally everywhere, we noticed posters and event flyers filling corkboards, announcing lectures and concerts and theatre openings and cabarets and track meets and art gallery openings and baseball schedules and fraternity chicken and waffle feasts and dance tryouts and sorority fundraisers and softball games and student government elections and, and, and …
"Well," Pat and I said to one another, echoing the end of "Casablanca," always attuned to the movies of our lives, "This may be the beginning of a beautiful friendship."
And Millikin, you have delivered.
As Pat has become P. White, I have become what some folks call "first lady." Out of great respect for our nation's first ladies, I prefer to think of myself as ambassador for Millikin. That position implies discretion, loyalty, admiration, support, encouragement and cheerleading for the University, something I have embraced naturally at this marvelous place. Over these years, I've marveled as I see it with my very eyes, am transported by its magnificent melodies enveloping us, am touched by its passion and vigor and am embraced by its vitality.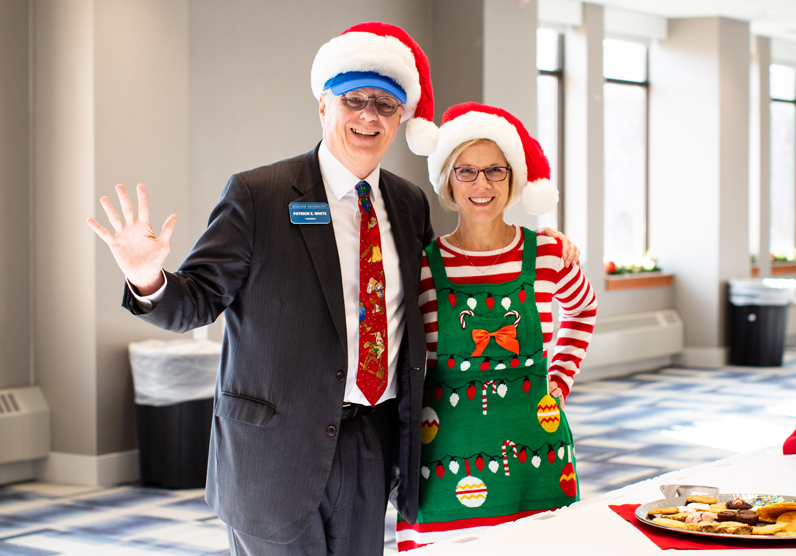 During our seven years here, my heart, mind and spirit have been lifted by students, alumni, faculty, staff and members of Millikin's broader community in Decatur and central Illinois. You have enriched us with your joy, insights, honesty, talent, generosity, kindness, devotion to what is right and good, and yes, even your disagreement with what folks swirling around Millikin's campus — with its state-wide, national and international reach — may do and say as democratic citizens in a global environment. It has been both a pleasure and a privilege to call Millikin and Decatur our home.
I am particularly proud to honor the legacy given so generously by Clarence "Red" '50 and Shirley Johnson, who gifted their home to the University in 1993. Under P. White's leadership, and with the support of Millikin's Board of Trustees, No. 4 Millikin Place was repurchased to serve once again as the home of Millikin's president. The home was designed and built in 1910 by Marion Mahony, a young architect who grew up in Chicago. In 1898, Mahony became the first woman to be licensed as an architect in our nation. When Frank Lloyd Wright fled Chicago for an extended European sojourn with the first of several mistresses, Mahony assumed the design and building of three homes on Millikin Place, for which Wright was contracted. "Number four remains Mahony's masterpiece," said James Weirick, professor of urban development and design at the University of New South Wales in Australia, who visited the home and Millikin last June.
It is a continuing delight for P. White and I to welcome so many here at No. 4 — students, alumni, faculty, staff, trustees, retirees, community members and visitors from our nation and world. We particularly love to celebrate here with folks we consider heroes for Millikin. The enthusiasm and energy of student paraprofessionals including RAs and First Year Experience Mentors preparing for their roles at the start of each academic year is inspiring, and we've loved hosting Presidential Scholars for dinner each semester. The harmony of voices sharing stories, expressing admiration and amazement, punctuated with peals of laughter and outright hilarity have filled the rooms of No. 4. We've looked forward to welcoming members of Millikin's Board of Trustees and their spouses and partners three times a year to share dinner, joining with administrators, faculty, students and staff, often accompanied by music.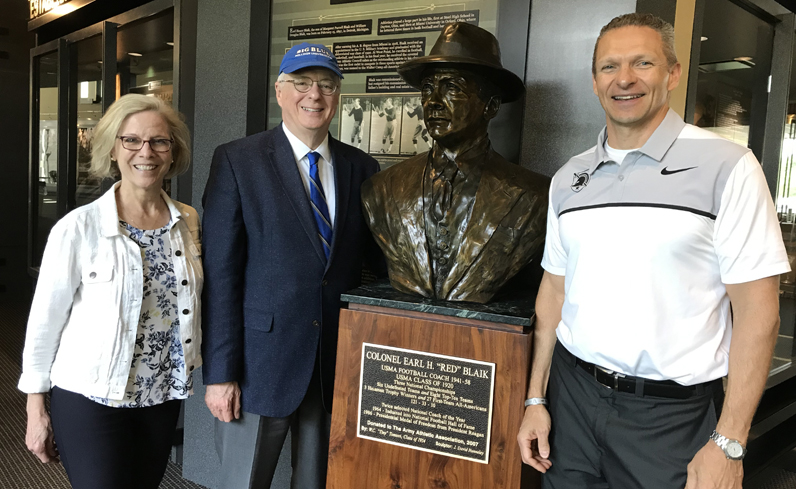 Chris White and Dr. Patrick E. White with Army Head Football Coach and Millikin graduate Jeff Monken '89
We were honored to share a postseason reception for our wrestling team after their amazing success last year, and we looked forward to hosting a dinner for them again this year, especially after the team's first ever Conference Championship in wrestling for MU. Sadly, their season ended precipitously, just as the Division III National Championships were to start. We are always thrilled to welcome our 50-year reunion alumni who have led lives of meaning and value. In recognition of Millikin's instrumental role in setting them on their paths to success, they and many other alumni loyally donate to the University in thanks. It is a pleasure to open No. 4 each winter for our holiday celebration for Millikin faculty, staff and retirees; it is just one small way we can tangibly recognize and thank them for their talents and dedication to the University through many years of service.
I often say it is a pleasure and privilege to call No. 4 our home — a pleasure because Mahony's design is so very comfortable and easy to live in, and a privilege because it honors her architectural talent and historical ground-breaking independence while allowing P. White and I to share that pleasure and privilege with those who hold Millikin dear to their hearts. It is also my pleasure and privilege to have served Millikin as your ambassador, and yes, proudly, as your first lady. You all have made it right and good, and I look forward to honoring you for years to come.
We will return for visits, but in the meantime, fare thee well, my friends.