Millikin professor and student team up to research decision-making process among pregnant women
Millikin University's Summer Undergraduate Research Fellowship Program pairs a student with a faculty member to perform in-depth research throughout the summer months. An example of Performance Learning, the research is one of the "graduate level" opportunities undergraduates experience at Millikin.
Classes at Millikin University may end in the spring, but Summer Undergraduate Research Fellowship (SURF) participants like Gabi Singleton, a senior communication major from Monticello, Ill., and Dr. Amy Delaney, assistant professor of communication, stay busy. As two of the several student-professor partnerships collaborating through the SURF program, they are working hard to make progress in healthcare advocacy.
The pair are currently interviewing women who have given birth within the past six months, asking them to share their stories. They want to delve into the relationships between expecting mothers and their providers. What decision-making processes did they follow? How did they discuss their wishes with their doctor? Did they feel happy about their pregnancy?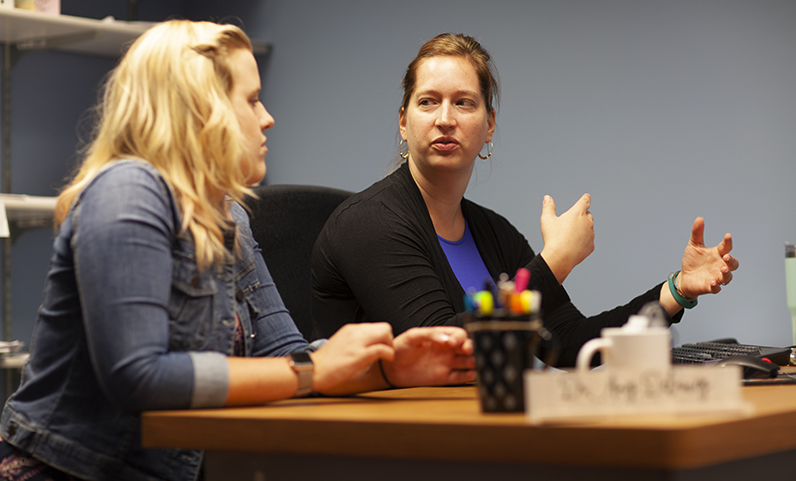 "We've talked to women who have had both good and bad relationships with their providers during their pregnancy," Singleton said. "It really shapes how they view their pregnancy as a whole."
They have found that women who usually describe a bad relationship was one where the woman's doctor "took over" and left them feeling both out-of-control and in-the-dark. Then they found that many women think a relationship with their provider is good when they feel informed about all their options.
These choices may include having a vaginal birth after a C-section, getting an epidural and taking extra prenatal testing for identifying any chromosomal abnormalities. Singleton and Delaney point out that a majority of women want to be more informed about the pros and cons of each decision instead of blindly following a doctor's orders.
With that in mind, Singleton and Delaney's research is pointing out a major shift in the expecting mothers' role in the patient-provider relationship: they want to be experts.
"The biggest thing that we have found is the amount of knowledge that women have coming into their pregnancy or the amount of research they do before they see the doctors really affects how they make decisions," Singleton said.
One woman they interviewed even said that whenever her doctor recommended something, she would ask to see which study they used for herself. Then she analyzed it independently before telling her doctor what she wanted to do.
"The amount of information they have is directly related to how empowered they feel," Singleton said.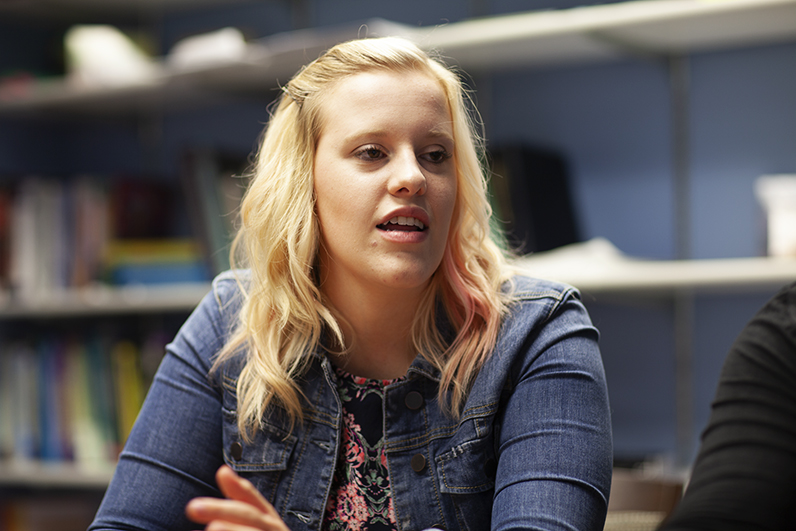 Not only might women feel more empowered in this widespread push to feel more informed, but babies certainly benefit as well. This is certainly the case when it comes to early-elective deliveries.
Singleton wrote a paper about the implications of the decision to give birth early in one of Delaney's Intro to Health Communication courses. She found that early-elective deliveries can lead to lasting conditions such as attention-deficit disorder (ADD). In essence, it is like giving birth prematurely but by choice.
"I was really surprised just because some of the research was saying that a lot of mothers chose to deliver early just because they wanted their doctor to be in town and not on vacation, or they wanted their family to be here when they were delivered, or they got to those 34-35 weeks and they were just uncomfortable and wanted to deliver early," Singleton said. "I was surprised that they didn't realize that up until the 39th or 40th week, the baby is still developing."
She wrote the paper months before the interview process. Once they began, they found that the women they interviewed, who felt more informed, would not even consider this potentially harmful procedure.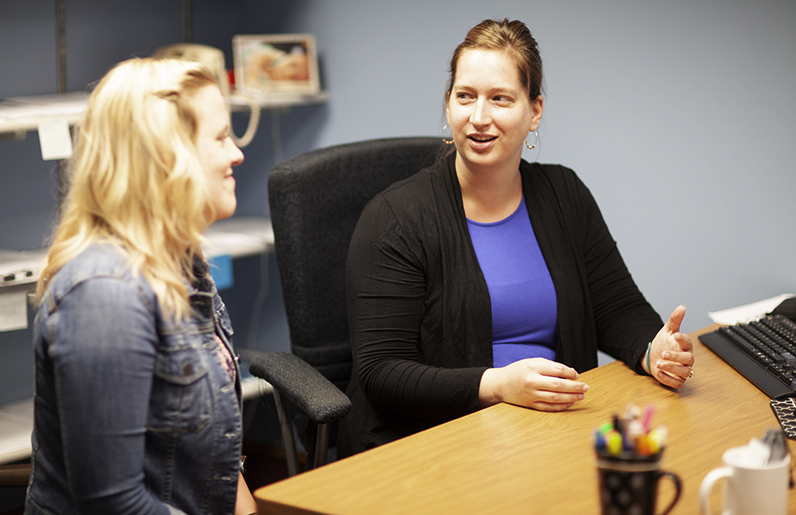 Since then, Singleton has worked extensively with Delaney, taking nearly every course Delaney teaches and also helping Delaney with some of her publications. Much of their combined work has stemmed from Singleton's first research paper about early-elective deliveries.
"It was a great paper and a good starting point for this project," Delaney said.
Instead of an isolated project, their work spans back several months. They have also only recently started the interview process. Within the first day after Delaney reached out to possible interviewees via social media, 15 women made contact. They have since interviewed 18 women.
"These are new moms with tiny babies at home, too," Delaney said. "It's hard for them to carve out an hour to talk to us."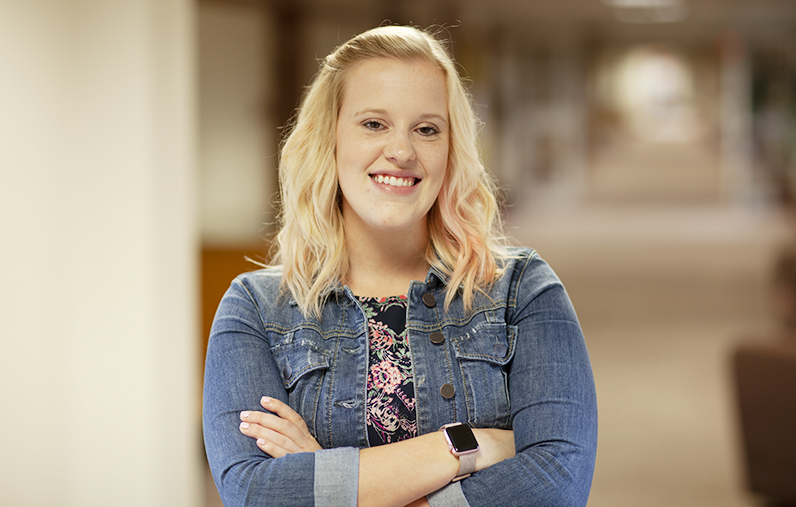 Singleton and Delaney's research plans to give back to the women who share their time and thoughts by making it easier for providers and expecting mothers to reach decisions together. Once their research is complete, the pair plan to publish their work as well as establish a few other methods of spreading their findings.
Some ideas include creating a simple tipsheet they could give providers to help develop a good relationship with their patients as well as creating a small blog for pregnant women to visit for advice.
"I think it's very important that we are doing this research because hopefully we can find ways to better the communication between providers and patients as a whole and help providers know the ways they can communicate with their patients and have a good experience with them over all," Singleton said.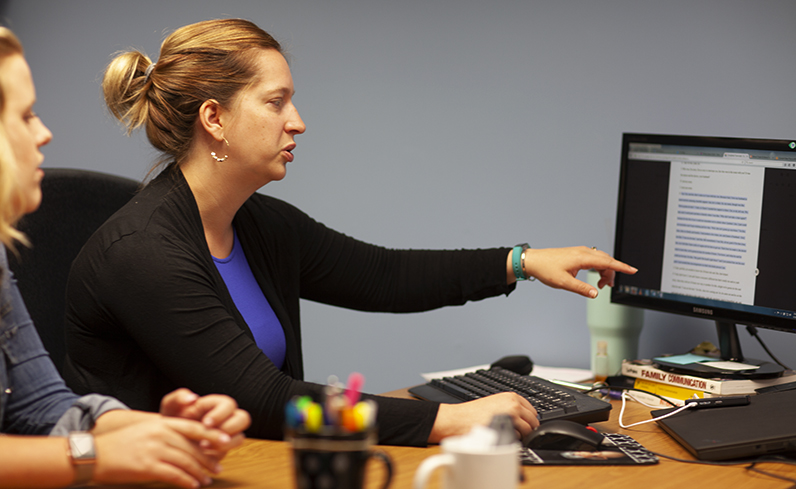 Delaney and Singleton think this is a path other students can follow to make more progress in the field, but for now they are still looking for more women to share their experiences.
Women are eligible to participate if they are 18 years of age or older, have given birth within the past six months and are willing to participate in an in-person or Skype audio-recorded interview about pregnancy, conversations with healthcare providers during pregnancy and decision-making surrounding labor and delivery. All participants will be entered into a drawing for one of two $25 Amazon.com gift cards. Interested women can contact Dr. Amy Delaney at aldelaney@millikin.edu for more information and to schedule an interview.