Millikin students honored for demonstrated leadership and passion for entrepreneurship
Jesse Sargeant, a recent Millikin University graduate, and Martel McGee, a junior entrepreneurship major, were both honored as recipients of the Sharon T. Alpi Scholarship for Entrepreneurship Excellence during a recognition ceremony on Dec. 11 in ADM-Scovill Hall.
The Sharon T. Alpi Scholarship is awarded to a Tabor School of Business student who demonstrates leadership, a passion for entrepreneurship, and an interest in international study. The endowed scholarship was established with gifts from friends, family, and colleagues of Professor Sharon Alpi to honor her 25 years of teaching and commitment to entrepreneurship and business. Sargeant and McGee were awarded $2,000 scholarships.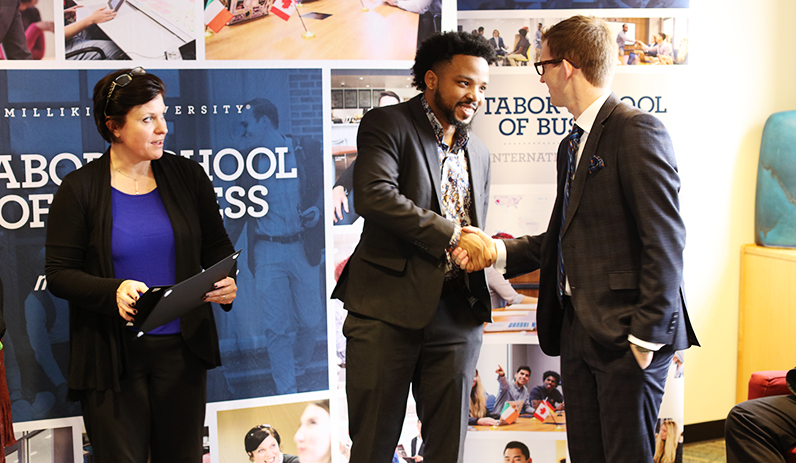 Jesse Sargeant earned his Bachelor of Science in Entrepreneurship at Millikin University's Winter Commencement ceremony on Dec. 10. As an undergraduate, the Decatur, Ill., native was involved with two student-run ventures, Millikin University Performance Consulting (MUPC) and Blue Brew.
Sargeant was the first non-information systems major to participate in MUPC, an information technology student-run venture. He was one of the founding members of Blue Brew, Millikin's student-run coffee shop, which officially opened its doors to the community on Nov. 15 at its Hickory Point Bank Building location in downtown Decatur.
"It makes me humble to receive this scholarship because Sharon has been such a mentor to both of us throughout our journeys at Millikin," Sargeant said. "I think this is more about what Sharon has done for us."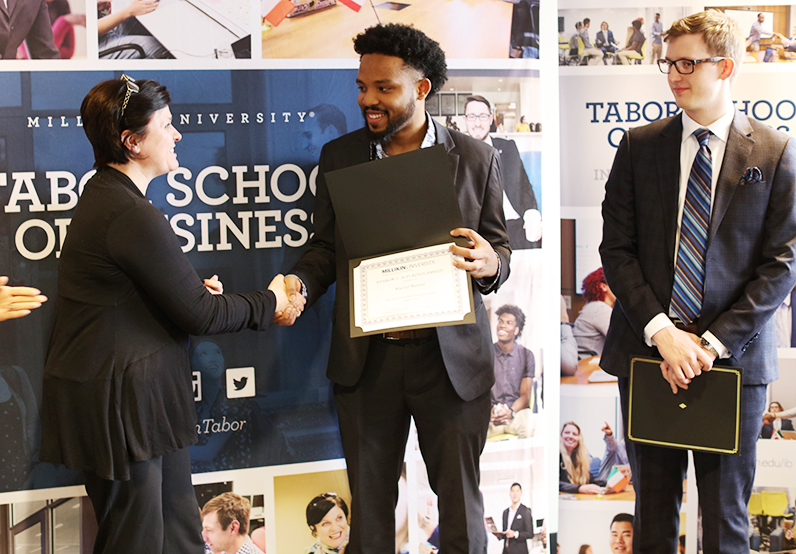 Martel McGee, of Lombard, Ill., was also a founding member of Blue Brew and is president of the Millikin Artists Guild, a collective that offers free studio time and develops original artists with a focus in music.
"I'm very honored to receive the scholarship. When I first came to Millikin, Sharon was one of the first business professors that I met and she's always had a strong passion for entrepreneurship," McGee said. "I've learned many entrepreneurial lessons from her."
Founder of Millikin University's Center for Entrepreneurship, Sharon Alpi was the driver for the initiative to develop a concentration in entrepreneurship at Millikin University in the late 90s that served as the framework for the creation of a major and minor in entrepreneurship. In 2003, she collaborated with two other faculty members in the creation of an Arts and Entrepreneurship multidisciplinary program which is based on a unique pedagogy of "learning through practice" in student–run ventures.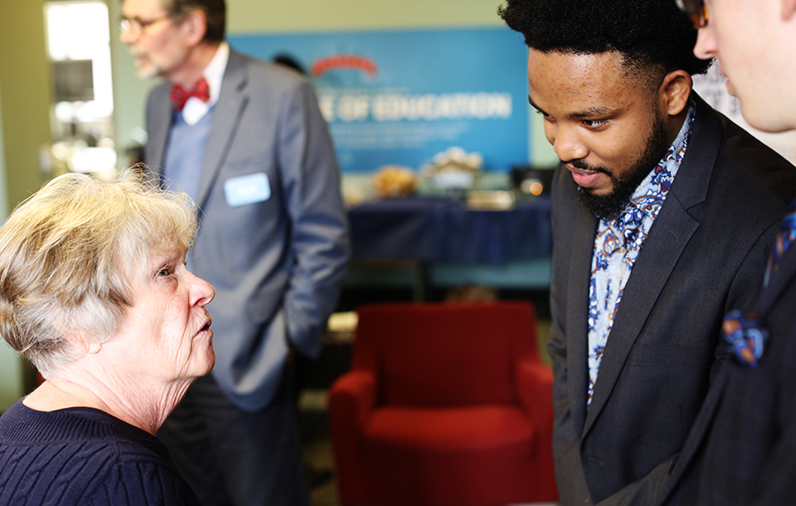 "From my perspective, Sharon certainly left a legacy at Millikin University and to have an opportunity to honor students who, just like Sharon, demonstrate entrepreneurship time and time again is great," said Julie Shields, director of the Center for Entrepreneurship at Millikin. "It's a beautiful circle."
For 25 years, Alpi played a key role in developing innovative programs to prepare Millikin's undergraduates for professional careers utilizing an entrepreneurship framework. The Center expanded its reach and scope to include an academic major and minor, two student incubators, a student seed fund, business plan competition, International Summer Program, Youth Entrepreneurship initiative and an Entrepreneurship Faculty Fellows Program.
In 2003, Alpi received the Teaching Excellence and Campus Leadership Award for her cross campus efforts and teaching entrepreneurship. She also received the Governor of Illinois' Small Business Award for Women in Business Advocate of the Year.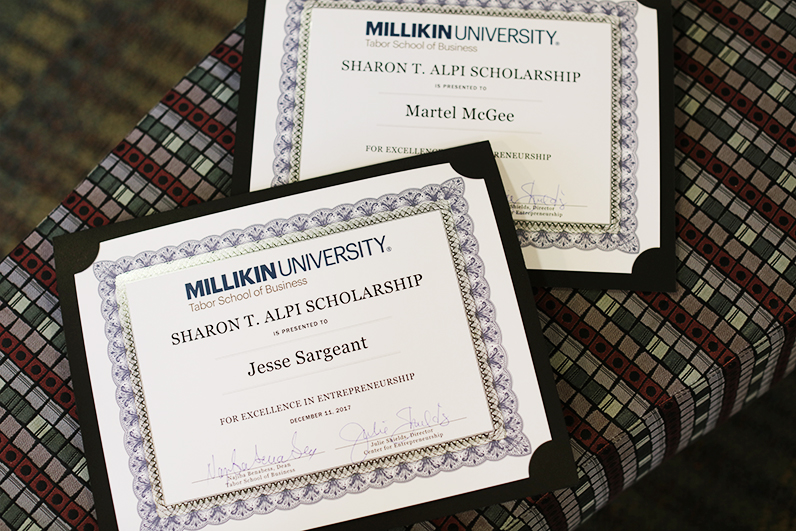 Sargeant noted, "With Blue Brew, we had the opportunity to gain hands-on knowledge and experience of running a business before entering the professional world – it's something that Millikin gives us that other places don't. The Sharon T. Alpi Scholarship is rewarding us for the hard work we've done and the initiative we took on for Blue Brew."
The Center for Entrepreneurship at Millikin University is a dedicated resource for entrepreneurs at every level. Through a variety of programs and development opportunities, the Center serves Millikin faculty and students, youth (ranging in age from elementary to high school level), community, and local businesses. For more information about the Center for Entrepreneurship, visit millikin.edu/entrepreneurship.