Blue Connection Artist-in-Residence uses painting to draw out emotions
Blue Connection, Millikin University's student-run retail art gallery located in downtown Decatur, Ill., is a space that has helped define Stephen Gardner's college experience.
Each year, Millikin's Art Department, Center for Entrepreneurship and Alumni and Development Office select a student to be the Robert Harrison Crowder Artist-in-Residence at Blue Connection – an opportunity for that student to not only run the gallery during the summer months, but to promote and develop his or her own artwork. This year, that opportunity was awarded to Gardner who describes his artwork as "colorful, expressive and emotional."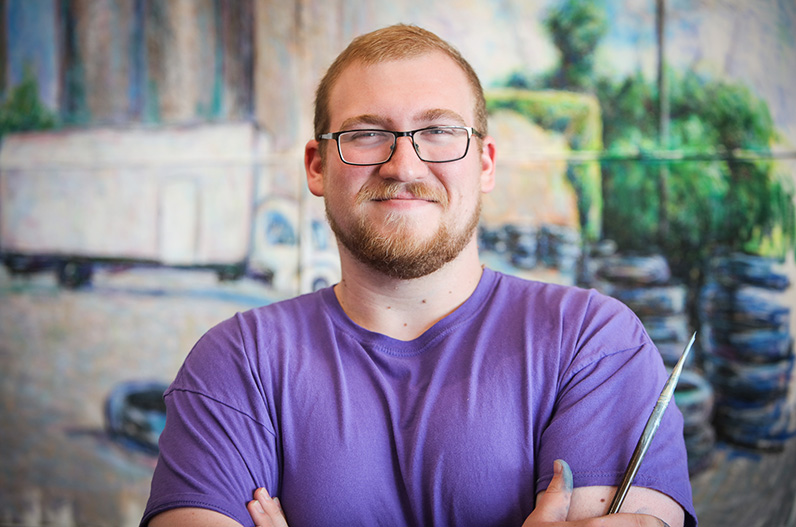 Gardner recently graduated from Millikin on May 19 and has been running the gallery since May 20. He hosted an After 5 Live showing on June 7 and plans to host a second showing on Friday, Sept. 6. Gardner also organizes the First Friday Gallery Walks and on July 12 Blue Connection will display the works of Millikin campus artists.
Throughout his residency, Gardner has been working to build his repertoire of landscape paintings, exploring interesting area buildings. However, he decided to take a different approach by exploring small watercolor sketches as oppose to large-scale paintings.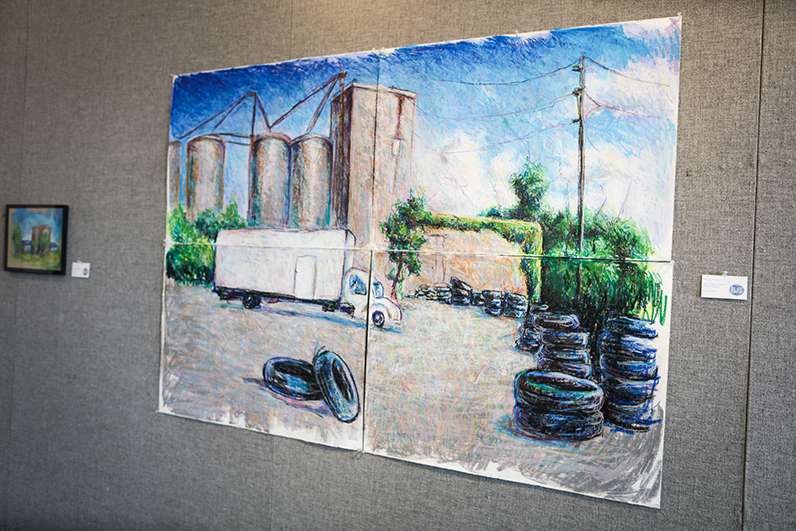 "When I was at Millikin, most of my studio work was large-scale oil paintings and I wanted to take a break from that," said Gardner, of Illiopolis, Ill. "My focus is on landscape work and my concept for the summer was to capture older buildings from the Midwest that show some destruction as well as a juxtaposition between the man-made and the natural."
While at Millikin, Gardner was a graphic design and painting major who worked under the guidance of Professor Lyle Salmi, chair of the Art Department, and Ed Walker, associate professor of art. He took the Blue Connection course for four semesters and worked with the gallery team on strategic planning and ownership.
"Having the opportunity to run the gallery myself has been incredible," said Gardner. "Blue Connection is such a good experience for any artist or business student to have because there's no other place where you can have the creative freedom to make certain decisions. We can try something different each month and see if it works."
As an artist, Gardner will spend hours photographing landscape areas and will use as many as 10 images to build his paintings. "It's important to me to find a photograph that I like and I can connect with because I do like to reference photographs when I work," he said.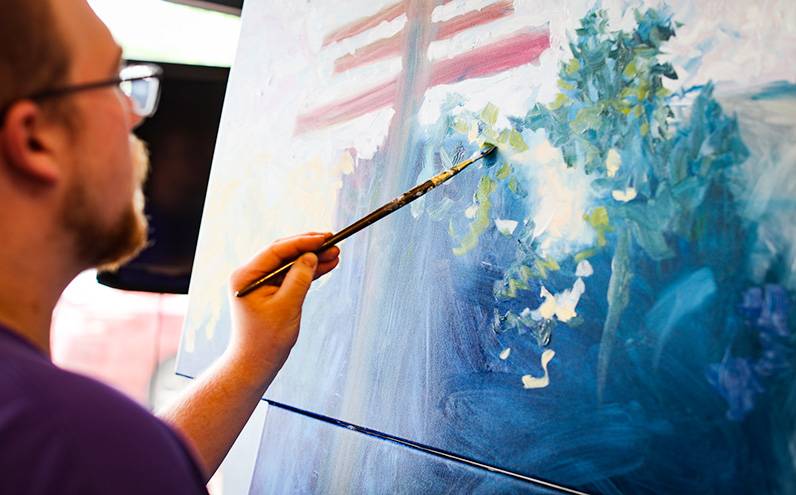 When he began as an artist, Gardner says there was a time where he liked realism, but he's become more interested in capturing expressive brush work and using more interesting colors thanks to his time at Millikin.
"I think being more expressive and 'loose' is a much more fun way to create artwork. When I came to Millikin, I was very focused on detailed work, which I still like, but I've grown to appreciate more expressive artwork and I have Lyle (Salmi) to thank for that, and I think Ed (Walker) has given me a great understanding of composition and elements of design," he says.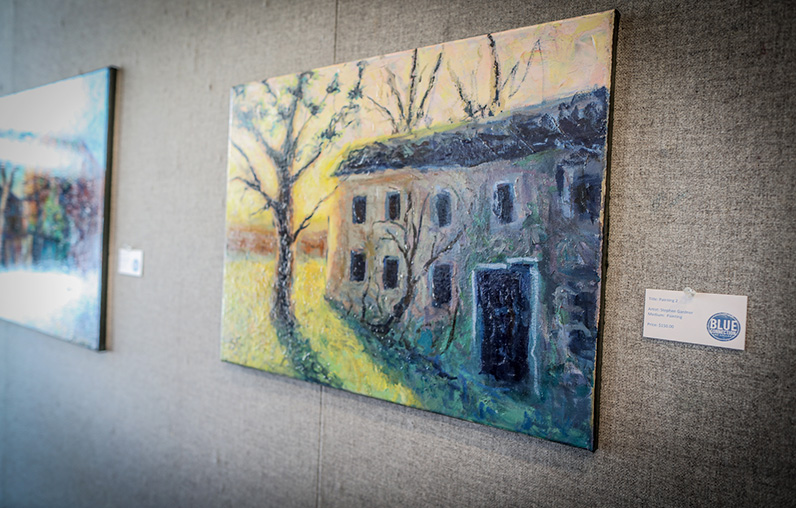 In reference to Millikin's Art Department, Gardner says having 24-hour access to studios was important. "The ability to use the facilities whenever we needed was amazing, and the students who take advantage of that – it can be seen in their work because they have that much more time and experience to put into their work."
As someone who has been quite involved with the gallery, Gardner believes it's important to spread community awareness about how special Blue Connection is to Millikin, its students and Decatur. To help spread the message, Gardner plans to organize a traveling show of the artists represented by Blue Connection.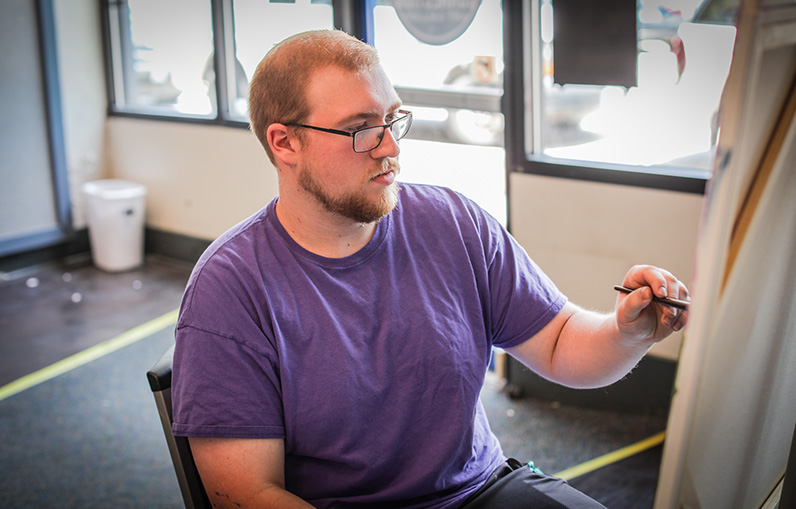 "I organized a traveling show last summer in Lincoln (Ill.), and I hope to organize another one in the fall or next year," said Gardner. "It's good to spread the message about Blue Connection because people outside Millikin don't always know what it is. Blue Connection is all about promoting students and student artwork. The gallery is run by students and the decisions are made by students. For any aspiring artist – don't stop making artwork."
Blue Connection
Opened in 2003, Blue Connection is Millikin University's student-run retail art gallery located in the Madden Arts Center in downtown Decatur and is currently led by Associate Professor of Art Ed Walker. Focused on arts and specialty businesses, the retail location is used by students in Millikin's Arts Entrepreneurship Program to grow their businesses.
Millikin's Arts Entrepreneurship Program is a six-credit course sequence providing learning-based business opportunities for students to practice self-employment. The program utilizes curricular-based, experiential activities and student-run ventures to give students a live laboratory experience in developing, launching and growing an arts-based business.