Millikin's EDGE program introduces students to college life
Decatur native Korren Baltimore is a senior business management major who is among a group of upper-class students playing the vital role of mentor for a program at Millikin University called Excellence Developed through Growth and Experience – better known as the EDGE program.
Millikin's EDGE program offers a unique opportunity for select freshmen to get a jump start on their first year by taking an intensive course that helps them adjust to the academic demands of college before classes begin.
As an EDGE Mentor, Baltimore says her responsibility is to help EDGE students get adapted to the transition from high school to college, as well as help first-years students develop good study habits and learn how to manage their time.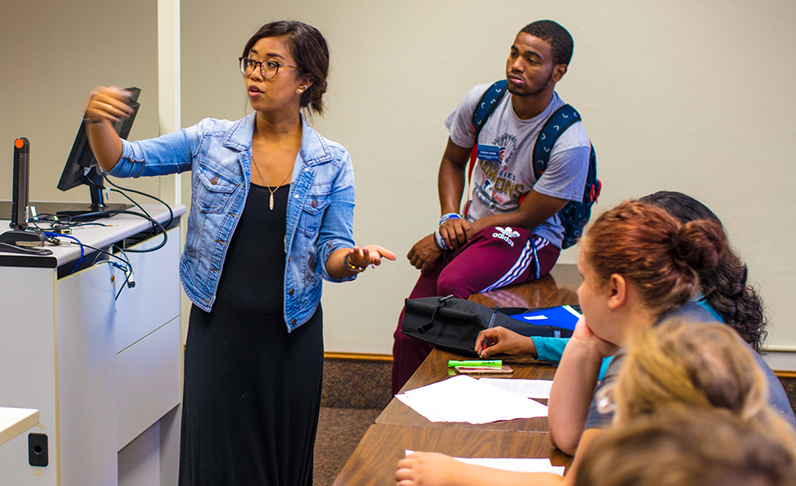 "We also guide the students through certain situations, such as trauma, and we try to help them through that," said Baltimore. "Our job is to anticipate those concerns and guide the students, even with something as simple as how to print a document or to show them where the printers are located."​
Kei'Von Evans, a sophomore health, fitness and recreation major from Rockford, Ill., was an EDGE student last year under Baltimore's mentorship and is now a mentor.
"The program gave me a big head start. When it came to the end of the program, we realized it was preparing us for college," said Evans. "When we went to our classes we already knew what to expect. As a mentor, I tell the students that the week is really worth it. I tell them, now, a lot of people will get here and be lost and not know what to do, versus you. You'll make some friends and get an idea how things work and where things are."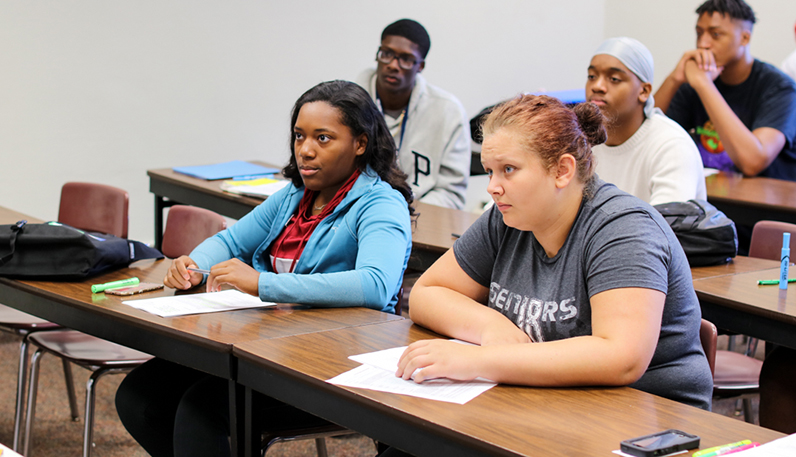 EDGE teaches first-year students the best ways to achieve academic and personal success through not only classes but breakout group sessions led by Millikin faculty. Students are introduced to certain subjects such as critical thinking, reading strategies, math, science, professional communication, technology and research strategies.
This year, those selected for the program were on Millikin's campus July 29 – Aug. 3 to complete the course just before New Student Welcome Week. Over 100 students, 108 to be exact, took part in this year's EDGE program.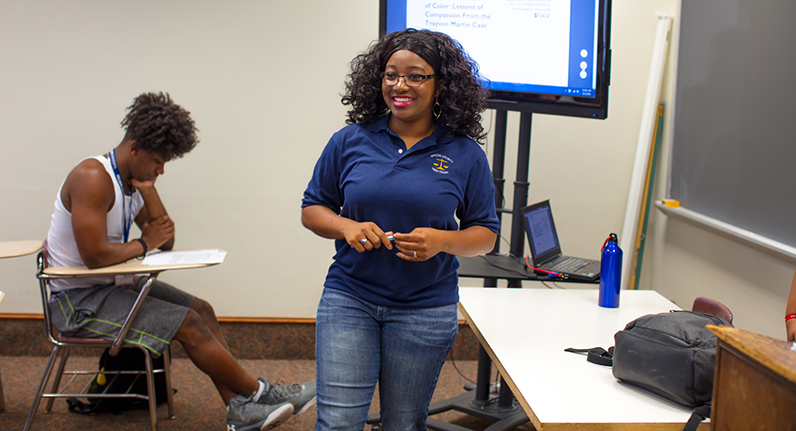 "It gives them the upper hand on how to manage college," said Carrie Pierson, senior director for the Center of Academic and Professional Performance at Millikin. "We also help them navigate lots of systems. In the high school setting you have teachers and principals. Here, there are professors and deans, and the EDGE students are learning what people do in certain roles like student financial services."
Pierson noted, "Many students in the EDGE program are first-generation students – they are the first student in their family to go to college. There are many things that are different and mentors are able to help them answer those questions."
One of the EDGE program breakout sessions was a life skills workshop titled "Your Money Matters" led by Millikin graduate and adjunct instructor Nikki Garry '03, founder and owner of Your Money Matters LLC. Through her company, Garry offers financial coaching through one-on-one sessions and financial literacy seminars. While addressing the EDGE students, Garry used a Family Feud-style theme to stress the importance of budgeting and understanding how to pay for a college education.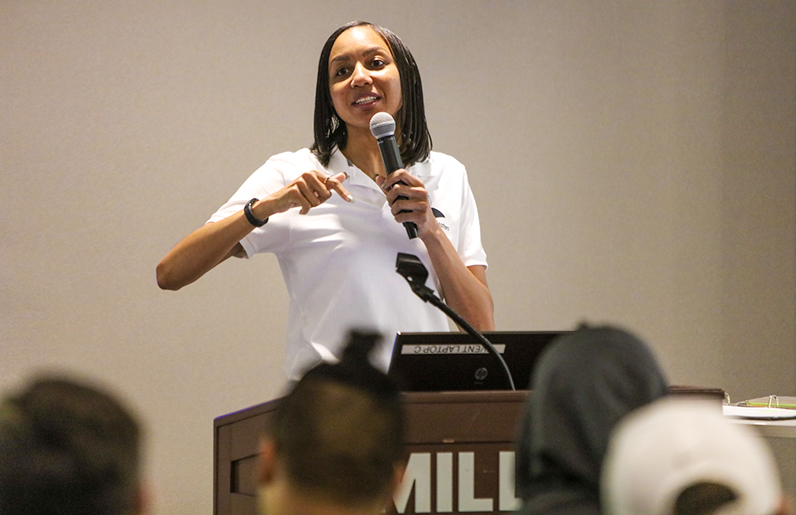 "Why should you have your money saved up?" said Garry. "We're talking about money matters because it does. An effective budget helps you spend your money wisely, reach your financial goals, prepare you for emergencies and helps you develop wise financial habits."
Hailey Stokes, a junior graphic design major from Huntley, Ill., also an EDGE mentor, says mentors share the importance of expectations at Millikin and differences from the high school experience.
"We're teaching them how to be more professional about things, and 'how to adult,'" said Stokes. "Some of the students arrive thinking they won't be successful. After finishing the week of EDGE and with the advice and help they receive from mentors during the first semester, those students often become campus leaders."
So how does EDGE work? The program is divided into three parts. Part one involves the one-credit course prior to New Student Welcome Week. EDGE students are able to move into residence halls early and have meetings with Center of Academic and Professional Performance (CAPP) staff. Part two is a one-credit fall semester course that involves continued academic support and activities with faculty, EDGE mentors and CAPP staff. Part three, very much like part two, is a one-credit spring semester course that involves continued academic support and activities.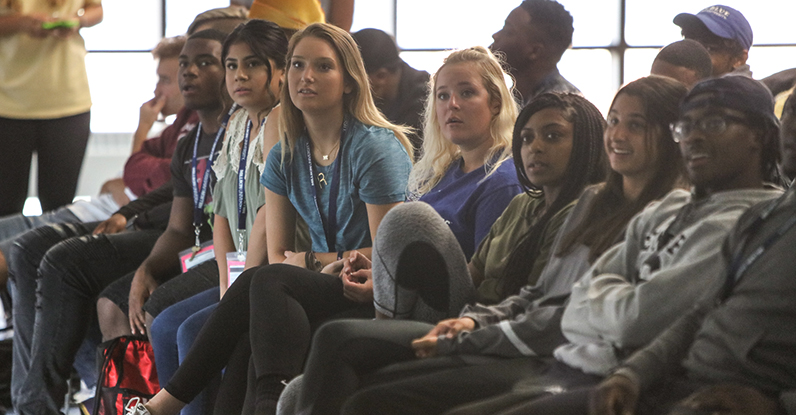 Staff members from the Center of Academic and Professional Performance monitor the progress of EDGE students to address any obstacles that might get in the way of their academic success while at Millikin. Additionally, CAPP staff organize weekly study tables and follow up with EDGE students at critical times during each semester.
Millikin President Dr. Patrick E. White addressed the EDGE students on Aug. 2 encouraging them to work hard now and to reap the benefits later in life.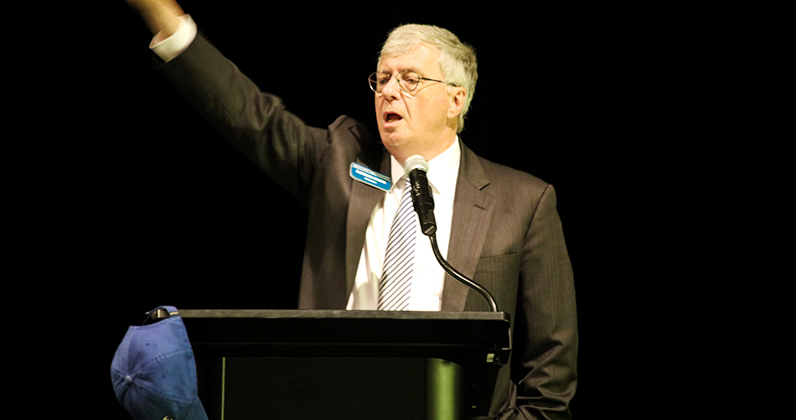 "You've been transforming yourself and a college education is all about transforming. You have no idea how good you are," said President White. "When you are strong and hardworking, all of us get better. When you are successful, we are all successful, and you will be. Your transformation matters not only to me, but to everyone at Millikin."