Millikin graduate opens French patisserie and café in northern Chicago
It's been a decade in the making, but Benjamin Levy's vision for opening his own French patisserie and café in the northern suburbs of Chicago has come to life.
Called "That Little French Guy," Levy's café is located in Highland Park. It offers an authentic taste of France with every product entirely hand-crafted and most pastries made with fresh French ingredients.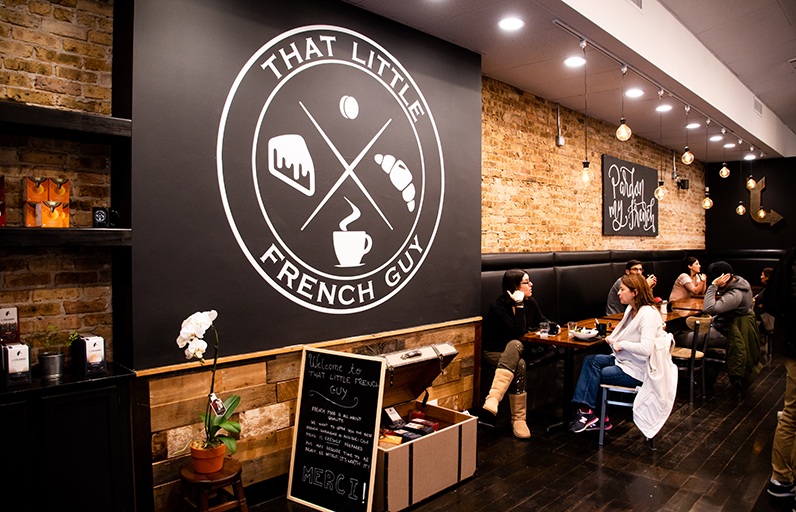 Growing up in Paris, Levy knew he was destined to become a pastry chef after spending much time baking and cooking with his grandmothers. "I always knew I wanted to bake and cook professionally," he said.
Levy went on to study at ESG Management School in Paris – a partnership school with Millikin University. In 2010, Levy spent a year abroad at Millikin studying entrepreneurship and further developing his patisserie business plan with help from Dennis Schwieger, an adjunct lecturer of business. Intrigued by Levy's business idea, Schwieger recommended his hometown as a perfect location – Highland Park.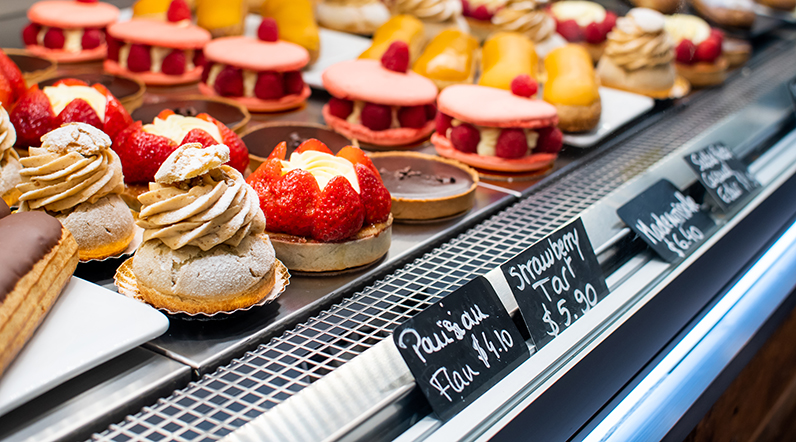 "I always knew that I wanted to open the café in the U.S. and that's why I wanted to study in the U.S. first," said Levy. "I had traveled to New York, Miami and California, but when I studied at Millikin I was able to travel to Chicago and I fell in love with the city and the Midwest."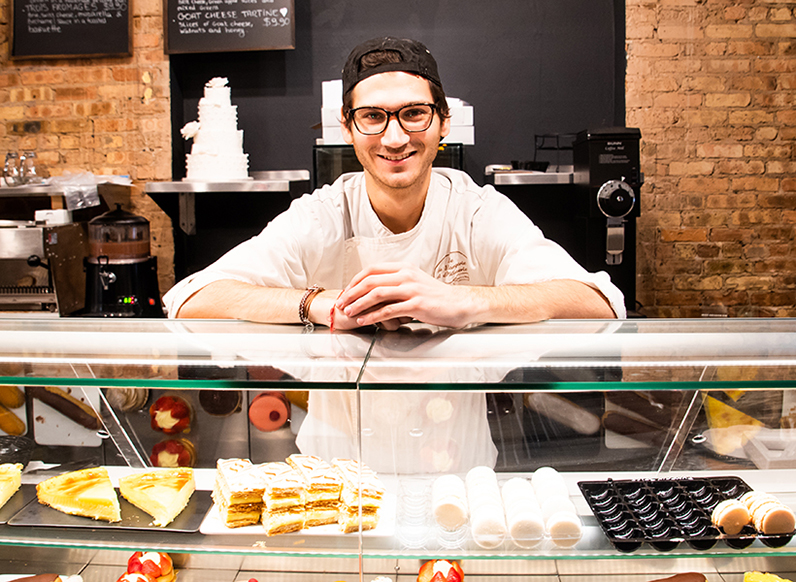 Levy says he felt fortunate to study at Millikin because of the entrepreneurship courses and mentorship he received from Schwieger. "He gave me so much advice and we spent a lot of time after class talking about the project. Along with recommending Highland Park, Dennis (Schwieger) got me involved with Millikin's Business Pitch Competition, and that was the first time I came up with the business plan for the café."
After Millikin, Levy went on to complete his master's degree, attended baking school in Paris, and gained experience in the industry by learning from two of the most prestigious French bakeries and cafés, Angelina and La Maison Pichard. Shortly after, he returned to Chicago.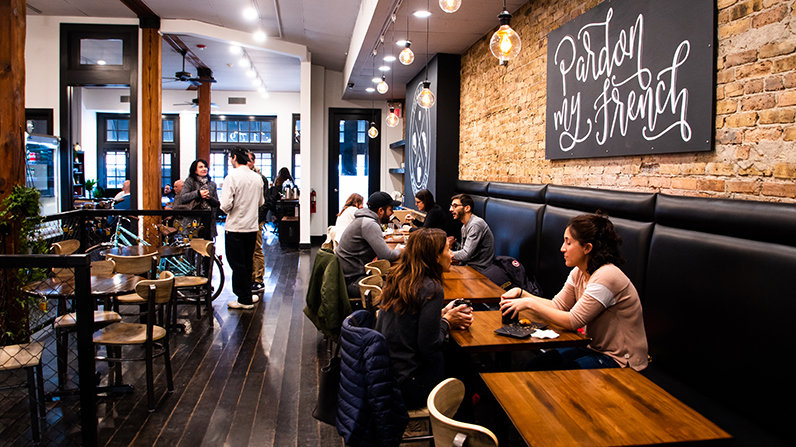 "Many people thought I was crazy, but I always knew I was going to do it – it was a real dream to open it," said Levy.
So what's on the menu at That Little French Guy? Everything from breakfast pastries, crepes, sandwiches, varieties of French toast, soups, salads and cookies. Levy says the café stands out because everything is "100 percent French, zero percent arrogant." The 3,300 square-foot space has wooden floors, wooden tables and chairs that give the dining room a warm atmosphere.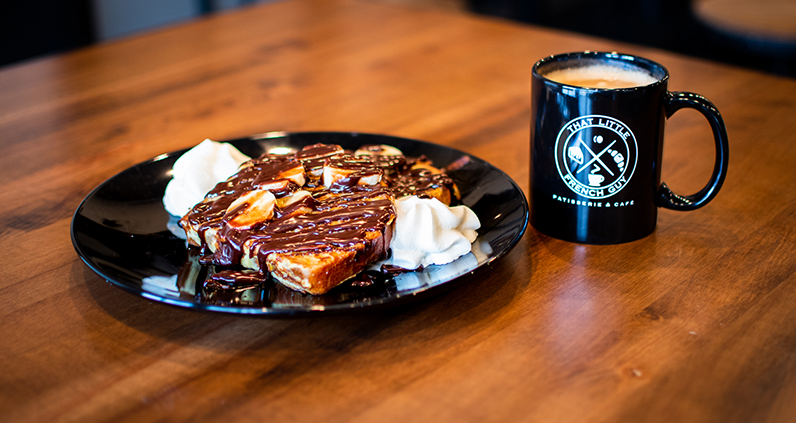 "We're not looking for a profit right now, we are trying to become a nice place for people to hang out – it's casual," said Levy. "Everything we make requires a lot of labor but everything we offer is very affordable."
Things are off to a good start at the café after opening in the fall of 2018. "Ever since we opened the doors we've been very busy. I feel as though I owe something to every customer that walks through the door. The fact that people come to my place – it feels really good. You feel a lot of pressure with each customer because you don't want to disappoint anyone. I'm so proud to see that we are doing better than expected."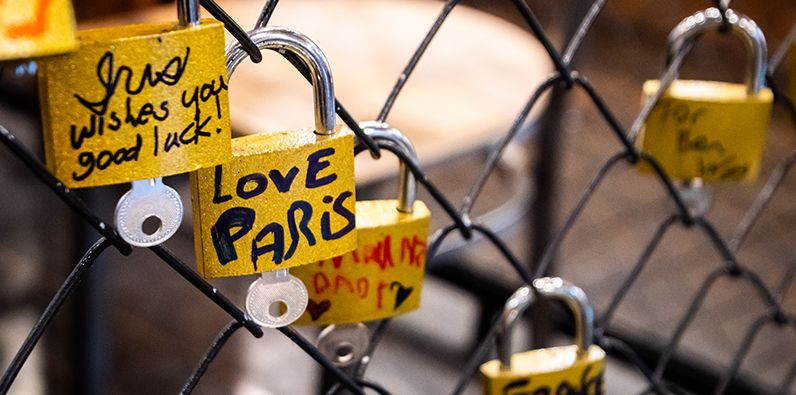 That Little French Guy is located at 1791 St. Johns Ave. in Highland Park, Ill. Hours are 6 a.m. – 6 p.m. Tuesday-Friday; 7 a.m. – 6 p.m. on Saturdays; and 8 a.m. – 4 p.m. on Sundays. The café is closed on Mondays.