Millikin's Patrick White 'bleeds blue'
Dr. Patrick E. White joined Millikin University as interim president in July 2013, and under his leadership, Millikin has been revitalized and reimagined, and he has built a solid foundation for further growth and success.
Known around campus for his approachability and tireless support of all things Millikin, President White is hard to miss when it comes to attending most events.
"You know by his voice or his laugh," Kalli Farmer says in an interview with the Herald & Review. "Or in a crowd, you can just see him. You just know right away because he's all over the place. He's hard to miss."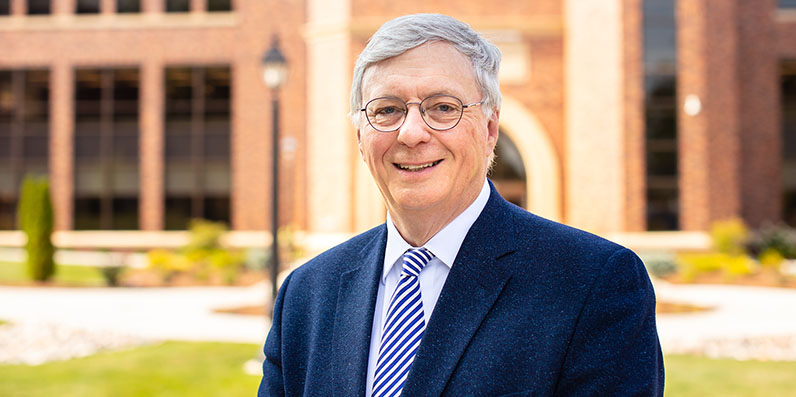 Farmer, a senior from Columbia, Ill., added, "He has great conversations with us. He comes to softball games, music and dance events, just supports the students and everything we do. The fact that he can do that is incredible. He works all day and still, you see him at all the events. He makes the students a priority and it's just awesome to see that in the president of a university."
Back in February 2019, Dr. White, Millikin University's 15th President, announced plans to retire effective June 30, 2020.
Under President White's leadership, there have been significant contributions to enhancing Millikin University's campus as well as Performance Learning experiences for current and future Millikin students. In 2015, Millikin completed its "Transform MU" capital campaign 14 months early, exceeding its $85 million goal by over $10 million. This successful initiative led to the design and construction of innovative, transformative facilities on the University's campus. The Workman Family Softball Field, one of the best in the nation, was unveiled for the spring 2017 softball season. The $31 million University Commons, which serves as the "front door and main street" to campus, opened in August 2017 and houses the Staley Library; the Doug and Diane Oberhelman Center for Leadership Performance; the University dining hall; and additional spaces designed for collaborative use by faculty, staff, students, alumni and the community.
Under Dr. White's guidance, the campus will soon be enriched by the completion of the Workman Family Baseball Field, which will be formally dedicated on Sept. 27, 2019, as a part of Millikin's Homecoming and Family Weekend festivities.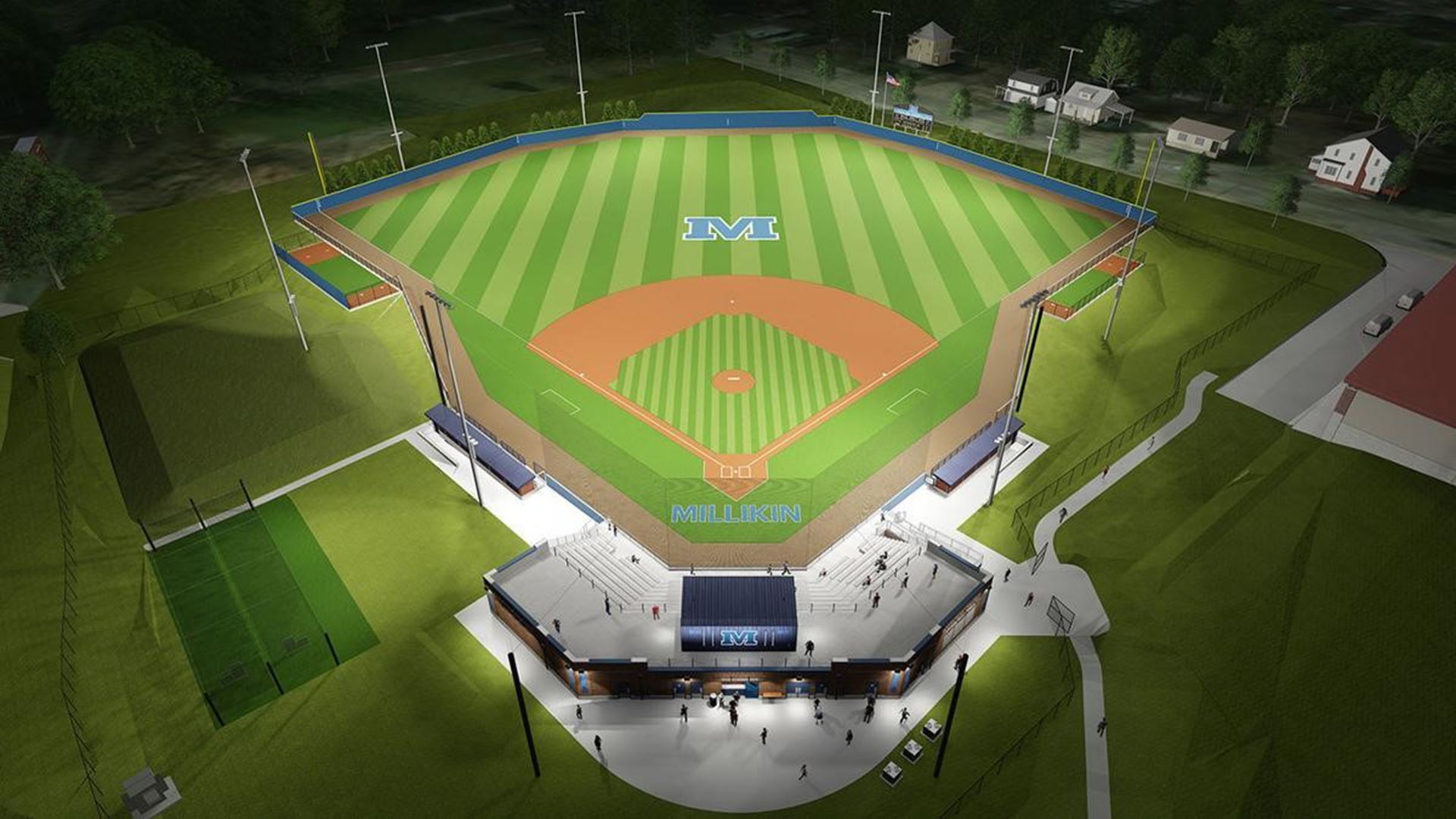 Additionally, the University's new Center for Theatre & Dance will be completed in fall 2020. For the first time, Millikin's School of Theatre and Dance will have a facility equal in quality and potential to its national reputation. This $29 million state-of-the-art facility will feature a 260-seat flexible theatre with an orchestra pit and balcony, lighting and sound labs, a costume studio, collaboration spaces, costume and design classrooms, modern equipment and office space for current staff with room for growth.
"I would not be able to list every little thing," said Gina Bianchi, vice president of alumni and development at Millikin. "We surpassed our goal and he was one of the reasons we were successful. He's very much a people's president," Bianchi said. "He tries to be everywhere at everything and that's demanding on his time, but that's the way he likes it."
President White notes that he has plenty of time left to keep Millikin moving forward and continuing its "momentum."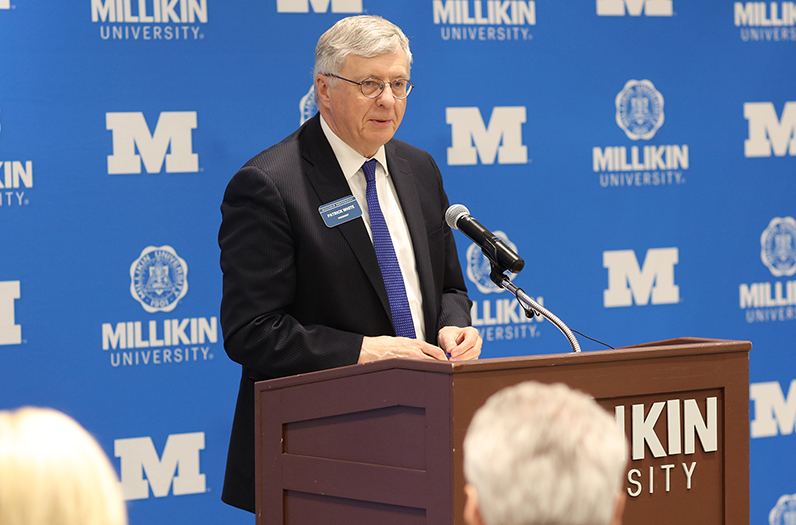 "I still have about 12 percent of my presidency to go," White said. "There's a lot of work to get done even as we move into the search and transition process, we're continuing to work on raising funds for the Center for Theatre and Dance, and we're beginning to raise money for our additional changes in athletics."
White added, "One of the things of which I'm most proud is, I like to point out, it's not just me. It's my leadership team, the cabinet, the faculty and staff, the board of trustees that helped Millikin get its momentum back and going again."
"Our students and our alums are excited about the future of Millikin, and our present, and what we're doing, and the key to that is the work that the faculty and staff have done to define and articulate and highlight our understanding of Performance Learning."
In addition to the remaining fundraising efforts for the Center for Theatre and Dance, the University is gathering contributions for Phase I of the Griswold Center renovation and expansion project – a $12 million project. Phase I will include building a facility to house six new locker rooms for varsity and junior varsity football, Men's and Women's soccer, and Men's and Women's track & field and cross country. Phase I also includes a fitness center for the entire campus community as well as classrooms and team meeting spaces.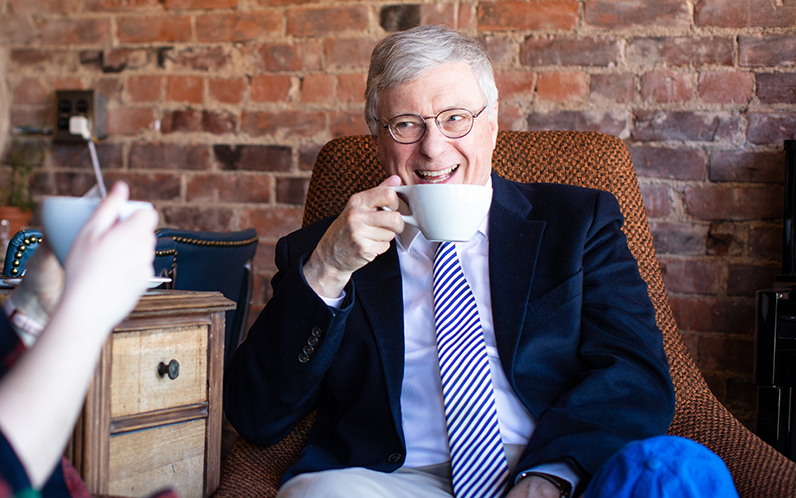 "He's a guy who really, really wants, every day, to figure out how to take a forward step to make some good things happen," said Millikin Provost Dr. Jeff Aper. "He keeps his eye on the small things, like being sure he is directly responsive to students one on one and in large groups, to details like thinking about real big items, like putting together planning and funding for projects like the University Commons or the Center for Theatre and Dance. Those are huge projects, but he gives the same energy and attention to all things that matter, and that's why he's a remarkable guy as president."
Millikin Board of Trustees Chairman Randell Blackburn, retired vice president, Transportation, Union Pacific Railroad, says Dr. White's leadership has changed the Millikin experience for everyone.
"I think the most important thing is, he has a message of growth and growing the university in all aspects," Blackburn said. "He really supports the mission and the vision of the university and it really comes down to Millikin as a national leader in Performance Learning, student engagement, preparing students for professional success, and a personal life of meaning and value."