A homecoming for Millikin University's newest President
Dr. James M. Reynolds officially began his new role as Millikin University's 16th President on July 1, succeeding Dr. Patrick E. White who retired after serving as president since 2013.
Reynolds comes to Millikin after serving as president of Wilmington College in Wilmington, Ohio, a position he held since 2012 after serving as interim president from August 2011 – February 2012.
A native of Decatur, Ill., the journey back to central Illinois is a homecoming for Reynolds who certainly knows the vital role Millikin plays in Decatur and Macon County.
"I love what Millikin does, and I love who they serve," Reynolds said. "I love the work done each day by faculty and staff who are devoted to the success of their students. I love the deep sense of belonging and community I felt while on campus. I love the students who have chosen Millikin as the place where their lives will be transformed through their complete education, both inside and outside of the classroom."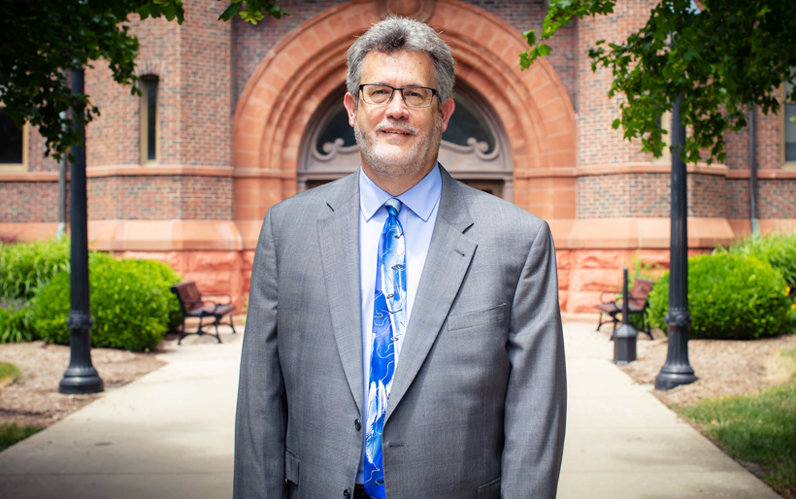 One of Reynolds first tasks will be the opening of Millikin's new Center for Theatre & Dance in the fall as well as preparing to bring students back to campus in August.
"A lot of work is being done with the faculty to consider how best to teach students in this particular environment," Reynolds said in an interview with the Herald & Review. "I'll be working with some of the other senior administrative staff on the strategic planning process that the university needs to engage in going forward. We will be looking at budget allocations and how best to use the resources that we have and to think more broadly about enrollment and how we can attract more students to Millikin so they can have this really exceptional experience."
Reynolds added, "I know the role of the president and the work that needs to get accomplished. A big part of that is developing trusting relationships with the people that you work with, so I'll be doing a lot of that, and reaching out to alumni and friends of the university."
In addition to the renovations and new facilities on campus, Reynolds says his next priority is athletic facilities.
"The one area I think we all agree needs additional work, or maybe more than additional work, is the athletic facilities," Reynolds said. "Probably 60 percent of the students want to be intercollegiate athletes. I hope to be able to develop good contacts with alumni and friends of the university and start to have those conversations with them. I think also there's a lot of opportunity at Millikin for new academic programming."
During his time at Wilmington, Reynolds oversaw creation of a new campus wide strategic planning process, and oversaw the successful reaccreditation of Wilmington College by the Higher Learning Commission in 2017. Under his leadership, Wilmington launched partnerships with three medical health care providers that resulted in the construction of the Center for Sports Sciences (completed in August 2015). The College also increased its Annual Fund support and overall giving over the past three years. During his time at Wilmington, the College concluded its largest fundraising campaign in institutional history in December 2017, exceeding the $21 million goal.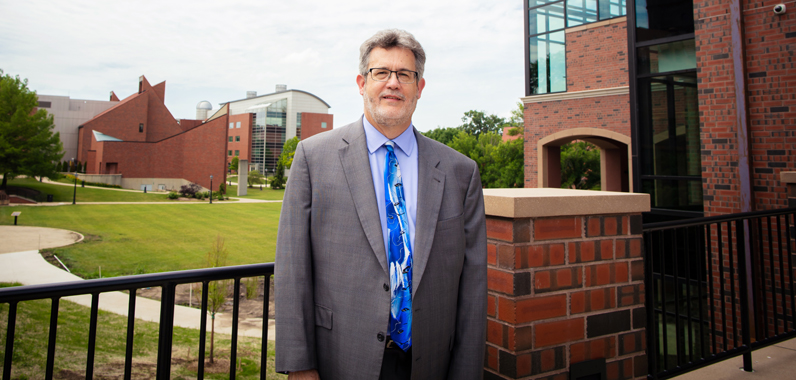 Prior to Wilmington College, Reynolds served as academic vice president and dean of the faculty at Midland Lutheran College in Fremont, Neb., from 2003 – 2006. Previously, he held various teaching and administrative positions at Drake University, including associate dean and interim dean of the College of Pharmacy.
Reynolds earned a Bachelor of Arts in biology from Drake University, a Master of Arts in zoology from DePauw University and a doctorate in biology from Illinois State University.
Reynolds is excited to welcome new students and connect with returning students and knows the Millikin community is anxious to be together to continue the University's Performance Learning curriculum.
"This is a wonderful university," he said. "I was the first of my family to go to college and I understand how transformational this experience can be for students who are just looking for a hand up, so that was a big draw. Coming back home for my last chapter in my professional career is really attractive."