Dr. J. Mark Munoz receives 2016 AGBA Distinguished Business Dean Award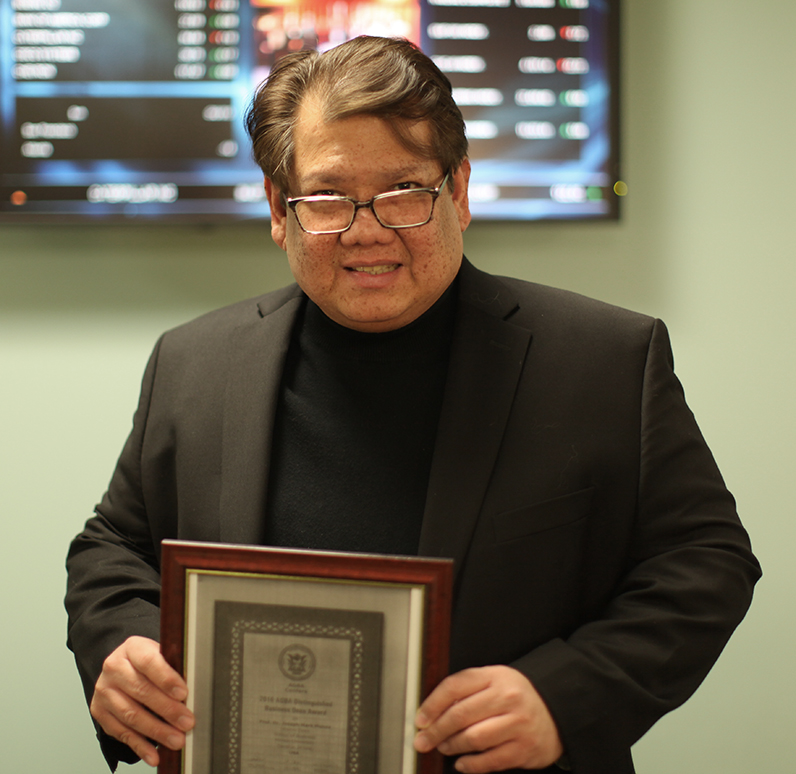 Dr. J. Mark Munoz, professor of management and international business at Millikin University, was awarded the 2016 Academy for Global Business Advancement (AGBA) Distinguished Business Dean Award.
The AGBA's Global Board of Trustees honored Dr. Munoz at the 2016 AGBA World Congress held Nov. 26-27 at Universitas Sebelas Maret in Surakarta (SOLO) Central Java, Indonesia. Dr. Munoz accepted the honor in absentia.
"I am honored to be the recipient of the Academy of Global Business Advancement 2016 Distinguished Business Dean Award," Dr. Munoz said. "AGBA is one of those truly international organizations that bring together academics and business executives worldwide. Their annual conferences draw thousands of attendees. The organization embraces global citizenship, diversity and excellence – values that Millikin University stands for. Rather than a personal honor, I view the award as a validation and recognition of Millikin University's and the Tabor School of Business' international mindset and citizenship."
The Academy for Global Business Advancement is a worldwide network of professionals committed to facilitate dissemination of scholarly research findings in the field of business and entrepreneurship development. The main purpose of AGBA is to provide an ongoing open forum to discuss and analyze business and entrepreneurship development from different perspectives and viewpoints in order to improve understanding of underlying forces that impact global developments and shape the destiny of developing countries.
A Millikin faculty member since 2001, Dr. Munoz is a former Visiting Fellow at the Kennedy School of Government at Harvard University. He is a recipient of several awards, including three best research paper awards, a literary award, and the Accreditation Council for Business Schools and Programs (ACBSP) Teaching Excellence Award. In 2012, he was recognized as a Distinguished Scholar by the Academy of Global Business Advancement. He previously served as interim dean of Millikin University's Tabor School of Business starting on Nov. 2, 2015.
Dr. Munoz noted, "An award is typically defined as something that is 'conferred on the basis of merit.' During my short tenure as dean, I do not think I have accomplished much of these merits. I am certain this award was based on the prolonged and continuous effort the entire University has taken to advance internationalization and excellence in business education. I don't think this recognition belongs to me. It belongs to the entire University – the students, the faculty, the administration and staff for the great work that they do."
Aside from top-tier journal publications and book chapters, Dr. Munoz has authored, co-authored and edited numerous books including: "Winning Across Borders," "A Salesman in Asia," "International Social Entrepreneurship," "Contemporary Microenterprise," "Handbook on the Geopolitics of Business" and "Hispanic Latino Entrepreneurship."
Dr. Munoz holds a Ph.D. in Management and a Master of Business Administration from the University of San Jose-Recoletos. Prior to joining Millikin, he held senior management roles for diverse multinational organizations.
"I am very grateful to the AGBA organization for thinking of me and Millikin University, and recognizing our efforts towards international excellence," Dr. Munoz said.