Millikin A cappella group takes top honors at Midwest competition
Millikin University's mixed A cappella group Dissonance won the 2019 Varsity Vocals International Championship of Collegiate A Cappella (ICCA) Midwest Quarterfinal competition at Washington University in St. Louis on Feb. 2. By earning top honors, Dissonance has advanced to the ICCA Semifinal competition which will be held on March 30 in St. Louis.
Dissonance finished ahead of The Stereotypes from Washington University and Beyond All Reason from Saint Louis University who placed 2nd and 3rd, respectively.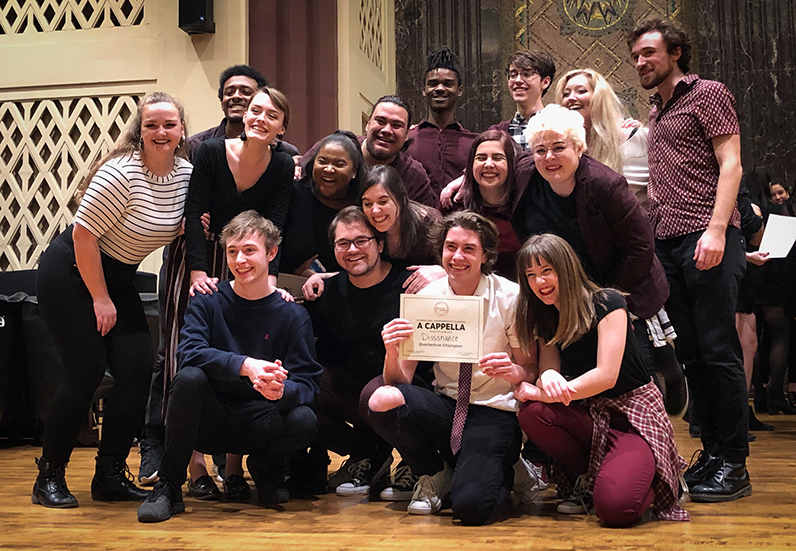 Additionally, Millikin student Taylor Bailey, a junior vocal music education major from Oswego, Ill., was named Outstanding Soloist at the competition for her performance on the song "Make Me Feel" by Janelle Monae.
"The ICCA is a four-stage competition where you have to pass a video entry test, depending on your region, and six to 10 groups will compete in the regional quarterfinals and the top two groups move on to semifinals," said Dissonance Music Director Joshua Wick, a sophomore vocal performance major from Beloit, Wis. "The top group from semifinals moves on to finals which are held at the Beacon Theatre in New York City. The ICCA is really the place to break into the collegiate A cappella world."
For the ICCA Quarterfinal competition, Dissonance prepared three songs, including choreography produced by student McKena Silva, a senior musical theatre major from Casper, Wyo.
"We rehearsed three times a week and held a 'boot camp' on all of the songs and choreography," said Olivia Tharpe, current president of Dissonance and a junior musical theatre major from Lafayette, Ind.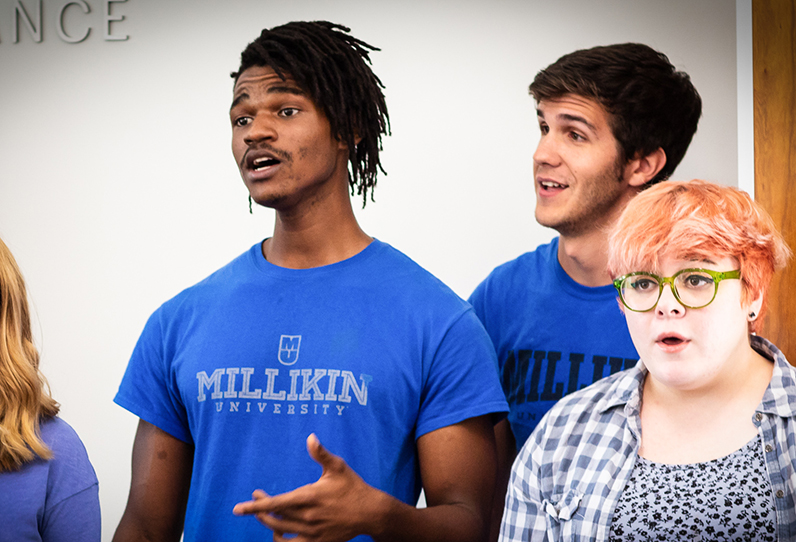 Among the 16 members of Dissonance is soloist Rafael Wilson, a senior acting major from Alsip, Ill., who said groups were given 12 minutes for each performance at the competition. "Each set had an opening song, with a ballad number in the middle, and then a closer." Judges at the competition critiqued the performances based on vocal performance, visual performance and subjective rank.
In terms of preparing for the competition, Joshua Wick says it was all student-driven. "We had a bunch of faculty support, but outside of that, we were given free rein to pursue what we wanted – the choreography was student-done, and everything was done by students for students."
Dr. Brad Holmes, director of choral activities at Millikin, is the faculty advisor for Dissonance and credits the students for taking charge of the project.
"They have shown creative vision and the skills to bring that vision to reality at a high level," he said. "I'm really proud of them and what they are saying to the A cappella community about music at Millikin."
As for Taylor Bailey, winning the Outstanding Soloist award came as shock, so much so that she needed help from a classmate to reassure her that she won. "I was standing in the back of the group when my name was called," she said. "My friend had to push me forward because I was standing there frozen in shock."
Bailey has been singing in A cappella groups since she was a sophomore in high school, but being in Dissonance has very much changed her life for the better.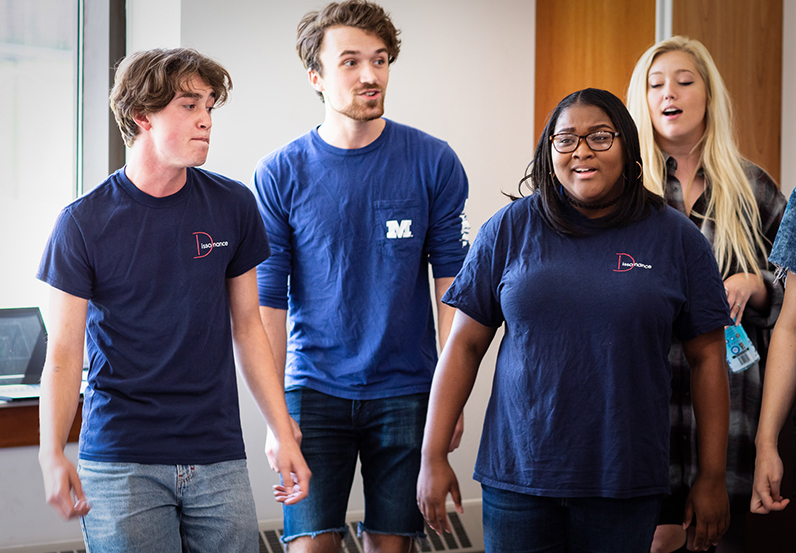 "I was a person that never liked singing solos because I had bad stage fright. Being a part of Dissonance has helped me with that so much," said Bailey. "Everyone in the group is just so encouraging and we're always uplifting each other and pushing each other to be the best that we can be. Something that the Varsity Vocals producer told us during our soundcheck was that she could see our connection and how close we are throughout our performance, and I think that's something that we have that not many other groups have or at least show."
Dissonance was founded in 2016 starting with eight members. The group grew to 18 members after having their first auditions. Last year, Dissonance competed in the ICCA competition for the first time finishing in 4th place, respectively.
"With the founding group, we performed on campus and toured the St. Louis area at many different high schools," said Wilson. "We've recently toured the central Illinois area and this year we will be touring Chicago in March. We didn't start the group with the idea of competing, it was more so about educating music and the love of performing – it's good to see how Dissonance has grown."
Olivia Tharpe says Dissonance is all about enriching the community through performance. The group took this mantra a step further by launching a summer music camp last year called Project A Cappella. The camp, started by Dissonance co-founder Mairyn Dodson, is three days of sessions focused on introducing and immersing students, grades 9-12, into contemporary A cappella. Students learn about vocal percussion and singing solos, while also performing in their own A cappella ensembles. Dodson started the camp as part of her James Millikin Scholars (JMS) project.

"It's really cool to see how student organizations and JMS can interact to create something like Project A Cappella, and that the School of Music has shown interest in picking up the camp to turn it into an annual thing," said Wick.
Wick notes that Dissonance is unique because they accept all majors and actively strive to recruit areas outside just the School of Music and School of Theatre & Dance to find people who can sing and perform. "It's about finding people who are passionate about making music in their lives and passionate about making music with other people. We have all sorts of majors from Millikin and it's great to see those people start to interact between different areas of campus – it brings people a little bit closer here as well as when we are away," he said.
The group is in the process of working with sound engineers at Millitrax Studios to make and release its first extended play (EP) album. The release of the EP is slated for the spring 2019 semester with seven to eight songs to be featured on the album.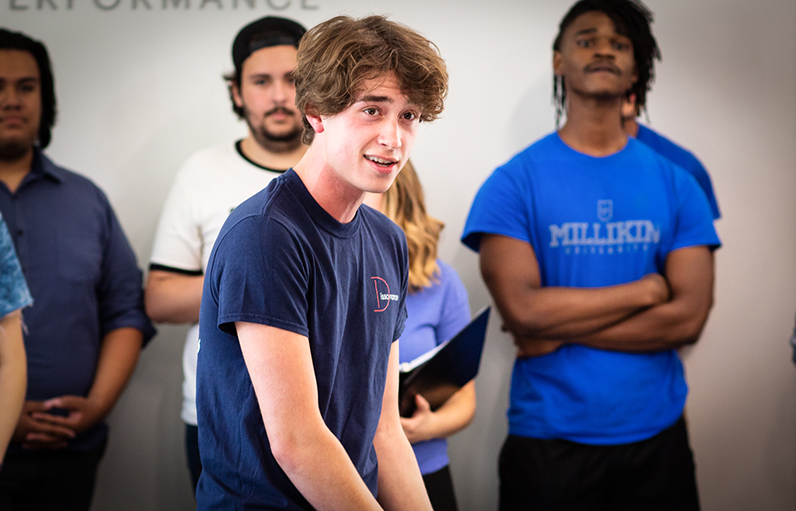 Wick added, "We're really excited about the studio project. If we can get that published through Spotify or Apple Music, we think that would be a great way to get Millikin and Dissonance out there in the A cappella collegiate community."
For most A cappella groups, it's a four-year commitment for members after auditioning, but Dissonance re-elects its five board members every late spring. Those board members are responsible for holding auditions and organizing the group for the coming year. Even members who have been in the group have to re-audition. "You always want to build around the sound that you have, but I think it helps push people to new heights and keeps people accountable," said Wick.
"It's great because it is A cappella – it's just our voices. We are creating the sound effects that you hear," said Wilson. "I think it has that 'pitch perfectry.'"