Millikin event offers free professional attire for students
First impressions last longer, get talked about more and can be a deciding factor in how you are perceived as a professional. It's no secret that appearance and attire play a major role in how you are viewed by a future employer.
With this inevitable truth in mind, a future of interviews, internships, careers and a tight college budget, "Dress to Impress" at Millikin University was born.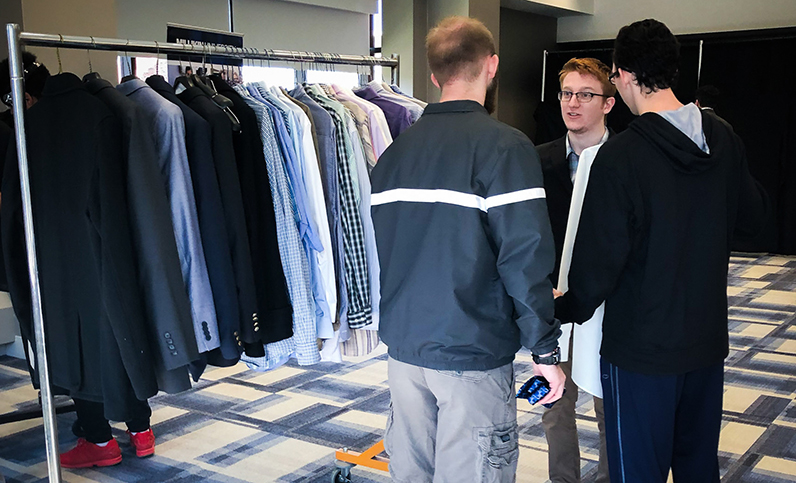 The event took place on Oct. 13, 2019, on the 3rd floor of the University Commons, and the Bob and Debi Johnston Banquet Room was quickly filled with eager students needing professional attire.
Alex Pratt, a senior information systems major from Springfield, Ill., and president of Delta Mu Delta (DMD) led the way with the event.
"The idea for the event was suggested to Delta Mu Delta from the Dean of the Tabor School of Business, Dr. Najiba Benabess," said Pratt. "We saw the need for students to have the opportunity to receive free professional attire so that they can confidently approach any interview and internship in style."
Delta Mu Delta is a business honor society that recognizes and encourages academic excellence of students at qualifying colleges and universities to create a DMD community that fosters the well-being of its individual members and the business community through life-time membership. Millikin's chapter, Xi Sigma, was installed on Feb. 23, 2017. The chapter's mission is to encourage and honor academic achievement in the study of business. Membership is open to junior and senior Tabor School of Business students with a GPA of 3.5 or higher.
The planning for the event took place over the course of several months. From planning to executing, Dress for Success had several key partners that helped make the event a success. Waite's Dry Cleaners and Pride Dry Cleaners and Launderers provided dry cleaning for donated clothing as well as clothes racks to hang the clothing during the event.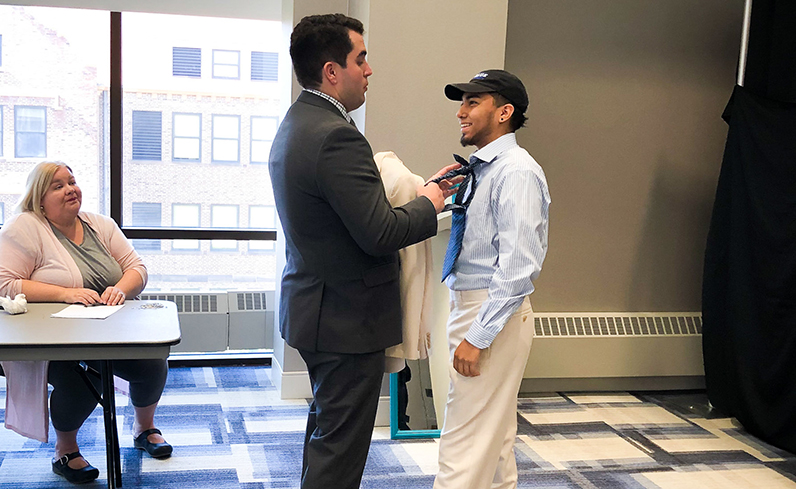 Along with the dry cleaners, Dress to Impress also partnered with Millikin's Center for Academic and Professional Performance (CAPP). CAPP representatives Chelsea Gilles, academic intervention specialist, and Alicia Gullidge, student employment specialist, were on hand to provide brief resume checks and advice for any students on how to get started with their resume.
Millikin's School of Theatre and Dance also assisted with the event as Jana Henry Funderburk, professor of theatre and dance who specializes in costume design, offered alterations for the clothing that students picked out. Zack Stroud, a representative of The Brass Horn, a local business professional clothing store in Decatur, Ill., was on hand to offer his services to help students find clothing that fit and matched.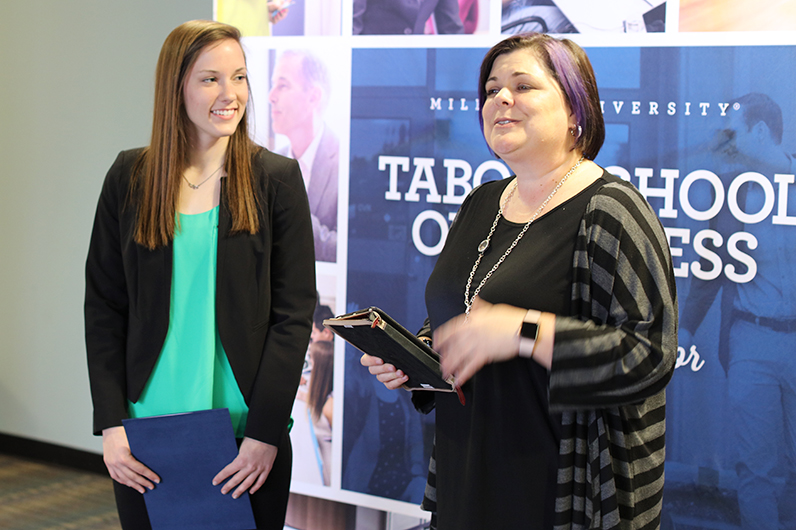 Over 50 students attended the event and more than 160 clothing items were donated. Pratt says Delta Mu Delta and the Tabor School of Business plan to make Dress to Impress an annual event with future plans to coincide with Millikin's internship fair as well as accepting donations from the Decatur community in addition to the Millikin community.
"This event is important to the Millikin community because it gives students the chance to have accessibility to something that not everyone has access to," said Pratt. "Most students, especially those in the Tabor School of Business, need business professional clothing at some point during their time here at Millikin and after. This event was a way to give students the opportunity to find clothing they can use and also understand the importance of wearing clothing that properly fits."