Millikin student-run newspaper honored for general excellence
Millikin University's student-run newspaper, the Decaturian, garnered several awards at the annual Illinois College Press Association (ICPA) conference, held March 18-20 in Chicago.
The Decaturian took home 17 awards in the under 4,000 circulation category at the ICPA conference, surpassing the Dec's 15 ICPA awards in 2021. As an entire staff, The Decaturian won third place in General Excellence and third in the Sweepstakes category for points earned across all contest categories.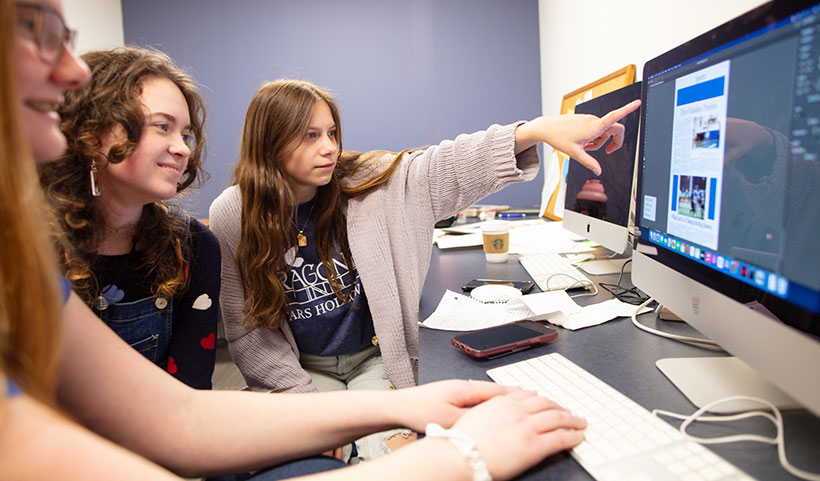 From left to right: Carin Houser, Sydney Sinks and Jeana Pierson
"I'm proud of what the Decaturian students did this year. They've covered some sensitive topics professionally and they've covered the everyday stories the same way," said Dr. Scott Lambert, Decaturian faculty advisor and associate professor of English at Millikin. "The results from ICPA only reinforced what they already knew—they were doing a good job. I'm thrilled with the third place in General Excellence. That category looks at everything they did."
Jeana Pierson, a senior English writing major with a criminal justice minor, and editor-in-chief of the Decaturian, earned first place honors for Headline Writing for an article that discussed the monumental impact of Kamala Harris becoming the first female Vice President.
"Headlines are a reader's first glimpse into an article, and they must be witty, creative and attention-grabbing. Anyone on the paper and even our advisor, Dr. Lambert, could tell you that I have always taken pride in my headlines specifically," said Pierson, of Harristown, Ill. "To me, all of these awards mean that despite COVID-19 and all of the challenges that came with it, the Decaturian has not only survived, but it has continued to grow and thrive. It is a huge accomplishment and proof that college journalism is alive and well at Millikin University."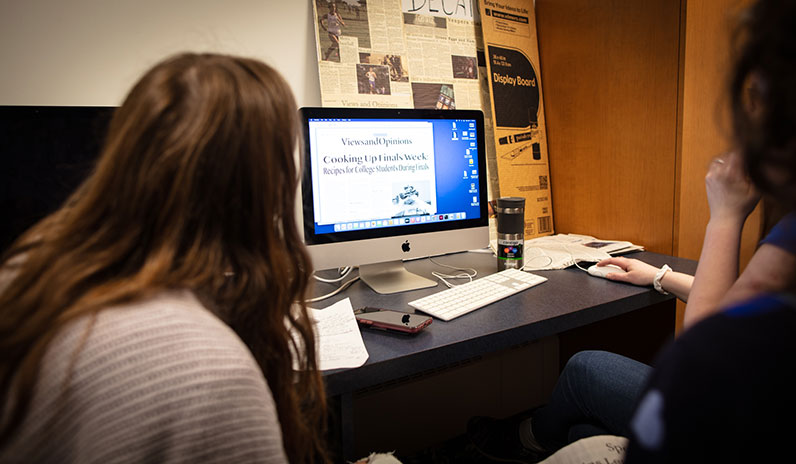 Sydney Sinks, a senior English writing major, reporter and editor for the Decaturian, earned two first-place awards for her in-depth reporting and a second-place honor for her editorial work.
"My job as a journalist is to help people as much as I can, and it's important—not just for me, but for other people, too—that I do my job well," said Sinks, of Brighton, Ill. "I was recognized for reporting that felt meaningful and started conversations on campus. I'm honored to be trusted to tell these stories, and I'm honored that the ICPA judges felt my work was impactful enough to be rewarded."
When she started her academic journey at Millikin, Sinks had very little experience with journalism. She has developed into the writer/journalist she's become because of the Decaturian and the editors who helped her grow, and the Decaturian's advisor, Dr. Scott Lambert.
"They are the reason why we have an award-winning paper at Millikin in the first place," said Sinks. "I'm incredibly proud of the team we have and the ways we've evolved to meet the demands of the pandemic, as well as the constantly-innovating field of journalism itself. I'm so thankful to the Dec and how it's added to my college experience and impacted my future after Millikin."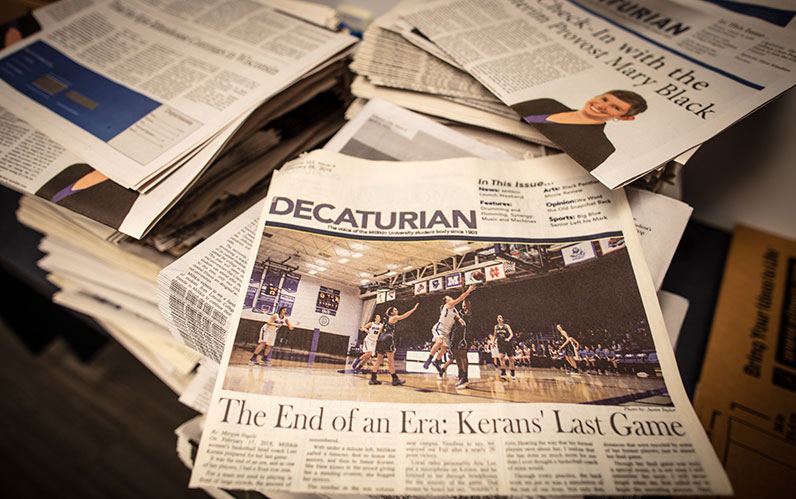 Carin Houser, a sophomore secondary English education major, writer and editor for the Decaturian, won three ICPA awards. Houser earned first place for her Spot News Photo of a firetruck; she was a member of a team that received third place for multimedia reporting, and she won second place for Sports Page Design.
"I am proud of what I produced, but I am not going to stop pushing myself to do better," said Houser, of Decatur, Ill. "While I did receive a first-place award for my photography, I know that I can do better with my work next year. I continue to ask myself, what can I do to make the Decaturian better? And what can I do to make my own work better? College is a time of growth for all of us, and the Dec is simply a tool to help me grow even more."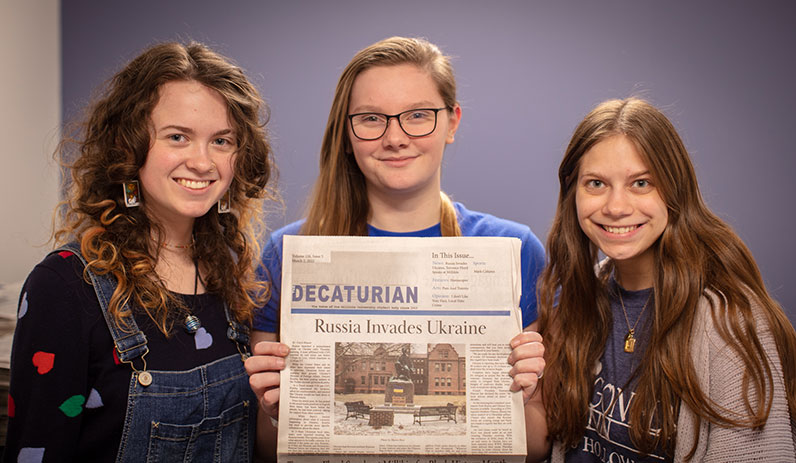 From left to right: Sydney Sinks, Carin Houser and Jeana Pierson
While many individuals received awards, Houser says nothing the Decaturian publishes is because of one single person. "We have a phenomenal editing staff and a team of talented writers, and starting this semester we have an artist. When I look at the 17 awards the Decaturian received this year, I do not just see my name, I see everyone," said Houser. "Writing an article requires many layers of individuals, and each layer contributed to each award."
The ICPA honors the best college newspapers in the state of Illinois. Entries from Dec. 2020 to Nov. 2021 were recognized at the conference. The conference featured 27 competing schools and 769 contest entries submitted. The Decaturian competed against non-daily student newspapers on campuses with less than 4,000 students.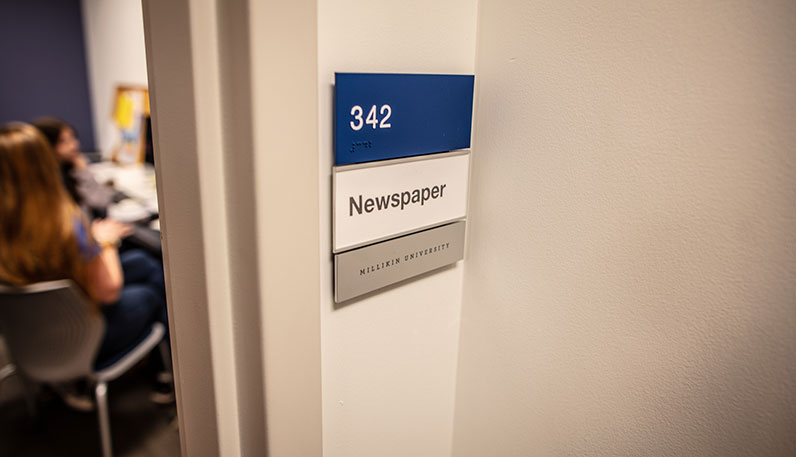 Below is the complete list of the Decaturian's Illinois College Press Association award recipients:
1st Place
Charlize Pate, Feature Photo (Clock Tower)
Jeana Pierson, Headline Writing
Sydney Sinks, In-Depth Reporting
Sydney Sinks, News Story
Mason Hoyt, Column (Music)
Carin Houser, Spot Photo (Firetruck)
---
2nd Place
Sports Page Design (Carin Houser)
Editorial (Sydney Sinks)
---
3rd Place
Online News Site (All Staff)
Multimedia Reporting (Athena Pajer, Carin Houser and Cole Anderson)
Sports Column (Brandt Williamson)
Sports Game Story (Caleb Buehrle)
News Story (Athena Pajer)
---
Honorable Mention
Front Page Layout (All Staff)
Feature Page Design (All Staff)
The Decaturian is the student newspaper for Millikin University which has been in operation since 1903.