Millikin student honored for leadership and excellence in curricular, extracurricular activities
Millikin University senior music business and information systems major Justin DeBo, of Normal, Ill., was honored as Millikin's recipient of the Lincoln Academy of Illinois' Student Laureate Award for 2017.
DeBo was presented with his award at the annual Student Laureate Convocation on Nov. 11 at the Old State Capitol in Springfield, Ill.
Each fall, an outstanding senior from each of the four-year degree-granting institutions of higher learning in Illinois is awarded the Abraham Lincoln Civic Engagement Award and thereby becomes a Student Laureate of the Lincoln Academy of Illinois. In the spirit of Lincoln, Student Laureates are honored for their leadership and service in the pursuit of the betterment of humanity and for overall excellence in curricular and extracurricular activities.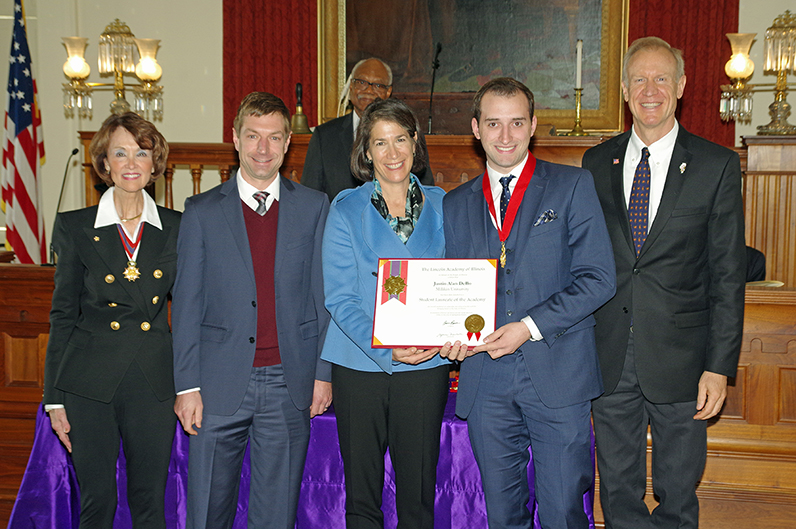 Since the program's inception in 1975, over 2,000 students have been honored. This was the 43rd year for the awards.
"At first, I was quite taken aback hearing I was chosen for such an incredible honor," DeBo said. "It is always humbling to be selected out of such an exceptional group of peers here at Millikin. I'm very sensible of the amount of work it has taken by my family, friends, teachers and other mentors to get me where I am today, but I'm proud to say that I can bring honor to their efforts."
Governor Bruce Rauner, President of the Lincoln Academy, and First Lady Diana Rauner welcomed all the students and awarded each one with a certificate of merit, a medal of Lincoln, and a $1,000 check.
A James Millikin Scholar (JMS), DeBo is a member of Millikin University Performance Consulting (MUPC), a Millikin information technology student-run venture. In addition to his work with MUPC, DeBo is a member of the Millikin-Decatur Symphony Orchestra (MDSO), Millikin Percussion Ensemble and is President of Student Senate.
"The Lincoln Laureate award recognizes the best students in the state of Illinois, and that award extends beyond academics," said RJ Podeschi, assistant professor of information systems at Millikin. "Besides being an outstanding student and James Millikin Scholar, Justin is a student leader on campus. Through his leadership in Student Senate, his senior technical consultant role in MU Performance Consulting, and engagement with the percussion department, he is genuinely passionate about leaving Millikin better than he found it."
DeBo credits Millikin University for giving him the opportunity to explore and support his interests.
"Whether it's giving me the chance to travel to Cuba to study Cuban Folkloric music, or allowing me to run projects for real clients in MU Performance Consulting, Millikin is supportive of my work, honors me for my successes, and helps me learn from the failures," DeBo said.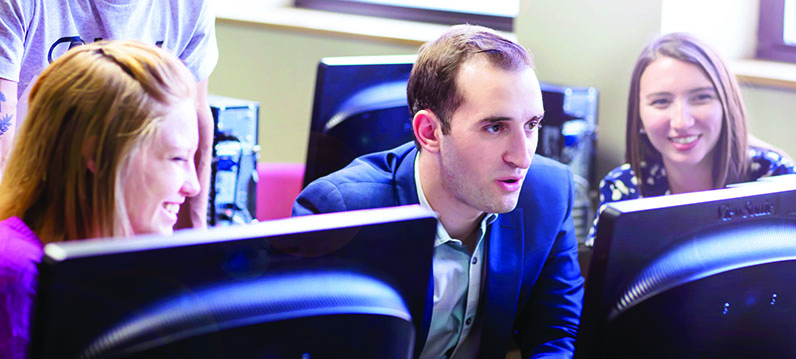 DeBo says he sees himself continuing consulting or pursuing computer science graduate school after graduation.
"Millikin's emphasis on Performance Learning encourages students to take on projects that aren't protected by the guidelines of the classroom," DeBo said. "The problems we solve at Millikin don't come with solution manuals; they require serious research, critical thinking and group collaboration. The best part about this is, when you do fail, which inevitably will happen, you learn how to work through that and improve your methods next time."
RJ Podeschi noted, "Justin listens, he forms connections, he questions, and he works hard to do what's best for the institution – all while achieving academic excellence. I can't think of a more worthy candidate than Justin."
For more information about the Lincoln Academy of Illinois and the 2017 Student Laureate Awards, visit thelincolnacademyofillinois.org.