Millikin first-year students receive introduction to college
First-Year Experience Mentor Kelly Conrad says Day of Action is a unique opportunity to show new Millikin University students the Decatur (Ill.) community and to show, aside from Millikin, there are other reasons to come to Decatur.
Conrad was among several First-Year Experience Mentors who led close to 500 Millikin students out into the neighborhoods during the United Way's Day of Action on Aug. 17 to perform services at several sites including the Macon County Fairgrounds, Good Samaritan Inn, Decatur Family YMCA and Northeast Community Fund.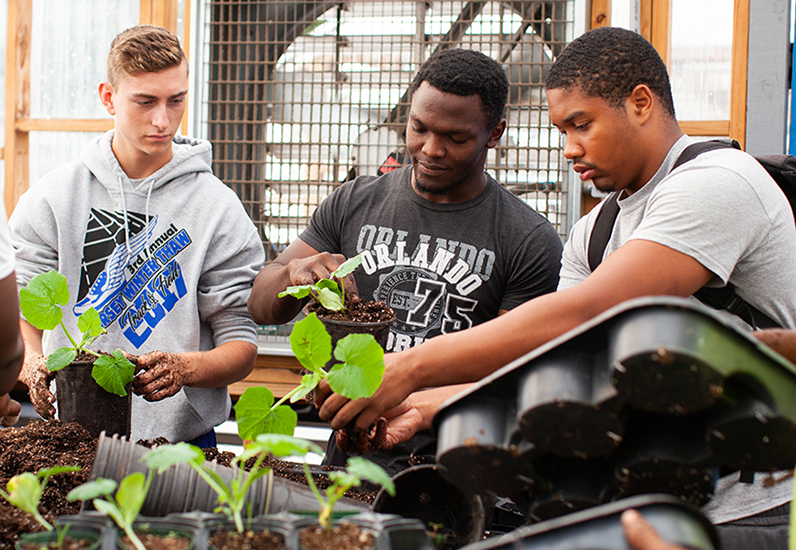 Conrad and her group of students spent time at Dove, Inc. to help the local shelter with preparing mailers and gift bags.
"It's great for the students to communicate with the community outside of Millikin and be humbled by the fact there is something else greater than themselves," said Conrad, a senior music education-vocal major from Carpentersville, Ill. "My priority, as a First-Year Experience Mentor, is to get them involved on campus, in their community, and help them make everlasting friendships."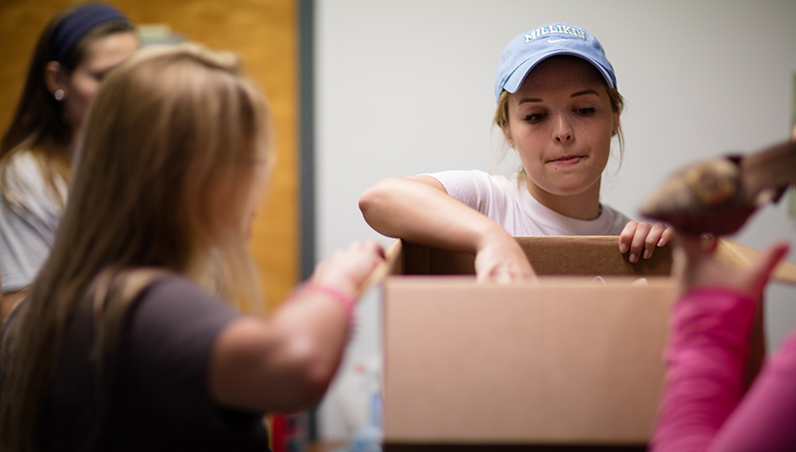 Day of Action was one of the final events during Millikin's New Student Welcome Week where first-year students got a jump start on their college experience.
The New Student Welcome Week experience teaches students what is expected in the college environment and how to best engage in the Millikin community. First-Year Experience Mentors played a big part in helping guide the new students through their introduction to college.
"Day of Action is a special time for our first-year students and an integral part of Millikin's New Student Welcome Week," said Millikin President Dr. Patrick E. White. "In the Day of Action, Millikin's students engage in volunteer projects with Decatur non-profits, schools and social service agencies. Through this Performance Learning, which lies at the heart of a Millikin education, we advance our mission goal of helping students to become democratic citizens in a global environment."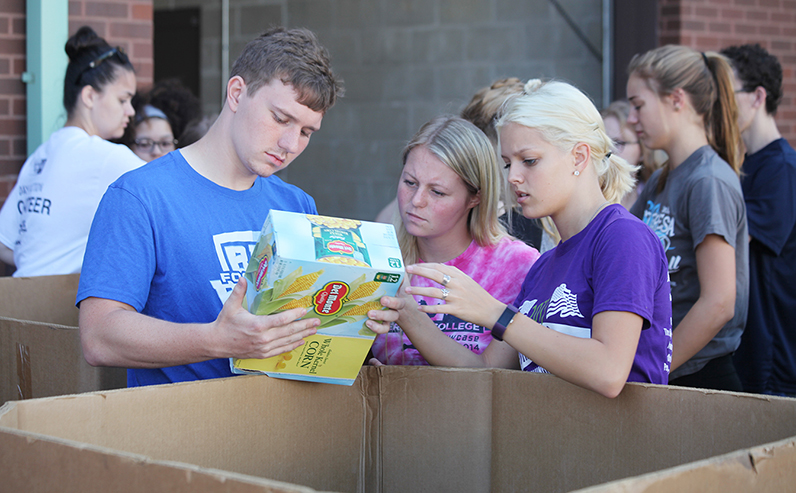 A group of students at The Salvation Army helped sort and stack donated canned goods to make it easier for volunteers who prepare them for distribution.
Millikin First-Year Experience Mentor Fred Bartuch, a senior sports management emphasis major from Frankfort, Ill., says there are almost 40 upperclassmen who provide guidance for the new students, not just during welcome week, but throughout their first semester.
"We just kind of show them the ropes," said Bartuch. "We give them all the resources we have to help them be successful."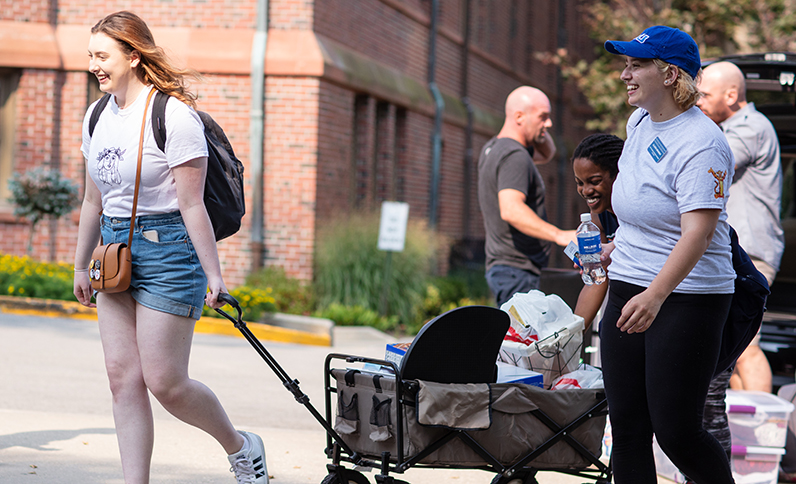 New Student Welcome Week activities began with Move-In Days on Aug. 13 and 14.
During the week, students engaged in an Academic Integrity, Success, and First Year Seminar where they met with Dr. Jen Schroeder, associate professor of biology, to talk about academic dishonesty and how to be successful in the classroom.
Students also took part in a session where they learned about Millikin's conduct policy and understanding how to be a bystander in their friendships to advocate for safety.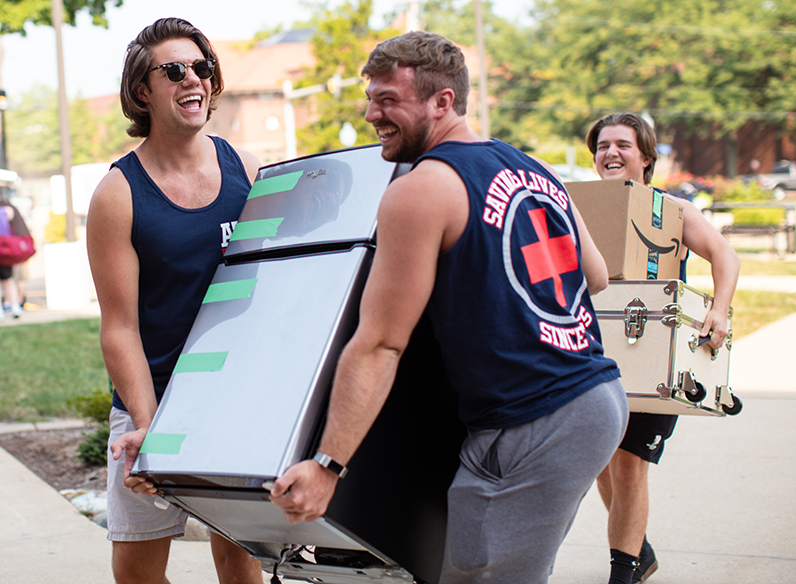 Marc Joseph, a first-year business management major from Tampa, Fla., said, "I'm looking forward to meeting new people and getting degrees. When I came out here the first time, I felt comfortable. So far, I like Millikin. I think it's good."
Following Day of Action, first-year students engaged in Performance Learning workshops for their chosen majors within the College of Arts & Sciences, Fine Arts, Professional Studies and the Tabor School of Business.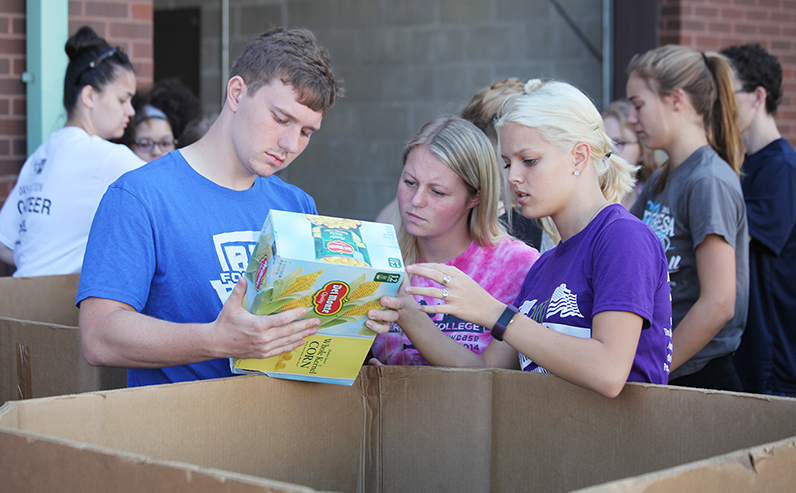 The New Student Welcome Week experience concluded with two long-standing academic traditions – a Candlelight Ceremony held on the Miller Quad on Aug. 17, and Opening Convocation held at Kirkland Fine Arts Center on Sunday, Aug. 19.
"Our students who come from across the United States and the world thereby become a part of the Decatur community and begin to see Decatur and Macon County as their home, as a place they will care for and improve just as they do Millikin University," said President White. "It is great to see the sense of purpose and commitment on the faces of our students as they begin to know and appreciate the larger world in which they live and make a difference."