How graduates Erica Reyes and Aubrey Staton personify the Millikin Experience
To be selected among your peers to deliver a speech at commencement is an honor in and of itself. Along with celebrating the momentous occasion of earning a college degree, a commencement speaker is given the floor to share life lessons, experiences, and to send fellow graduates off with messages of encouragement and opportunity.
Millikin University's Spring 2022 commencement features not one, but two student speakers who will address family, friends and the Class of 2022: Erica Reyes, of Grant Park, Ill., and Aubrey Staton, of El Paso, Ill.
As we gear up to honor the latest group of MU graduates, we wanted to take a moment to introduce Erica and Aubrey, and share their "Millikin experience," and what better way to learn more about the paths they've taken than from those closest to them.
When asked why she would make a great commencement speaker, Aubrey Staton's fiancé Felix Archer said, "I think it's someone who gets involved and does the most they can do. She has her foot in the door everywhere on campus … just her outreach on campus and the amount of people who know her. She's touched the lives of so many people."
Nicole DeLiberis, director of Campus Life and residential communities at Millikin, knows Aubrey and Erica from when they were both resident assistants on campus. "Erica is someone who has worked so hard to be able to be where she's at, she's overcome a lot of obstacles," said DeLiberis.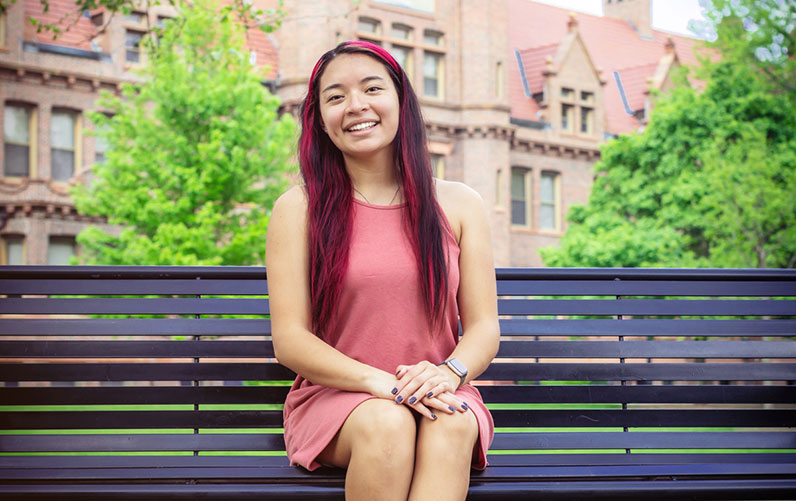 Erica Reyes
Erica is graduating with a Bachelor of Fine Arts with a major in art therapy and a minor in psychology. As a first-year student, she wanted to "keep a low profile," but her impact as a student leader earned her a spot at the lectern.
During her four years at Millikin, Erica was instrumental in reestablishing Sigma Lambda Gamma National Sorority Inc. on campus and served as the president for the last two years. She is a member of the Latin American Student Organization and served as the vice president for three semesters. She is a Long-Vanderburg Scholar and Mentor, and a member of Alpha Lambda Delta Honors Society.
Aubrey, who is graduating with a Bachelor of Science with a major in entrepreneurship and a minor in digital media marketing, has built many connections over the years and to speak in front of her peers "is an honor."
"It's been great to see Aubrey grow," said DeLiberis. "When I think of a Millikin student, I think of Aubrey personifying that to her core. She treats every person like an individual … she's taken a lot her experiences at Millikin and added that relationship component to make it the best experience for other students as well."
During her four years, Staton was a member of the Honors Program and the Millikin women's basketball team. She also served as a Big Blue Ambassador and has received several awards, including the Scovill Prize during her junior year and recently became a photography business owner after filing for her LLC.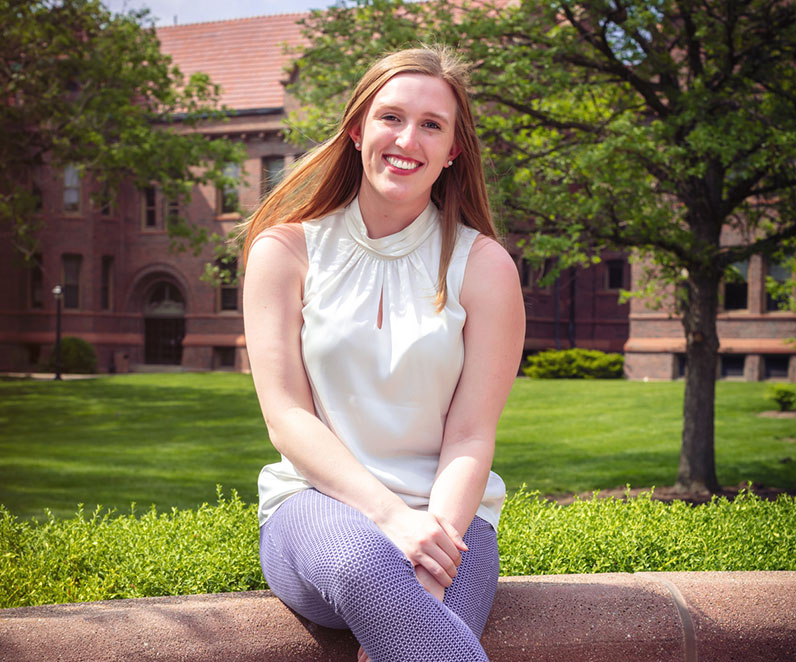 Aubrey Staton
Scarlett Linares, a business management major at Millikin, is a member of Sigma Lambda Gamma alongside Erica. "She's always standing up for people and she's a very supportive person, and she gives a lot of love when people don't ask for it," Linares said.
As part of her speech, Erica will open "by thanking everyone and congratulating the seniors because the last couple of years haven't been easy … it's really a proud moment for all of us to make it through."
Reflecting back on her time at Millikin, Aubrey says some of her best experiences have been with the Big Blue women's basketball program – winning two conference titles and reaching the Sweet 16 in the NCAA Division III Basketball Tournament. "It's changed the way that I think about Millikin Athletics and the opportunities that I have gotten have been amazing," she says. "Being an RA also has really changed my life … that's how I met my fiancé."
DeLiberis added, "When I think of Millikin, I also think of Erica. She's taken all of her experiences and made them into something that is also beyond her academics. She's impacted a lot of people on campus, especially through her involvement in organizations."
"She's a very natural leader, and that is what we hope that students at Millikin will find … their natural leadership is something that can propel them forward in a lot of different aspects."
Erica says her internships have provided the best experiences while at Millikin. "I worked at an adolescent psych unit and it was during that internship that I had that 'aha' moment … this is what I want to do. I felt like I finally found my calling."
Aubrey added, "Experiential learning is the best thing Millikin has to offer. I feel like so many people latch on to that and that's how they find out what they want to do."