Rooftop Garden brings new opportunities to Millikin
On Friday, Aug. 20, 2021, Millikin University Chef Brian Pehr invited Congressman and Millikin alumnus Rodney Davis, Class of 1992, University President Dr. Jim Reynolds and his wife, Sue, Interim Provost Mary Black and students Serron Pettis and Jacob Vietti to the Rooftop Garden atop the Leighty-Tabor Science Center. Since 2019, Chef Pehr and his son have been tending to the garden and using produce grown to prepare meals for Millikin students.
"We've got fresh basil, fresh chives, carrots, thyme and oregano that we use in recipes every day down in the cafeteria" Chef Pehr explained.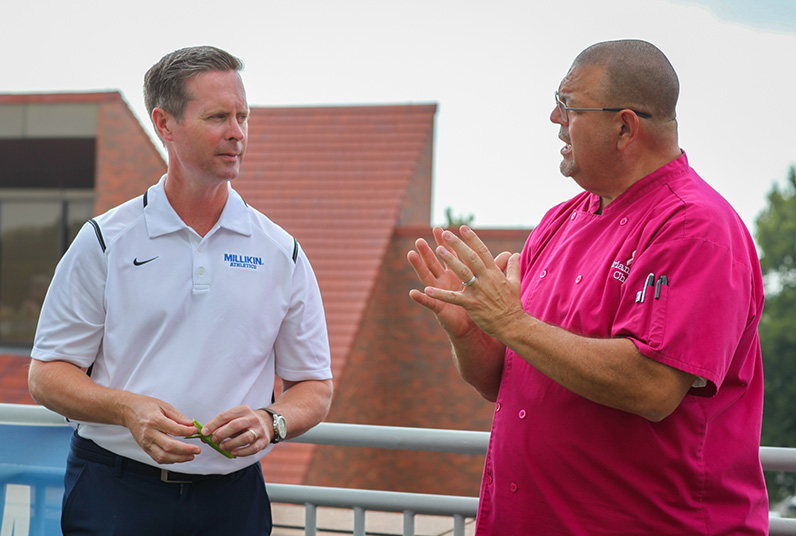 From left to right: Congressman Rodney Davis and Chef Brian Pehr
The garden is home to several varieties of produce, including tomatoes, squash, beans, strawberries, pumpkins, okra and more. The produce is used to feed Millikin students, faculty and staff, as well as the Decatur community. "We've taken almost $500 and used it to feed our fellow humans at Good Samaritan," Chef Pehr said.
Congressman Davis toured the garden as Chef Pehr described the different types of produce and where they end up, along with his goals for the Rooftop Garden at Millikin. "The idea of our garden is to feed our neighbors, to help our environment and just to be good in the world," said Pehr. With the Rooftop Garden, he is hoping to create opportunities, not only for Millikin students, but for the Decatur community and area schools as well.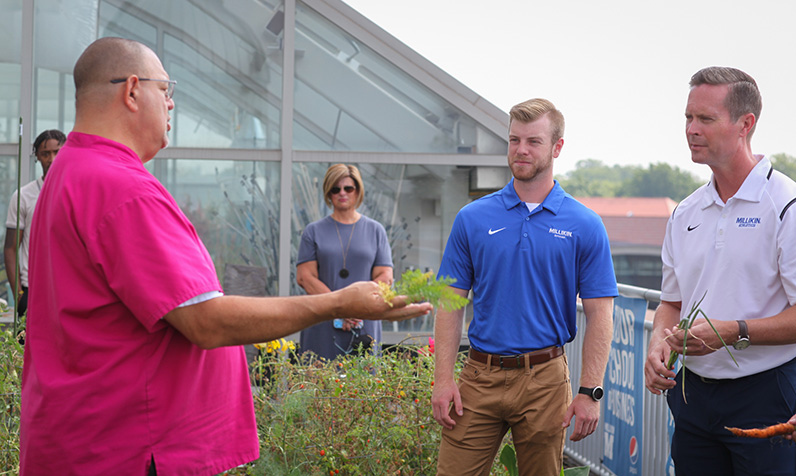 Congressman Davis spoke about other agriculture programs in schools across Illinois and applauded Chef Pehr's plans, describing how they could help continue the good work other schools are doing.
"A lot of schools are doing this already. We've encouraged them, through the school nutrition program and investments, to grow gardens at their schools that would be able to feed themselves. That's already out there, but you're unique because you're in higher education," Congressman Davis said.
Interim Provost Mary Black explained that the types of programs that Chef Pehr hopes to expand already have foundations of community involvement. "We are seeing some of this happening in our local schools. Dennis Lab School, which we work with in our education department, has a backyard theatre and garden. Many public schools in the area are trying to grow these types of programs."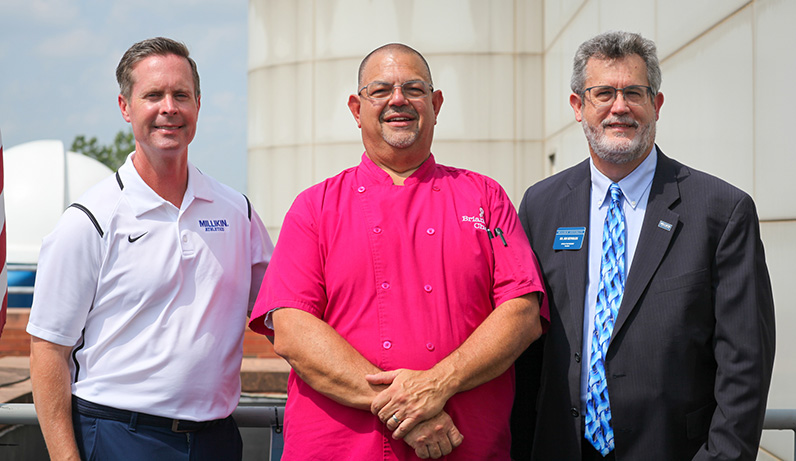 From left to right: Congressman Davis, Chef Pehr and Millikin President Dr. Jim Reynolds
President Jim Reynolds and his wife Sue are avid home chefs and enthusiastic supporters of local markets, such as the partnership with Dennis Lab School. The Reynolds voiced their encouragement for the opportunity that Chef Pehr hopes to bring to the Millikin community.
"Here in Decatur the National FFA Organization chapter is the largest in the state of Illinois. Richland Community College has a very nice technical program in agriculture, but there's no four-year program other than at the University of Illinois. There's lots of opportunity here for us … I think we're moving towards the sustainable model of education," President Reynolds said.
Chef Pehr and his team hope to expand the reach of the Rooftop Garden into the community and beyond. With help from voices such as President Reynolds and Congressman Davis, the garden has potential to become a staple across campus and throughout the community, as well as an opportunity for students across all majors to learn about agriculture.