Congressman Rodney Davis '92 returns to Millikin as part of Constitution Week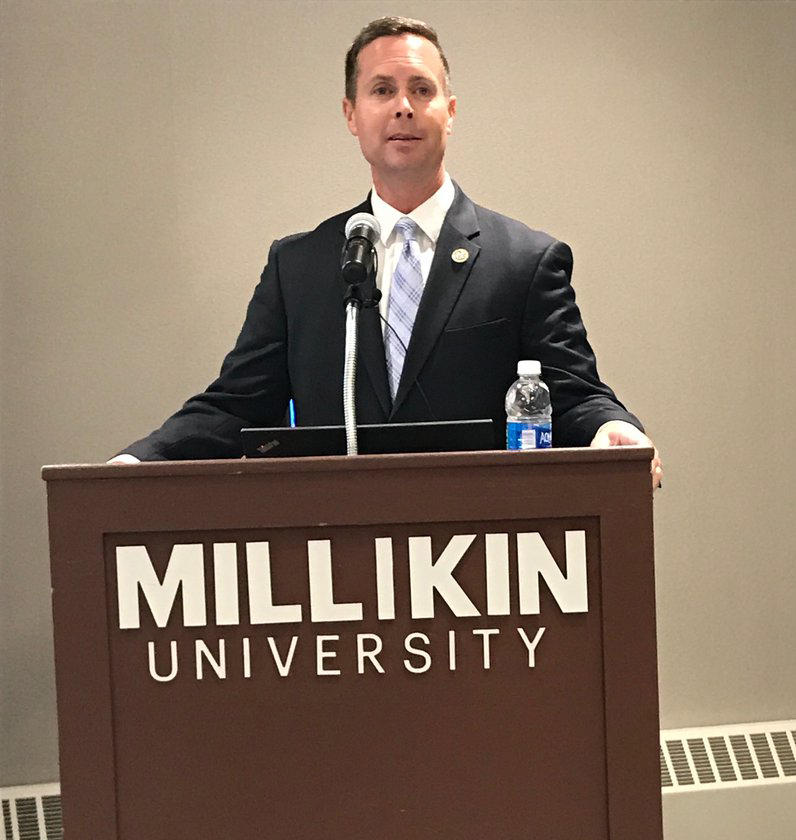 United States Congressman Rodney Davis (R-Taylorville), a 1992 Millikin University graduate, returned to Millikin's campus on Sept. 18, to speak with students, staff, faculty and the public on how human trafficking is a growing issue lying underneath the surface in communities across the United States and the world.
Congressman Davis discussed how human trafficking affects central Illinois, including the latest legislative efforts to address the problem in Congress, and what the government is doing to prosecute traffickers and rehabilitate victims.
"If you see something, say something," Davis said. "We can get these victims help."
Taylor Woods, a senior political science major from Decatur, Ill., said the presentation got her attention.
"I'll definitely be looking out for more signs. It's not something I typically thought about in my everyday life," said Woods. "I'll definitely be looking out for it now."
Dr. Laura Dean, assistant professor of political science at Millikin, helped organize the discussion as part of Millikin University's celebration of Constitution Week.
"The trend has been for traffickers to target victims in small, rural parts of the country and move them away from friends and family and into larger, urban areas," said Dr. Dean. "If we cut off the supply of people, the demand will still be there, but it will be much more difficult to get."
There were 7,500 reported cases of human trafficking in the United States last year, according to the National Human Trafficking Hotline.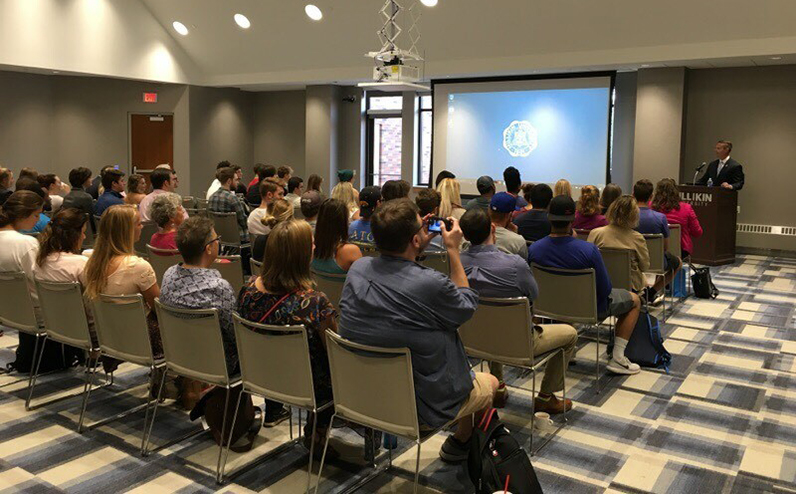 "This is an issue that we have tried to lead on in Washington since I got here four and a half years ago," said Davis. "I'm really proud of the Millikin students for being interested in this issue and understand that it's a major concern both nationwide and right here in central Illinois. I think they should be commended for that."
Rodney Davis was recently sworn into his third term in Congress serving the 13th District of Illinois, a 14-county district covering both urban and rural areas of Central and Southwestern Illinois. Prior to being elected, Rodney served as Projects Director for Congressman John Shimkus (IL-15) for 16 years helping Illinois citizens and communities cut through government red tape and secure federal funding.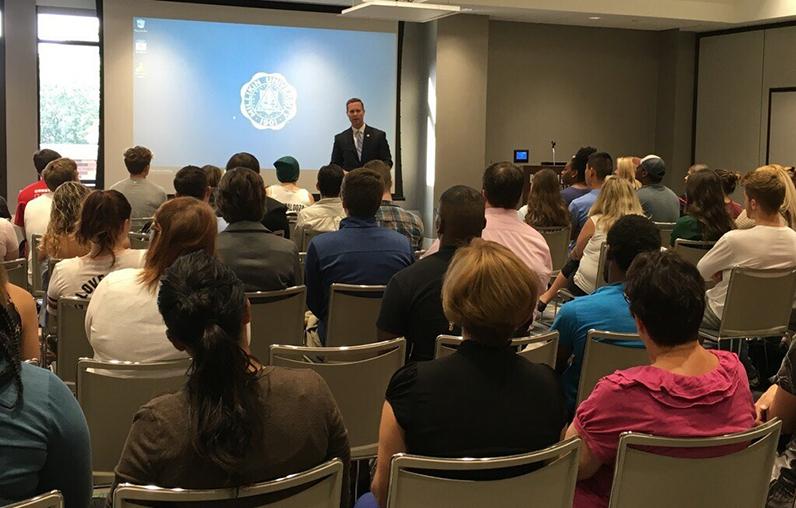 For the 115th Congress, Rodney serves on the House Agriculture Committee, the House Transportation and Infrastructure Committee, and the House Administration Committee. He has also been appointed to serve as the Chairman of the House Agriculture Subcommittee on Biotechnology, Horticulture, and Research.
View Coverage