"I'm constantly learning as I teach which is why I enjoy it so much."
Dr. Ngozi Onuora never says no to embracing new experiences. Her passion for literature has paved the way for a successful teaching career that has impacted the Millikin University community for almost two decades.
Dr. Onuora, fondly called Dr. O, is currently an associate professor in Millikin's School of Education and the chair of the African American Studies minor. She has been with Millikin University since 2002 when she was recommended to teach as an adjunct faculty member in the School of Education while still working full-time for Decatur Public Schools. She taught the one-credit hour Technology for Teachers course for two years until a full-time position opened up in the department. The spring of 2021 will culminate her 19th year with the Big Blue family.
"I would think as a teacher I am determined–which means I'm determined to make sure my students succeed. I am focused, I am a learner–I'm constantly learning as I teach which is why I enjoy it so much," said Onuora. "Every group of students that I have had to work with has been a pleasure and I've learned from them and their experiences they bring to the table."
As part of her work in the School of Education, Dr. Onuora has taught a variety of methods courses for the teacher education program such as General Elementary Methods, Language Arts Methods, Reading Methods and Math Methods, but one of her favorite courses to teach is Children's Literature. She has also taught in the Long-Vanderburg Scholars Program, the Honors Program as well as teaching the Introduction of African American Studies and Patterns of Protest Resistance course through the African American Studies minor.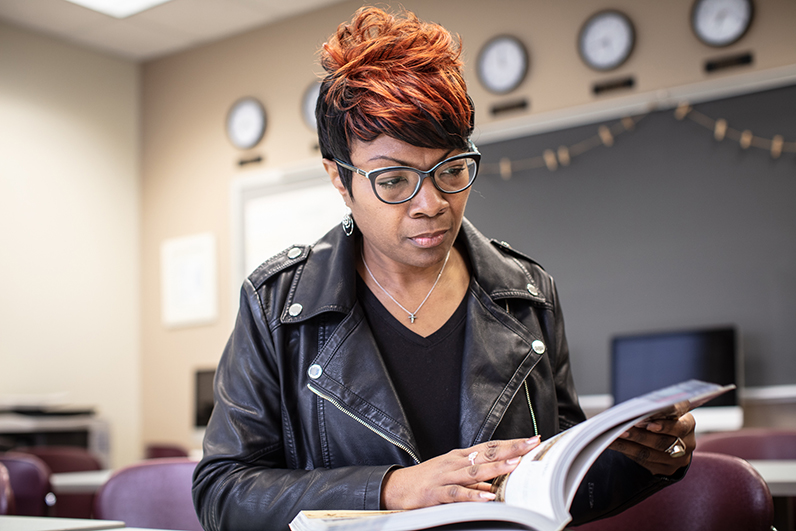 One of the unique aspects of Dr. O's teachings is her ability to incorporate the arts into her courses, whether it's theatre or filmmaking. She has always loved theatre as well as spoken word poetry.
"All of that has been something I have done on the 'sidelines,'" Onuora said. "Before coming to Millikin, I was an elementary education teacher and always incorporated dramatic activities into the curriculum there, and I found in terms of reading and motivation, it really worked well with the children that I taught. I bring some of that into the work I do at the college level because I think we have so many students who enjoy that, whether they are majoring in it or not. They also have it as a love and I think it matters to them that they can incorporate those things into other areas."
Dr. Onuora's teaching and learning has been recognized in a multitude of ways. She was the 2008-09 State Farm Engaged Education Fellow, selected as the 2012 Distinguished Faculty Lecturer, awarded the 2014-16 James Millikin Estate Professorship, was nominated for the 2015 U.S. Professor of the Year Award, was the first recipient of the renamed Dr. Ralph A. Czerwinski Teaching Excellence and Campus Leadership Award in 2016, was voted by honors students to receive the 2017 James Millikin Scholars Educator of the Year Award and was one of 25 scholars in the country selected for the 2019 Council of Independent Colleges Gilder Lehrman Institute on Civil War in American Memory at Yale University–an opportunity that allowed her to work with the country's top historians, including Pulitzer Prize winning historian/author Dr. David Blight.
Like all programs across the campus community, Dr. Onuora says the School of Education has had to be flexible during these unprecedented times of COVID-19.
"We've had to rethink the way that we've done things in the past in a whole new way," she says. "We are very lucky that we have had the resources to help us make that transition a lot easier, but we've really had to have some important conversations about what this means as a department moving forward … what are those things that we've learned being in a pandemic that we want to continue in the future, and what are those things that have been revealed that have been problematic practices in that the 'new normal' won't have room for that?"
Onuora added, "We are also having conversations around what can we do as a department to help prepare our teachers more effectively to work with diverse populations, not just students, but diverse faculty, administration and communities."
Beyond the classroom, Dr. Onuora has a passion for serving others in a myriad of ways. Through the Children's Literature Association, she has served on the Diversity Committee and is currently serving on the Judith Plotz Emerging Scholar Award Committee. In the local community, Dr. Onuora has been a member of the Board of Trustees for the Decatur Public Library–a role in which she was appointed by Mayor Julie Moore-Wolfe. She has also been on the Board of Directors for the Decatur Area Arts Council; serves as co-chair for the Arts & Letters Committee of the Springfield-Decatur Area Alumnae Chapter of Delta Sigma Theta Sorority, Inc.; and is also a co-chair of the International Awareness and Involvement Committee.
As an educator, Dr. Onuora knows there are so many great things about being a teacher, but for her it's all about the students.
"It is the experiences I have with the students. The students are the life of this campus," she says. "The other piece for me is that the university offers some high-quality programming, cultural programming and general programming that I think is superb. I love my content, I love language and literacy … I enjoy teaching that. I also enjoy my colleagues … I've really made some strong relationships with both faculty, staff and administration, and I've felt very blessed with those relationships that I have fostered over the years."