Charles Hahn named Vice President for Alumni and Development at Millikin University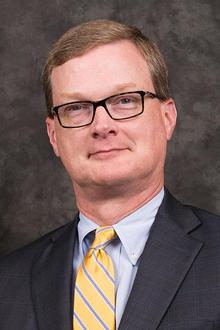 Millikin University has named Charles Hahn vice president for alumni and development, effective February 2017. Hahn succeeds Gina Bianchi who served as interim vice president beginning August 2016. In this position, Hahn will guide Millikin's fundraising and alumni relations efforts, and, as a member of the president's cabinet, will be a leader and advocate for the entire Millikin community.
In his most recent position as vice president for advancement at Webster University, Hahn was responsible for reorganizing the advancement staff and streamlining operations, while showing significant results. Hahn and his team in advancement greatly expanded scholarships for students. Last year, the total of donor funded annual and endowed scholarships was $847,000. For this academic year, that number has soared to $1.2 million, a 40 percent increase and the highest annual total for student scholarships ever at Webster.
"We are very pleased to welcome Charlie Hahn to Millikin University. He brings a wide variety of leadership experience and a proven record of accomplishments in higher education fundraising, donor engagement, and campaign planning and execution," said Millikin President Dr. Patrick White. "Charlie will lead Millikin's fundraising and, alumni and donor engagement efforts and play a key role in cultivating the valuable relationships that will support the University's strategic plan initiatives."
Hahn guided endowed scholarship fundraising connected to Webster University's Centennial Celebration, raising $1.2 million for the newly created Webster University Next Century Leaders Scholarship Fund in 2015-2016, the largest initial donation to an endowed scholarship fund in the University's history. Under Hahn's leadership, external grant funding improved at Webster and stands at $2.2 million this academic year, an increase of $1.7 million during Hahn's service to the University community. Under his guidance, the University's annual fundraising gala and giving societies were transformed.
Hahn joined Webster University in June 2014 and served on the administrative council, while working closely with the president, provost and the board of trustees.
"I am honored and humbled to be joining the leadership team at Millikin as we work together to build off of our wonderful past and create an even stronger future," said Hahn. "I am excited about working with all members of the University community, faculty and staff, students and alumni on ensuring bright futures for generations of students yet to come."
Prior to joining Webster, Hahn held several positions with the University of Illinois Foundation, including interim associate vice president for regional gift programs and vice president of special campaigns. In this role he led a successful $30 million campaign in support of the U of I Library and a $15 million campaign to build a new home for the Alumni Association.
Hahn also served as associate vice chancellor for development at the University of Illinois at Springfield and was vice president for advancement at Sangamon State University as well as executive director of the University's Foundation. He currently serves on the Board of Directors of the Webster Groves, Shrewsbury, Rock Hill Chamber of Commerce.
Hahn earned a Bachelor of Science in Forestry from the University of Illinois at Urbana-Champaign.