University Commons Celebration Week includes featured speakers
The opening of Millikin University's "new front door," the University Commons, in August 2017 was a celebration of the building's technological and conceptual innovations.
Flash forward to March 2018, Millikin is dedicating its University Commons with a week-long celebration of events, March 19-24. During the Week of Celebration, the local and campus communities will experience how the University Commons has impacted Millikin's culture through leadership and Performance Learning events with the theme being Leadership in Action through Performance Learning.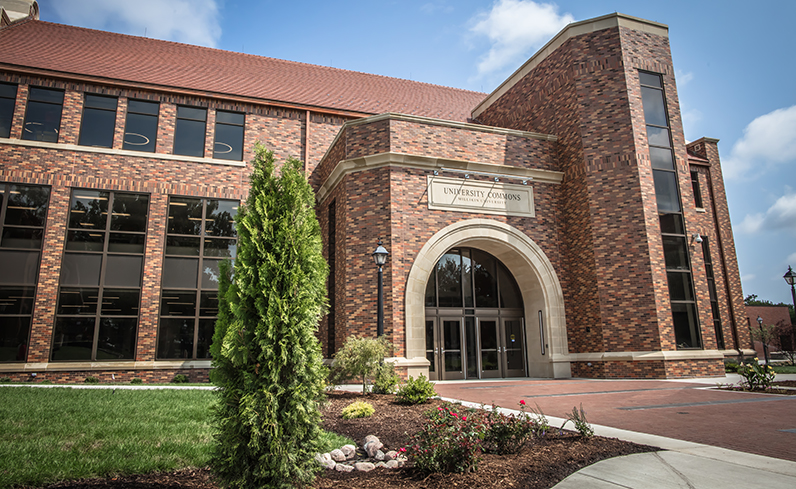 In a recent interview with the Herald & Review, Millikin President Dr. Patrick E. White said, "We had a bit of a celebration in August. But what we wanted to do with this week is celebrate the Commons, what the Commons is meaning for us and what it could mean for the community and how it's working. The building itself is wonderful, exciting, interesting, innovative, but we only see that life and vitality and innovation in the building when it's being occupied. And now we've gotten to know how the building is being used and how it's being played with, in effect, by the students, and how it's part of our education and learning."
The University Commons has shaped how the Millikin community learns and interacts on campus, creating new connections for Millikin students, faculty, staff, alumni and the larger community.
The $31 million University Commons is located in the heart of Millikin's campus. The 87,000 square foot building was created through a blending of both old and new as the original Staley Library structure, completed in 1976, was completely renovated and a large addition was constructed on the south side of the building. With input from the entire campus community, the University Commons was designed for campus and community-wide events.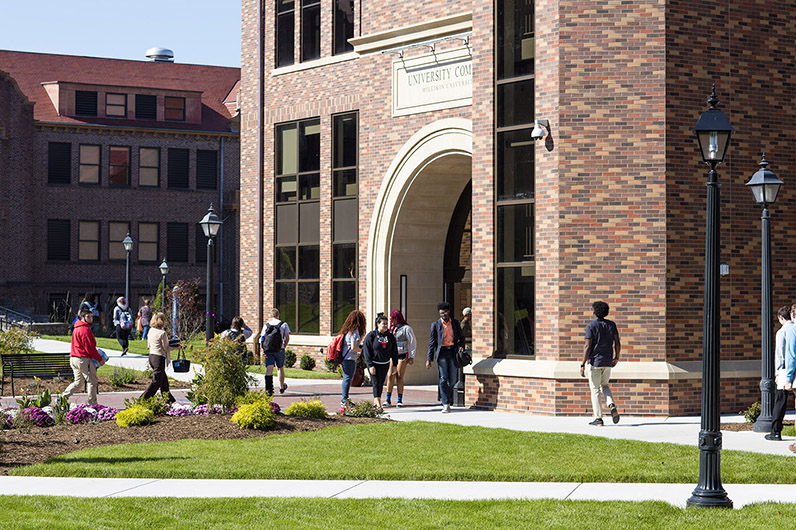 The Week of Celebration begins with a concert on March 19, featuring performances by musicians, singers, songwriters and actors in the Millikin School of Music, School of Theatre and Dance, and beyond. Students involved in several College of Fine Arts groups and ventures will offer insight into how they lead each other, on a daily basis, to provide high quality art experiences to our communities.
"We're also heading into the importance of leadership at Millikin," Dr. White said. "At the end of the week, we'll be celebrating with a big dinner thanking Doug and Diane Oberhelman and other people who have contributed to the University Commons. We didn't have a chance to do that in September."
Retired Caterpillar Foundation and Caterpillar Inc. Chairman and CEO Doug Oberhelman, a 1975 Millikin graduate, and his wife, Diane, provided support to create the new Commons. Their contributions helped to fund three areas: The Oberhelman Center for Leadership Performance; a Center for International Education; and the Long-Vanderburg Scholars program which recognizes high scholastic achievement among those students who have a demonstrated commitment to diversity, leadership, and community service.
Doug Oberhelman will also be the featured keynote speaker at Millikin's Academic Interdisciplinary Conference on Friday, March 23.
On Tuesday, March 20, Millikin University will host a panel discussion featuring several Caterpillar employees who all attended Millikin. The alumni will share insight related to their leadership development as students and continued opportunities gained through their work after college. That same day, Joan Coffman, President and CEO of HSHS St. Mary's Hospital, will present as part of the Institute for Science Entrepreneurship Speaker Series at 7:30 p.m. The title of her presentation is "Leadership in Service to Others."
One of the events President White noted was a presentation from historian Michael Beschloss on Thursday, March 22, at 7 p.m. Michael Beschloss is an award-winning historian, bestselling author, New York Times Columnist and Emmy winning contributor for NBC News and the PBS News Hour. His presentation is entitled "Leadership from the Board Room to the Oval Office."