Former Millikin teammates turned coaches meet on opposing sidelines
Two former Millikin University football players turned coaches recently met on the opposing sidelines for a matchup between their respective teams. Jeff Monken, Class of 1989, currently serves as the head coach at Army who hosted Miami University (Ohio) on Sept. 25, whose head coach is Chuck Martin, Class of 1990. Army won the ball game 23-10 improving its record to 4-0.
Monken and Martin were football teammates at Millikin. Monken, who played wide receiver and earned two varsity letters in track and field, graduated from Millikin in 1989 while Martin, a former All-American safety and basketball star for the Big Blue, completed his degree a year later. CBS Sports highlighted the two former teammates during the broadcast of their matchup on Sept. 25.
In his weekly press conference, Monken made the following comment about his former teammate: "Chuck Martin does such a tremendous job there with being the conference champion two years ago. He always fields a tough, physical competitive team. Doesn't matter who they're playing, they play those BIG 10 teams. They're just slugging it out with those guys."
Jeff Monken is currently in his eighth season at the helm of Army West Point football in 2021 after being named the 37th individual head coach in program history on Dec. 24, 2013.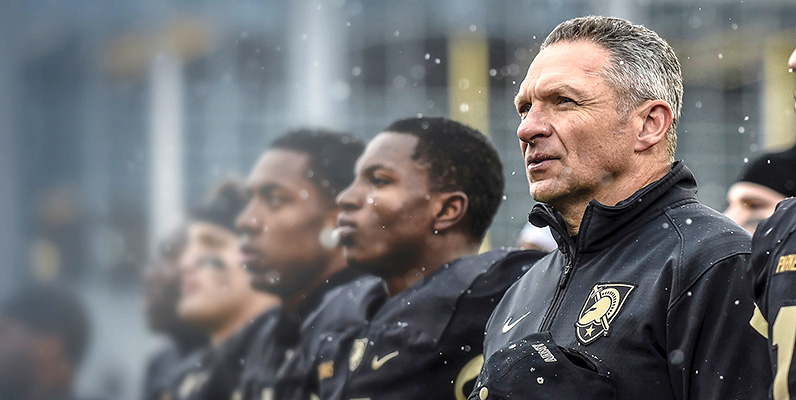 Jeff Monken
Monken holds 85-55 career record as a head coach and a 49-39 mark at Army. The Black Knights have enjoyed success over the past five seasons with a .674 winning percentage, including four wins over Air Force, four wins over Navy (2016, 2017, 2018, 2020) and three bowl-game victories (2016, 2017, 2018). Monken led the Cadets to yet another impressive season in 2020, posting a 9-3 record including rivalry wins over both Navy and Air Force. Army was led by the nation's top defensive unit, as the Black Knights ranked first in the FBS in Total Defense, allowing only 275.3 yards per game.
A native of Joliet, Ill., Monken played wide receiver for four years and earned two varsity letters in track and field, while earning his bachelor's degree from Millikin University in 1989. He was inducted into the Millikin Athletic Hall of Fame in October 2013.
In his career, Chuck Martin has more than 20 years of college coaching experience, including 14 years as a head coach. He has twice been named the American Football Coaches Association (AFCA) National Coach of the Year, earning the honor in 2005 and 2006, and has coached in seven national championship games. In addition to his head coaching experience, Martin has served as a coordinator on both sides of the ball. Of those seven national championship game appearances, he has been a part of four national championship wins, with two titles under his direction as head coach/offensive coordinator and one as a defensive coordinator.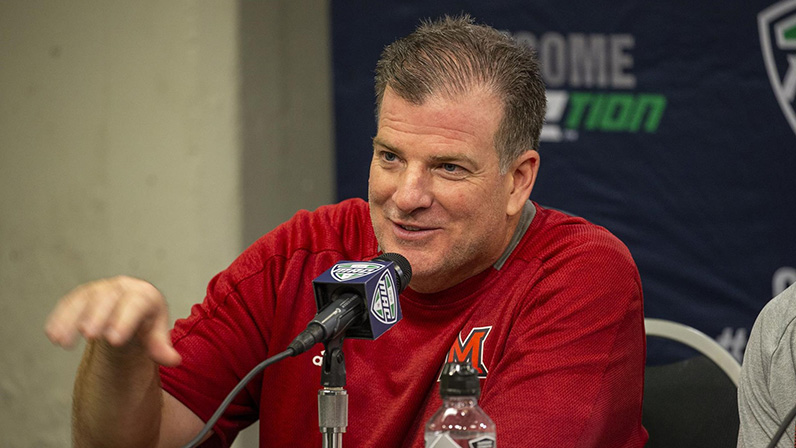 Chuck Martin (photo courtesy of Miami University Athletics)
After taking over a team that had just gone 0-12, Miami was 4-26 in Martin's first 30 conference games. From there, the rest is history. Martin and the RedHawks are 25-9 in the MAC, best in the conference since 2016. The RedHawks won the 2019 MAC Championship with a 26-21 win over Central Michigan and advanced to the LendingTree Bowl. Miami has now been bowl eligible in four of the last five years.
While attending Millikin (1986-90), Martin was an All-American safety and was selected as a GTE Academic All-American. He doubled as an All-American place kicker, received Academic All-District honors for the Millikin basketball team and was inducted into the Millikin Athletic Hall of Fame in 2008.