Millikin student publication combines learning and the pursuit of storytelling
The following article comes from the Summer 2021 edition of Blue Review, Millikin University's Family Magazine
Seeing Performance Learning in action on Millikin University's campus was difficult during the strange times of COVID-19. Some students were on campus, some were at home participating in virtual learning, making the close collaboration they are accustomed to difficult to achieve. Millikin's student-run publication "BURST" managed to overcome these challenges and publish its fourth issue before the end of the spring 2021 semester.
Working across different disciplines and organizations on campus such as Millikin Creates, the student-run media firm, students involved with "BURST" created the new edition "Revolutionize" in an effort to bring focus to the significant social events of 2020. "A lot of movements - BLM, #MeToo, March for Our Lives, climate change protests - are happening right now, often led by young people," said Sydney Sinks, Class of 2022. "Our writers were addressing literal revolutions, but also things happening around them and ideas they care about that are revolutionary."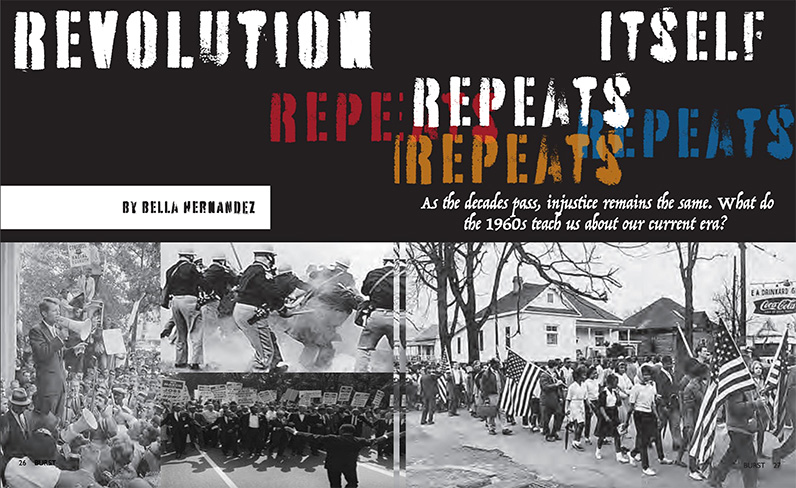 This publication, while a newer entity on Millikin's campus, gives students the opportunity to combine learning the full process of publishing a magazine, from conception to printing, with pursuing the stories and art that touches their lives. "As the creative director of Millikin Creates, I was given the opportunity to illustrate the cover of the magazine," said Elsa Rotramel, a recent Class of 2021 graduate. "I created the illustrations digitally using Adobe software and based my design off the message and feeling of the articles written for the magazine."
Millikin's English Department offers internship opportunities for students to edit for "BURST" and work closely with the publication's faculty advisor, Dr. Julie Bates, to create the magazine.
"With Dr. Bates, the other editors and I conceptualized the theme of the issue, assigned articles, helped writers develop their ideas and edited the articles," Sinks said, discussing how taking the driver's seat helped her further explore the career she wants to pursue following graduation.
"Working on 'BURST' has given me a clearer picture of what I want to do after I graduate. I knew I wanted to go into journalism, but 'BURST' has pushed me to consider magazine journalism," Sinks noted.
Sinks went on to talk about the professional skills she developed and sharpened through her time working on the publication. "Knowing how to interview sources, write articles and edit will help me and I'm thankful to 'BURST' and The Decaturian (Millikin's student newspaper) for the opportunity to develop those skills."
Students with "BURST" were also able to expand their skill sets to include areas that they had not previously participated in during their program's course of study. "Working on 'BURST' was my first experience in editorial design," Rotramel said, discussing how the experience will be useful for her future career. "It helped me be more efficient and communicative when working with a team and gave me great insight into what it could be like working for a magazine."
In an era of digitization, seeing and holding the finished product proved to be a unique and rewarding experience for "BURST" participants, allowing them to see how their time, efforts and collaboration came together to create a complete magazine.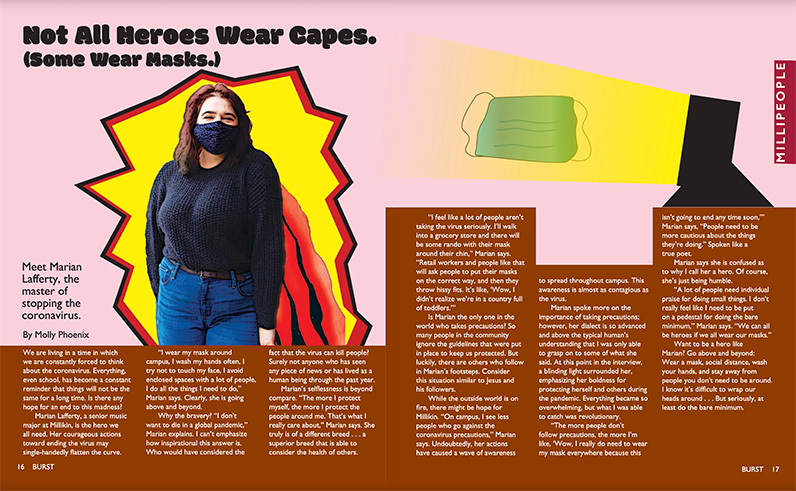 "As a designer, nothing feels more satisfying than being able to hold a physical manifestation of your work in your hands," remarked Rotramel. Sinks had a similar reaction to receiving a copy of the finished magazine. "It was honestly kind of emotional to have it all said and done and actually hold a copy in my hands," she said. "I worked with these articles when they were just emailed pitches, so to actually see it all completed, laid out, and printed was super cool."
This sense of pride and ownership of their work is a product that these students will carry into their future lives and careers following graduation, emphasizing the importance of Performance Learning in a Millikin education. "I hope that the writers and designers are proud of their work," Sinks said. "I'm really proud of what we did."
Blue Review
Millikin University's "Family Magazine," Blue Review provides fresh and interesting perspectives from campus. From faculty and student stories to new programs and majors to achievements in our athletics and alumni communities, Blue Review has Millikin pride emblazoned across its brilliant pages. Readers will enjoy original photography, design and artwork, collaborative content developed by staff, faculty and students, and a behind-the-scenes look at the fascination and innovation powering the Millikin Momentum.
Our most recent issue covers Millikin's 97 percent graduate success rate and every step that students take to get there. It looks at how students have risen to the challenge of the COVID-19 pandemic and how they have grown as a result of the educational Performance Learning opportunities Millikin has helped provide. While the world paused, Millikin students continued to persevere, showing their strengths to the campus, community and employers around them.