Millikin English and Arts Technology & Administration Departments team up to release student magazine
Two years ago, Millikin University musical theatre student Patrick O'Keefe, a James Millikin Scholar (JMS), had an idea for his JMS project – a campus magazine. After consulting with Dr. Julie Bates, assistant professor of rhetoric, composition, and professional writing, O'Keefe's vision became a reality with a prototype for a publication called BURST, a magazine that would have a specific theme with each issue.
After completing his project, O'Keefe asked Dr. Bates for a favor – to continue the magazine in some way. Flash forward to April 2020, O'Keefe has since graduated from Millikin (2018), but his prototype has grown into a full-fledged student publication thanks to a collaboration between the English and Arts Technology & Administration Departments at Millikin.
The latest edition of BURST was released this April with articles and content centered on the theme of "Empowerment."
As Editor-in-Chief of BURST Magazine, Millikin student Erica Mooney, of Decatur, Ill., wants readers to understand what's happening on Millikin's campus and how it affects the world outside the university on a global scale.
"The goal is to get readers thinking more deeply about some of the issues and current events they care about and to recognize that they have the ability to lead and use the resources available to them to make the world a better place," Mooney said. "We want readers to realize they are not alone, and we feel targeting Millikin students specifically will bring Millikin's student body closer together."
The BURST editorial staff consists of a team of editors, all English majors, as well as 11 writers.
The magazine is divided into four sections of content: MilliBits, MilliThoughts, MilliPeople and a features section. The MilliBits section includes shorter articles that are more lighthearted and fun – from a playlist of empowering songs to short pieces explaining ways to empower yourself through budgeting and exercise. The MilliThoughts section includes articles that share the writer's perspective on a topic, concept or personal experience of their own. The MilliPeople section of the magazine profiles specific people who attend or work at Millikin. Longer articles covering more serious, complex and controversial ideas can be found in the features section of the magazine.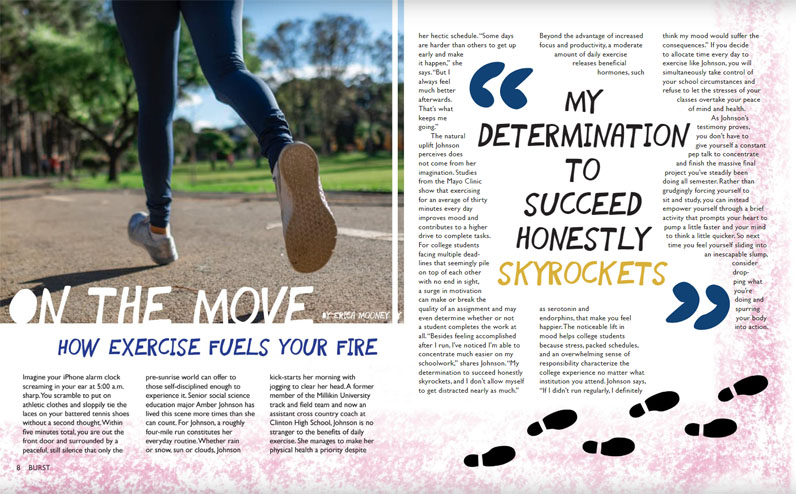 Students spent the majority of the academic year pulling all the components of the magazine together starting with brainstorming sessions in September.
"The students spent about a month composing a first draft of their articles before going through a couple of rounds of editing and revision," Mooney said. "The writing and editing wrapped up at the end of the fall semester. For the previous issue, we attempted to squeeze everything into a single semester, but found it would be best to expand the time frame in order to produce the best product possible. I'm very happy with how this issue turned out."
By January 2020, it was time to design the magazine; enter students from Jessa Wilcoxen's Computer Art & Design: Creative Concepts course.
Student-run media firm Millikin Creates also assisted with photography and cover concepts. The media firm creates design, videography, photography, animation, marketing or audio solutions for clients on campus or in the community.
"Julie (Bates) and I started at Millikin at the same time, and we taught a magazine workshop together through the English Department, and from the very beginning we were looking for a reason to develop a campus magazine," said Wilcoxen. "This past fall, we were able to get student organization funding which helped us hire Millikin Creates. It was a big learning experience for the students of Millikin Creates on what it takes to provide multiple cover options that fit the theme of the magazine. My creative concepts course worked on the layout. By the time people arrive back on campus there should be several prints."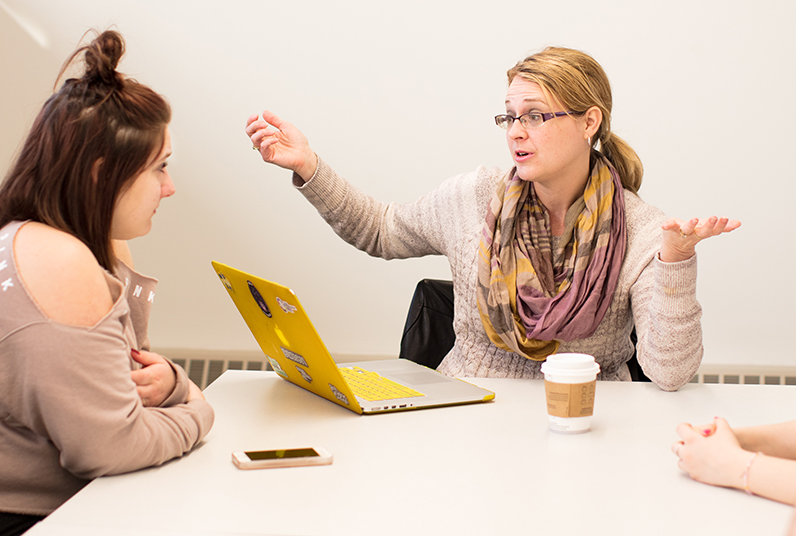 Twelve of Wilcoxen's Arts Technology students, who consist of visual media, interactive media and graphic design majors, played a major role by facilitating the entire process and bringing ideas to the table.
"The writers and designers were able to combine their best skills to create a great final product, and the communication and collaboration throughout the entire project was wonderful," Mooney said. "Everyone was receptive and willing to make changes to improve the appearance and content of the issue even more. We established a lot of unity and a shared vision."
Wilcoxen says the layout of the magazine was a three-week turnaround while the illustration, photography and the cover design took over a month. The final design changes for the magazine were added in the midst of the COVID-19 pandemic in which students and faculty transitioned to distance learning.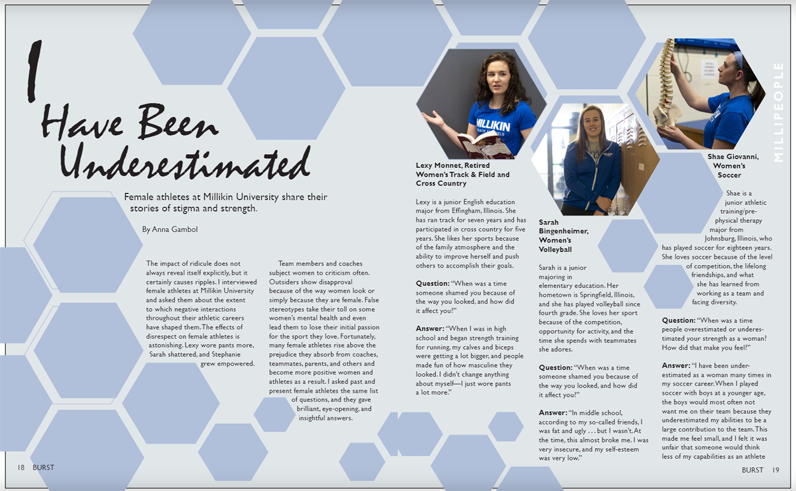 "Students are getting to experience working with a team for a real-world publication, and that's a whole different ball game compared to working individually on your own design piece," Wilcoxen said. "You learn how to be adaptive throughout the process and understanding how important deadlines are especially with something team-based."
Julie Bates says they will be able to print approximately 300 copies of the magazine working with Decatur Blueprint, Inc. in Decatur.
"Every year, Jessa and I talk a lot about making adjustments. Next year, we're going to bring in one of the photography classes to help with the magazine as part of the coursework," Bates said. "It's a learning curve for everyone. The finished magazine is a testament to the hard work and talent of all of the students involved."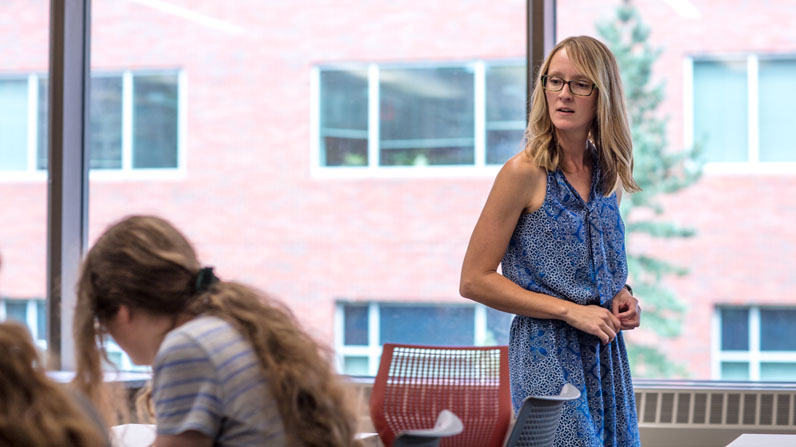 Looking ahead, Bates says one of the elements they plan to add to the magazine is advertising space. "Although some of the work, especially on the editorial side, happens outside of our existing coursework, it's one of the best ways to gain experience working on a magazine that goes through every step of the process," she said.
"As college students, we're in a unique position that enables us to make a lasting change in the years to come," Mooney said. "I knew we could take the latest issue in numerous directions because a lot of fun, relevant article ideas could emerge from the 'Empowerment' theme."