How X Games medalist Matt Wilhelm '01 inspires students to "Be Someone's Batman"
"Bullying is a complex issue. Most kids think that, in order to stop a bullying situation, you have to directly confront the bullies. However, that can backfire or make things worse. Sometimes, a smaller act can make a bigger impact. You can be a hero by sitting next to someone at lunch or including someone in your group of friends. The world, especially right now, needs more heroes."
Millikin alum and BMX sensation Matt Wilhelm '01 has spent his professional life filling this need. On the bike, his electrifying riding style has wowed audiences for more than two decades — as a three-time X Games medalist, a two-time national BMX champion, a Guinness World Record holder and a semi-finalist on "America's Got Talent." And, in student assemblies across the country, he has used these spectacular tricks "to get the kids' attention," in order to share his anti-bullying message.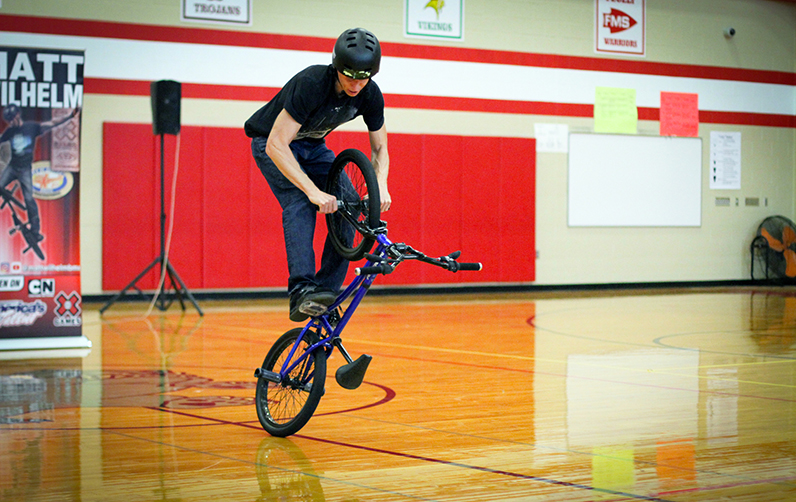 Wilhelm says that he didn't set out to be a motivational speaker, but found his BMX shows "morphing" in this direction.
"I knew that my story would resonate with kids, and that I could reach them in a meaningful way. My goal was to speak at about 10 or 20 schools per year, but I completely underestimated the need for a program like this."
Wilhelm works to keep his bookings close to home, so he doesn't have to be away from his family for extended periods. And the stories he shares with students include his own experiences with bullying.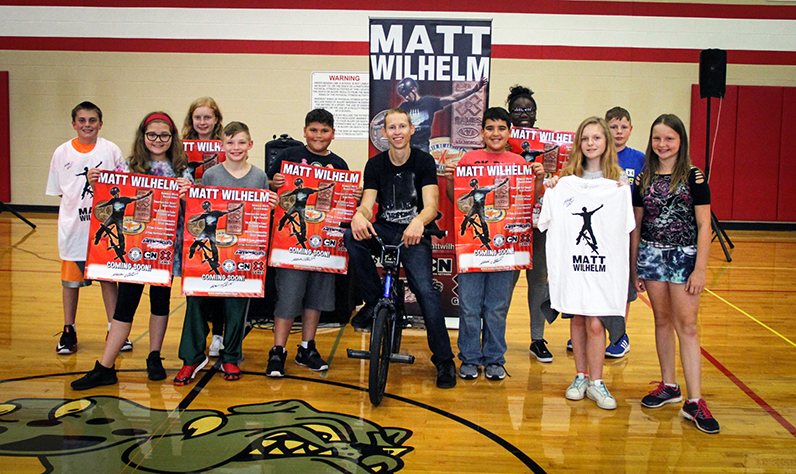 "Back in junior high I was going to quit riding BMX altogether after a pretty intense bullying situation. However another student, who also happened to ride BMX, included me in his group of friends, and then bullies stopped picking on me. I went on to become a national champion thanks in part to this one small act of kindness. He was my Batman."
This "positive approach to bullying prevention" is one of Wilhelm's main messages to kids. Another is encouraging them to embrace what makes them different.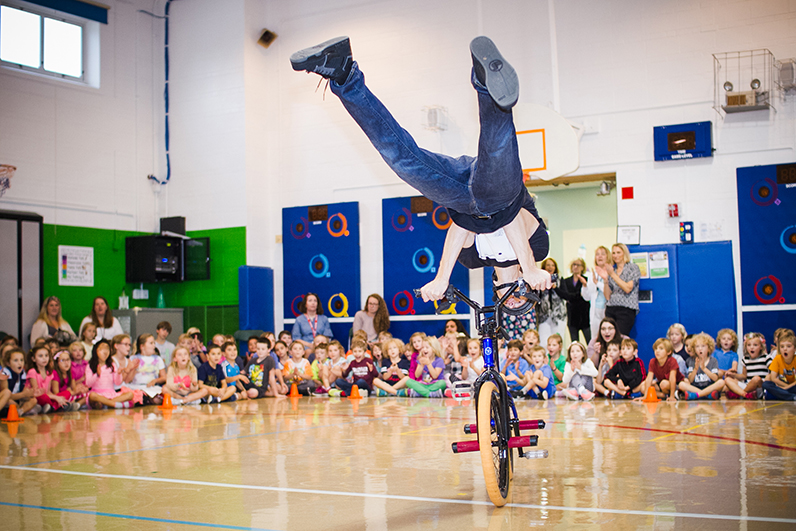 "I was made fun of for riding BMX and being different, but when I was on 'AGT' ['America's Got Talent'] all the judges loved my glow-in-the-dark bike routine because it was different. They all specifically used the word 'different.' So I like to tell kids that you never know, the thing you get made fun of for today could be the very thing that makes you famous tomorrow."
Embracing your difference can also mean overcoming life's obstacles. Wilhelm's signature riding style resulted from just such an obstacle.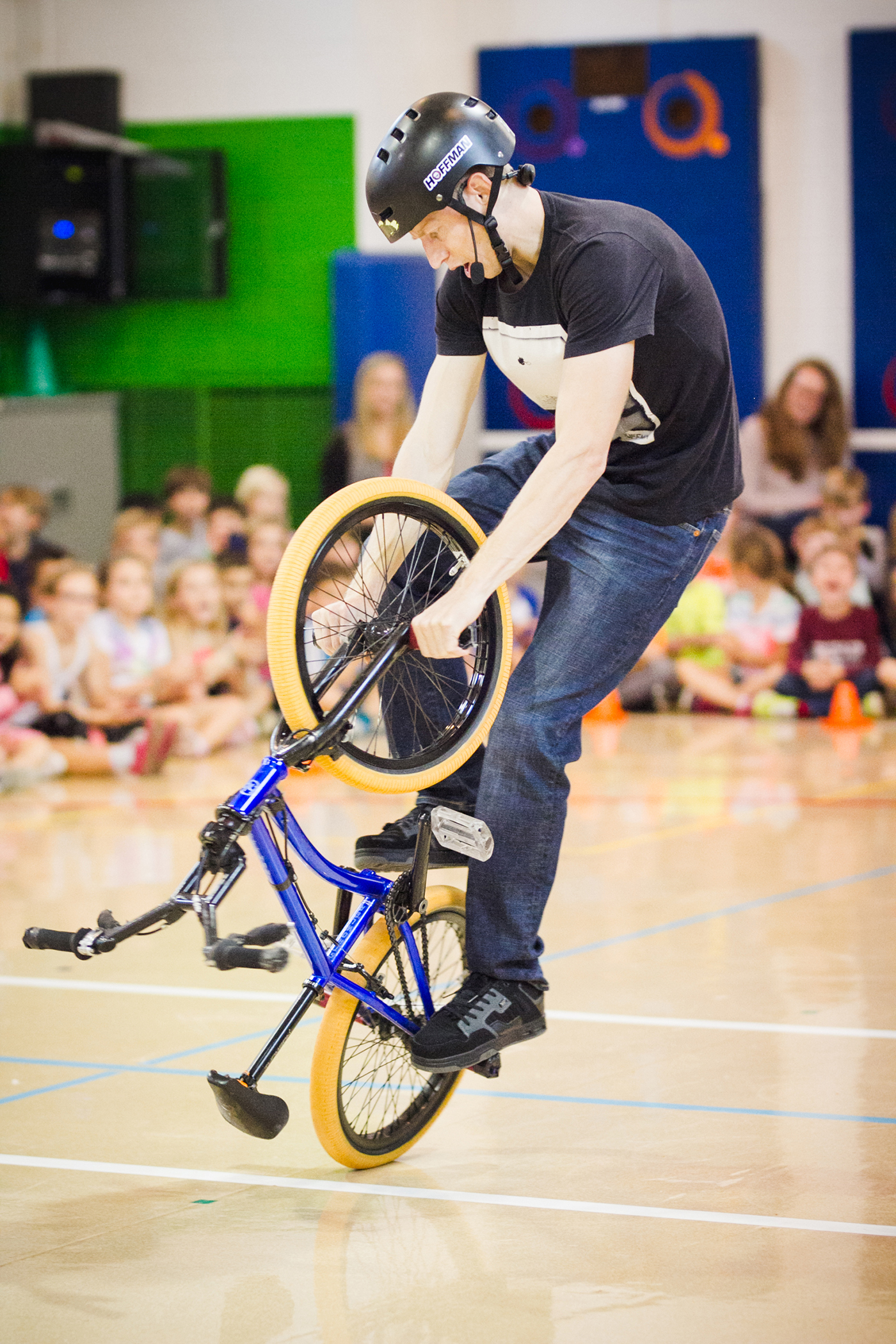 "I am a product of my environment. I grew up in Oak Lawn, a suburb of Chicago. The summers were great for riding, but during the winter I had to retreat to riding in small basements and garages. The style at the time was to do long rolling tricks that took up a lot of space. This was not a problem for the guys in California, as they could ride outside all year. But I had to adapt to riding in a small space, so I started focusing more on spinning tricks and my signature spinning style was born. It was a blessing in disguise, and I always try to remember that sometimes our biggest achievements can be the result of our biggest challenges."
When asked about his greatest accomplishments, Wilhelm talks about how proud he is to be a father to his two children, Violet and Zack, as well as the longevity of his career — he won his first pro contest while still at Millikin and, 16 years later, won the bronze medal at the World Championships at age 37. And his work at school assemblies shows no sign of letting up either — he currently visits an average of 300 schools per year.
"There are so many broken families and social pressures that I didn't have to deal with when I was growing up. [Kids] are looking for validation and approval but don't always get it. We have to build up our kids to make them resilient so they can handle anything that comes their way."
To see more from the spring 2020 issue of Millikin Magazine visit millikin.edu/magazine.