Student-run business to be food innovation and entrepreneurship laboratory
Blue Brew, a Millikin University student-run coffee shop, is set to open its doors in August 2017. The shop will be housed in the Hickory Point Bank & Trust building, located at 225 N. Water St. in downtown Decatur, Ill.
The idea for the coffee shop was first developed by Hickory Point Bank, and four Millikin business students worked on the concept for the business. The students tested the concept by opening a one-week pop-up shop as a hands-on market feasibility test from April 3-7, 2017.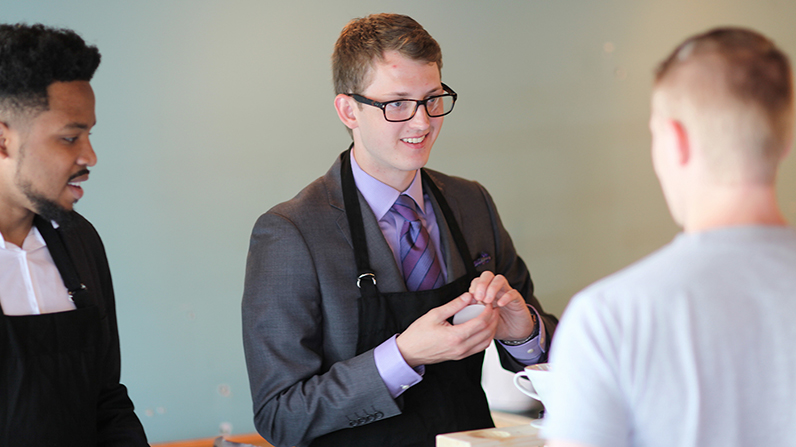 Following the success of the pop-up shop, Millikin University and Hickory Point Bank & Trust announced in May 2017 that Blue Brew would continue as a food innovation and entrepreneurship laboratory.
"Blue Brew is a collaboration between Millikin, Hickory Point Bank and the downtown community," said Jesse Sargeant, a senior entrepreneurship major from Decatur. "It's not just us making a coffee shop for ourselves, it's helping Millikin students learn and it's giving the community somewhere to go to get coffee and enjoy their time downtown."
Blue Brew will be a food innovation and entrepreneurship laboratory positioned for Millikin students to run the shop as a course under the facilitation of a faculty member. The goals of the course are to create a financially sustainable laboratory for students and the community to practice food entrepreneurship; create a visible community outlet to promote its own food innovation competencies; and create channels for continued collaboration among businesses, Millikin, and customers.
"Having the coffee shop in the heart of downtown gives Millikin a connection with more people in the community," said Aric Hopp '17, a recent Millikin graduate from Lincoln, Ill.
Hopp and Sargeant, along with recent graduate Carson Jones '17 and Martel McGee, a junior entrepreneurship major from Lombard, Ill., came up with the Blue Brew name and business plan.
"I think the coffee shop is important to the community in a couple of ways," said Julie Shields, director of the Center for Entrepreneurship at Millikin. "It allows students to interact with community members on a very daily basis. Because the coffee shop is under the Millikin umbrella, the students will be looking for access to some of the latest developments in coffee and local food products."
During the one-week market feasibility test, Blue Brew sold their Basic Blue, a freshly brewed Ethiopian coffee; Artisan blend, a pour-over in Colombian or Nicaraguan blend; iced tea, bottled water and muffins.
The Blue Brew course will be offered for the Fall semester and students can start registering.
Sargeant added, "Having the opportunity to do background research on how to get a company off the ground, working with different vendors, and talking with customers has been a great experience that will benefit myself and the other founders."
Click here to show your support for Blue Brew and make a donation that will help the coffee shop become a visible community outlet.