Blue Brew partners with Hickory Point Bank to continue business in Fall 2017
Following a successful trial run, Millikin University and Hickory Point Bank & Trust are pleased to announce that Blue Brew, a Millikin student-run coffee venture, will continue as a food innovation and entrepreneurship laboratory starting in August 2017. The shop will be housed in the Hickory Point Bank & Trust building, located at 225 N. Water St. in downtown Decatur, Ill.
The idea for the coffee shop was brought forward by Hickory Point Bank, and four Millikin business students worked on the concept for the business. The students tested the concept by opening a one-week pop-up shop as a hands-on market feasibility test from April 3-7, 2017.
Blue Brew worked with four community vendors, three of which are in the food and beverage industry: Marquis Beverage, D-Town Roasters, and Andi Arnold of Peace, Love and Cookies.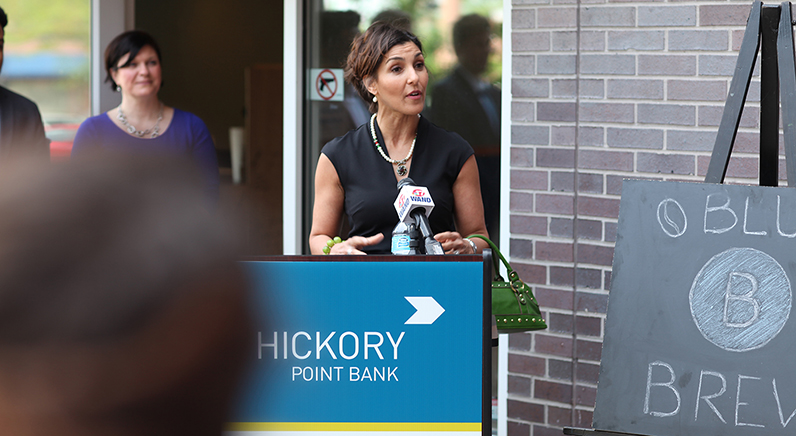 "Blue Brew is a student-run venture that will enhance both student growth and the community of Decatur," said Dr. Najiba Benabess, dean of the Tabor School of Business at Millikin. "This is a teaching and learning strategy that integrates community engagement with instruction and reflection to enrich Performance Learning, teach business concepts, and strengthen the Decatur community."
Blue Brew will be positioned as an entrepreneurship laboratory where students run the shop as a course under the facilitation of a faculty member. The goals of the course are to create a financially sustainable laboratory for students and the community to practice with food entrepreneurship; create a visible community outlet to promote its own food innovation competencies; and create channels for continued collaboration among businesses, Millikin, and customers.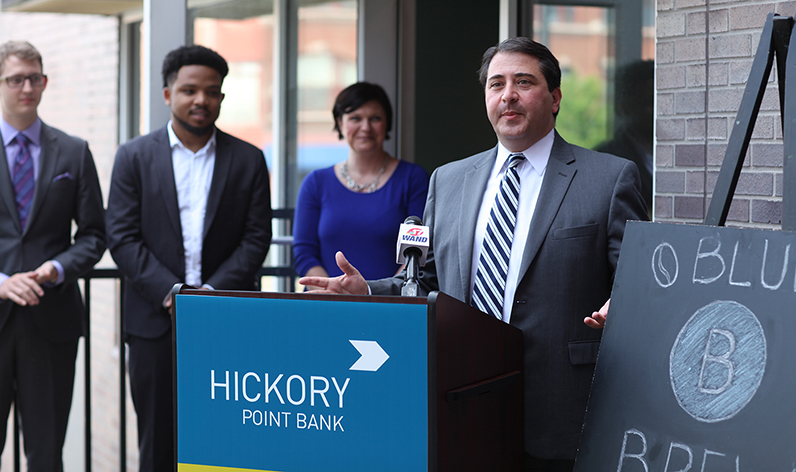 "This is how we grow communities, one coffee shop at a time," said Anthony G. Nestler, Hickory Point Bank President & CEO. "Partnering with Millikin to help students gain knowledge and skills by running a business is a great honor. We are privileged to be in a position to help provide students with firsthand, real world experience."
Millikin students Aric Hopp, a senior entrepreneurship major from Lincoln, Ill., Carson Jones, a senior digital media marketing major from Memphis, Tenn., Jesse Sargeant, a senior entrepreneurship major from Decatur, and Martel McGee, a junior entrepreneurship major from Lombard, Ill., came up with the Blue Brew name and business plan.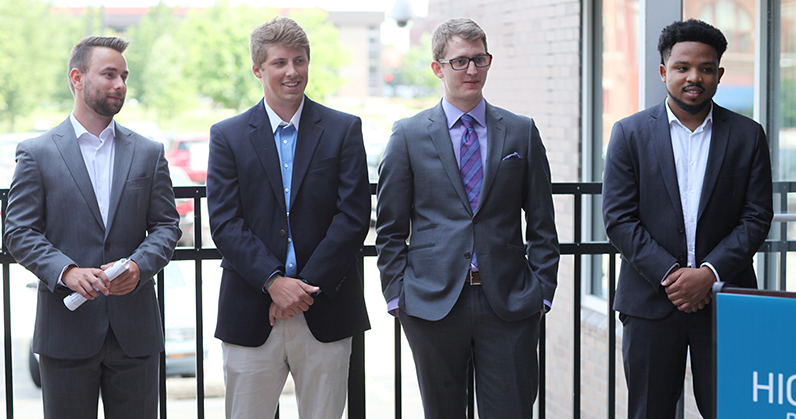 "Based on the success of the pop-up shop, we are excited to announce that it is viable to move forward," said Hopp. "When the shop opens this Fall 2017, it will serve as a new student-run venture in which students will take on the task of owning and operating the business. Entrepreneurship, food and beverage innovation, and Performance Learning will now have a place to showcase growth in the community."
Blue Brew is a student-run venture that will enhance both student growth and the community of Decatur.
Julie Shields, director of Millikin's Center for Entrepreneurship, said, "The students did an outstanding job of creating a real-world market test to help determine if this would really be a class worth starting. We wanted to be as sure as reasonably possible that this entrepreneurship laboratory creates real value in the community, and meets an academic need for students, and has a reasonable chance to pay for itself."
During the one-week market feasibility test, Blue Brew sold their Basic Blue, a freshly brewed Ethiopian coffee; Artisan blend, a pour-over in Colombian or Nicaraguan blend; iced tea, bottled water and muffins.
Dr. Najiba Benabess noted, "Blue Brew will give students experiential opportunities to learn in real world contexts and develop skills of community engagement. It will also help them develop greater interpersonal skills, particularly the ability to work well with others, and build leadership and communication skills."
The Blue Brew course will be offered for the Fall semester and students can start registering. For more information about Blue Brew, visit facebook.com/BlueBrewDecatur.
Millikin University's Tabor School of Business is committed to providing students with the skills they need to solve complex business issues with support, coaching and personalized attention. The Tabor School of Business strongly believes in the value of Performance Learning that delivers real world experience. Tabor students make connections in the business industry through consulting projects with national and international business partners, participating in student-run ventures, internship opportunities, visiting speakers, cross disciplinary learning and more.
For more information about the Tabor School of Business, visit millikin.edu/tabor.
View Coverage