Ribbon-Cutting Ceremony marks beginning of Millikin student-run venture
Millikin University's student-run coffee shop Blue Brew officially opened its doors to the community on Nov. 15 during a ribbon-cutting ceremony at its Hickory Point Bank Building location in downtown Decatur, Ill.
Blue Brew is positioned as a food innovation and entrepreneurship laboratory where students run the shop as a course under the facilitation of a faculty member.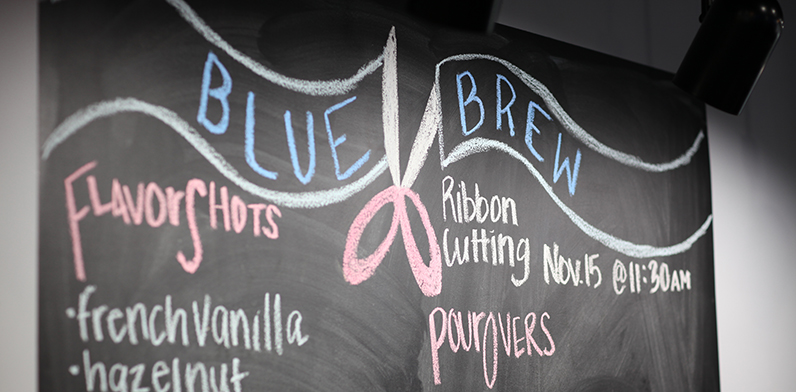 Among the speakers at the ribbon-cutting ceremony were Decatur Mayor Julie Moore Wolfe and Millikin President Dr. Patrick White.
"This is a great day. One of my favorite parts about Millikin is that students learn on the job, helping them succeed in life and business," Moore Wolfe said. "The most valuable thing that education can provide is real hands-on training."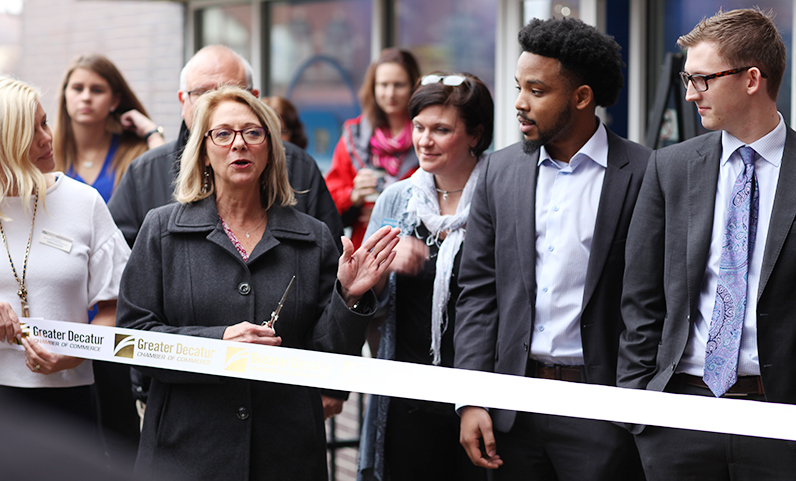 The idea for the coffee shop was brought forward by Hickory Point Bank. Four Millikin business students worked on the concept for the business during the 2016-17 academic year. The students tested the concept by opening a one-week pop-up shop as a hands-on market feasibility test from April 3-7, 2017.
"There is an amazing amount of learning going on at Millikin University," Dr. White said. "We anchor our identity in the constellation of American higher education under Performance Learning – it is learning to do, willing to make things happen not only for Millikin, not only for our students, but for Decatur."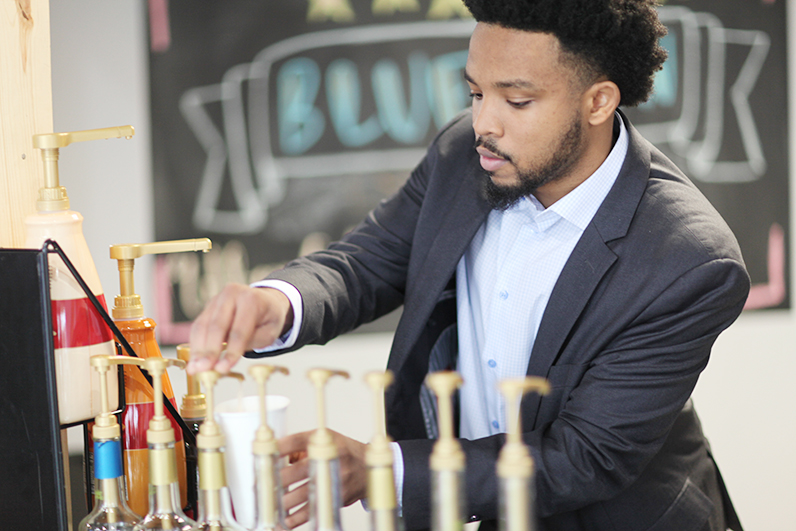 The goals of the Blue Brew course are to create a financially sustainable laboratory for students and the community to practice with food entrepreneurship; create a visible community outlet to promote its own food innovation competencies; and create channels for continued collaboration among businesses, Millikin, and customers.
Jesse Sargeant, a senior entrepreneurship major from Decatur and one of the four Millikin students who created Blue Brew, said he's excited to see enthusiasm from the students in the course.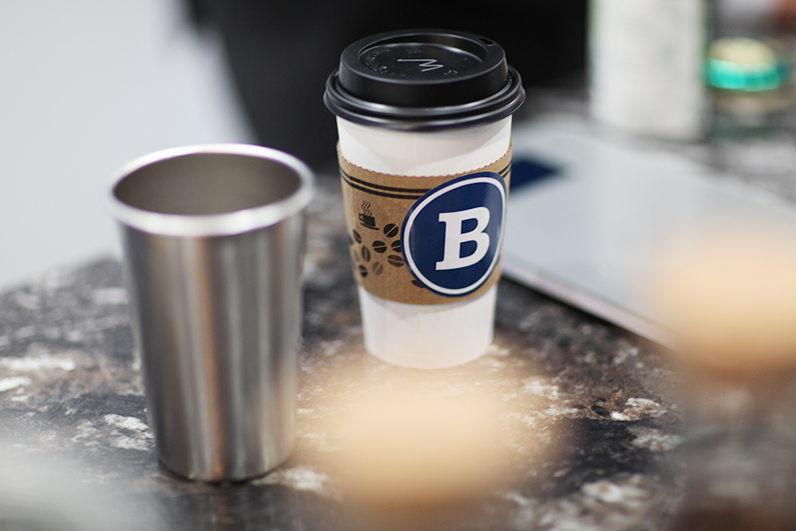 "We created something that other students want to be a part of and that the community is embracing," Sargeant said. "Creating a business is what makes being an entrepreneur so special. It's not necessarily about the business and money you make, it's about people in the community embracing it and enjoying it."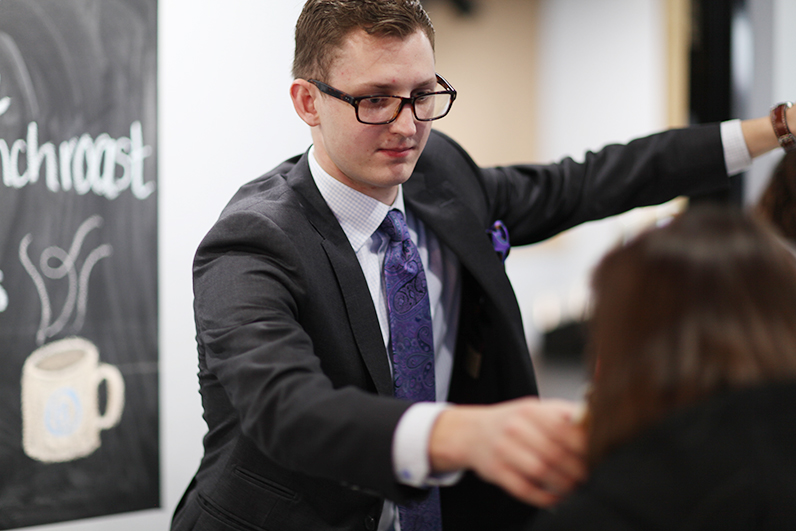 Blue Brew currently sells their Basic Blue, a freshly brewed Ethiopian coffee, as well as an Artisan blend, a pour-over in Colombian or Nicaraguan blend. The shop is working with a variety of community vendors including Marquis Beverage and D-Town Roasters, and JBC Coffee Roasters based out of Madison, Wis. The shop sells lattes, cappuccinos and teas, and offers cake pops, muffins, cookies, cream horns and more.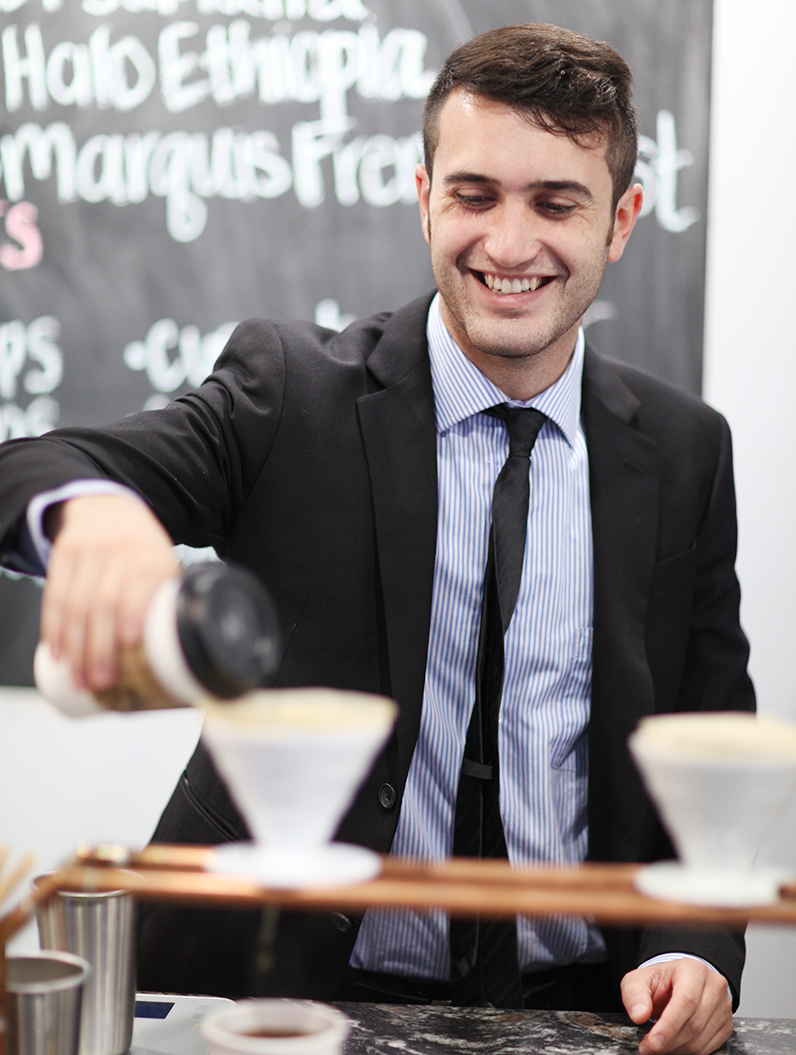 "The energy from the students has been great. They've gone through this whole series of emotions, and now they get to see the whole circle," said Julie Shields, director of the Center for Entrepreneurship at Millikin. "The fact that this is a coffee shop out in the community, that is full-scale, is fairly unique – certainly from the perspective of having 13 student-run ventures at Millikin."
Shields noted, "At some point, in order to make it a class succession, it will feel like the students have acquired a coffee shop and they'll have to figure out how to make it work. That's kind of the theatre of how to make this continue as a student-run venture under entrepreneurship."
Blue Brew hours are 7:30 a.m. to 2 p.m., Monday through Friday. For more information about Blue Brew, visit facebook.com/BlueBrewCoffee.
Millikin University's Tabor School of Business is committed to providing students with the skills they need to solve complex business issues with support, coaching and personalized attention. The Tabor School of Business strongly believes in the value of Performance Learning that delivers real-world experience. Tabor students make connections in the business industry through consulting projects with national and international business partners, participating in student-run ventures, internship opportunities, visiting speakers, cross-disciplinary learning and more.
For more information about the Tabor School of Business, visit millikin.edu/tabor.
View Coverage