Biology student earns Best Poster Award at Sigma Zeta National Convention
Members of Millikin University's Pi chapter of Sigma Zeta attended the 2017 Sigma Zeta National Chapter Convention at Marian University in Indianapolis, Ind., March 23-25. Close to 170 students and faculty attended the convention.
Sigma Zeta is a national honor society for undergraduate students majoring in the natural sciences, computer sciences, or mathematics.
The national convention provides an opportunity for local chapters to gather together to share with and learn from the activities of both other local chapters and the national chapter. Attendees at this year's convention participated in a number of activities, including research presentations (both oral and poster sessions), executive council and committee meetings.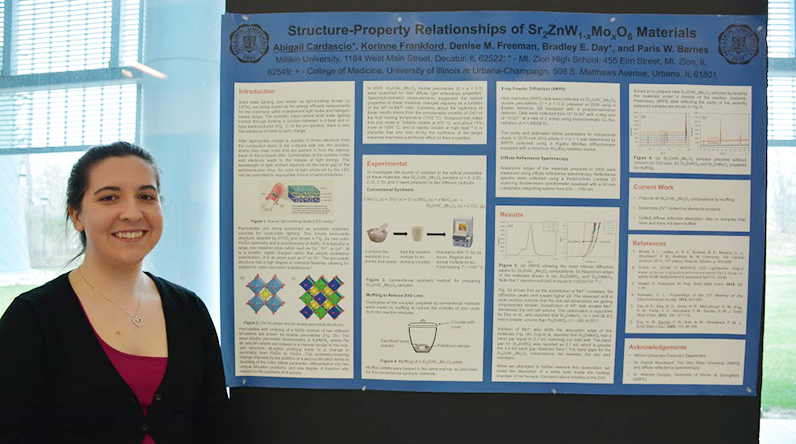 Millikin students Kori Frankford, a junior chemistry major from Alton, Ill., and Alex Cardascio, a senior biology major (pre-veterinarian emphasis) from Decatur, Ill., presented their undergraduate research at the convention.
Cardascio earned the overall Best Poster Award for his project entitled "The Effects of Late Transition Metal Nanoparticles on the Formation of Carbonic Acid." Frankford's work examined the structure-property relationships in potential solid-state lighting materials. Frankford and Cardascio both completed their work under the guidance of Dr. Paris Barnes, associate professor and chair of the Chemistry Department at Millikin.
"Words can't describe winning an award at a national convention," Cardascio said. "A lot of great research programs at Millikin helped with my project and I'm glad I was able to present my research at a high academic level."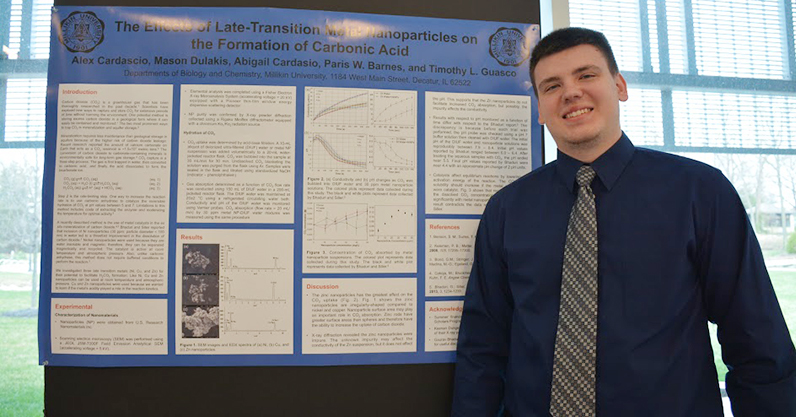 Cardascio presented his Leighty Scholar research which examines how metal nanoparticles effect the hydration of carbon dioxide (CO2) using three different types of nanoparticles: nickel, copper and zinc.
"Our original results saw that zinc had the greatest effect on conductivity, which is the number of ions in solution," Cardascio said. "It was a valuable experience being able to share my research."
Following graduation, Cardascio will attend graduate school at the University of Missouri's College of Veterinary Medicine.
National Sigma Zeta President Dr. Anne Rammelsberg, associate professor of chemistry at Millikin, presided over the meeting and became National Past President for 2017-18.
"There were more than 25 posters presented at the 2017 National Sigma Zeta Convention, displaying undergraduate research projects from 15 chapters in the United States," Dr. Rammelsberg said. "Alex's winning poster demonstrates that Millikin University deserves its reputation as one of the best places to earn a STEM degree."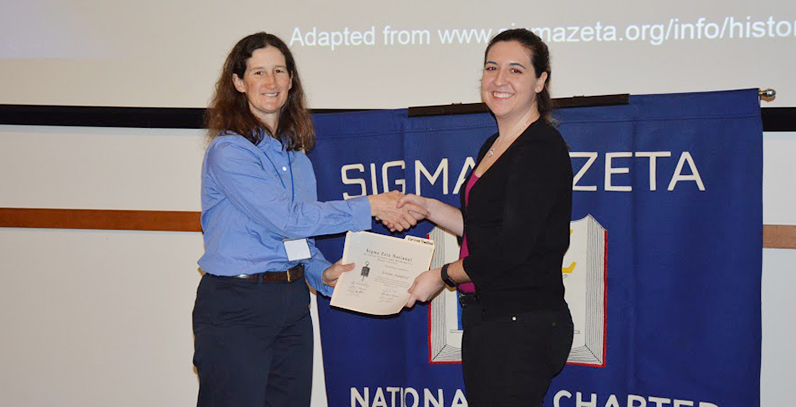 Kori Frankford noted, "This was the first national convention that I've presented my research at, and just talking with several professors who had different levels of understanding of what I was doing made it interesting."
Frankford is the vice president of Millikin's Sigma Zeta chapter and intends to enroll in pharmacy school after graduating from Millikin.
To become a member of Sigma Zeta, students must have a minimum GPA of 3.00 and at least 15 credits in science and mathematics. There are over 80 Sigma Zeta chapters in the U.S.
For more information about the Sigma Zeta National Chapter Convention, visit sigmazeta.org/convention. For more information about Millikin University's Sigma Zeta chapter, contact Dr. Anne Rammelsberg at arammelsberg@millikin.edu.