Building the Foundation: The Coach
Millikin University Head Men's Volleyball Coach Dylan Lasher hails from Fort City, Pa., where he grew up in a family that was all about volleyball. Having been around the sport for so long, it was inevitable that one day he would become a coach.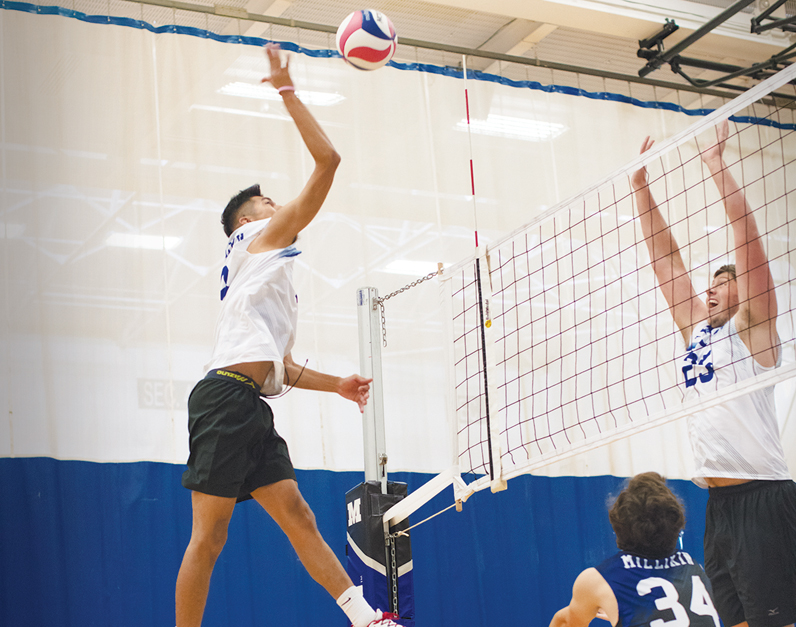 "I fell in love with coaching," said Lasher. "I get to see the motivation of people, to be able to push them and see how far somebody can go. You really get to see people grow."
Men's volleyball is on the upward trend as new programs are popping up all over the U.S. The expansion has been incredible over the last few years going from 45,000 boys volleyball players, to more than 60,000 and counting.
In November of 2018, Millikin's Athletics Department formally announced the addition of men's volleyball to its lineup of NCAA Division III sports. A month later, Lasher was selected to be the first head coach for the new program.
Lasher played men's volleyball collegiately as an outside hitter at Thiel College where he also served as a student assistant coach for the women's volleyball program. He would later gain coaching experience on both the high school and collegiate level, most notably at Chatham University where he was the head coach of the women's volleyball program from 2016-2018 and earned Presidents' Athletic Conference (PAC) Coach of the Year honors in 2017.
After spending the last few years coaching women's volleyball, Lasher is ready to go back to his roots and lead Millikin's newest program.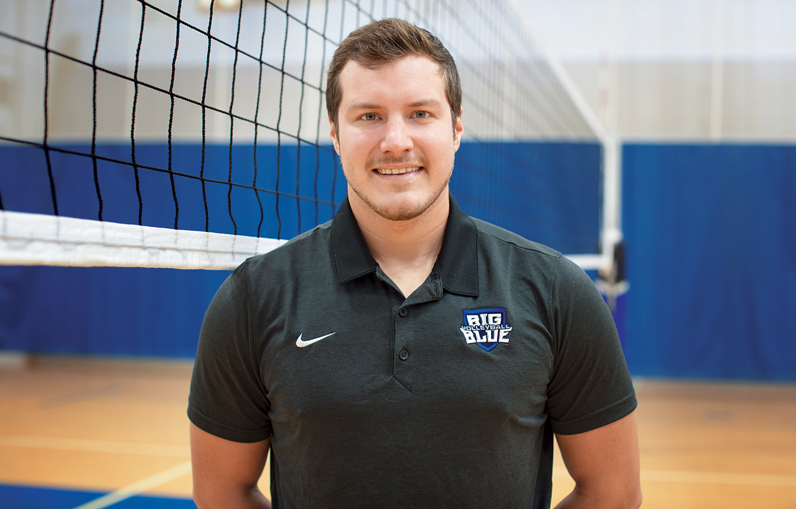 "I want to coach on the men's side of the game, I wanted to get back to what I was part of," Lasher said.
Lasher is making history by being Millikin's very first head men's volleyball coach, and he is extremely excited to coach a team that has the same love for a sport that has been such a big part of his life.
"We have the right attitude and the guys with the right character," Lasher said. "As we grow, I am excited to call these guys the founding fathers of the program."
Millikin Director of Athletics Dr. Craig White is also looking forward to the program's future. "We are very fortunate to have Dylan Lasher as the first head coach of this sport," he said. "Dylan's knowledge of the sport of volleyball and his experience with Division III recruiting are characteristics that will be a great fit as he builds the foundation of the program."
The Upperclassman
Jay Geanopaulos has been fully invested in his experience at Millikin University. The senior accounting major from Frankfort, Ill., has always loved representing the Big Blue, but it never crossed his mind that one day he would do so as a student-athlete.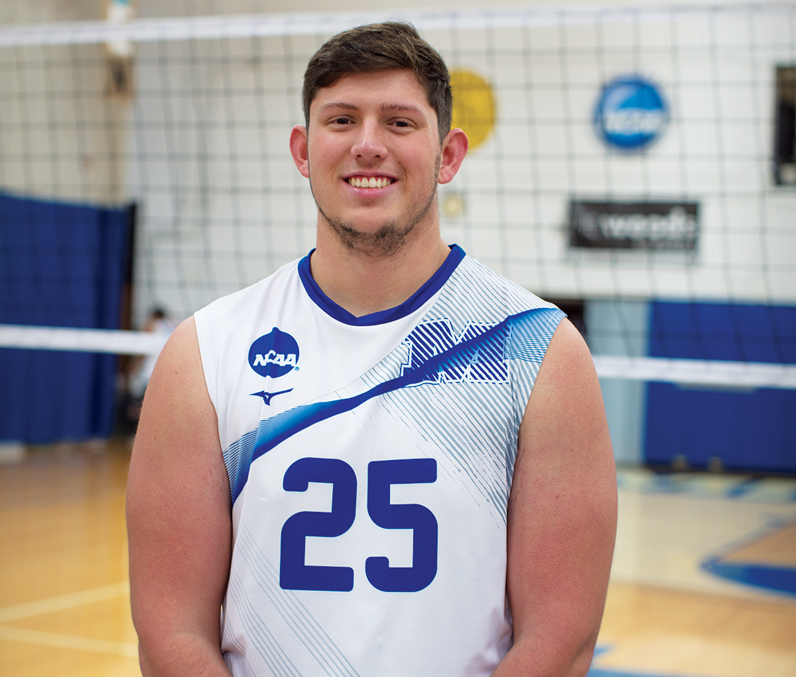 When finding out about Millikin's new Men's Volleyball program, Geanopaulos initially had no intention of playing, even though he played volleyball in the past. Excited for the new program, Geanopaulos wanted to contribute in some sort of way. He assisted Coach Lasher by giving recruits campus tours and helping show that Millikin and the new volleyball program was the right decision for them.
However, at the end of the spring 2019 semester, Coach Lasher still needed more players on his roster. That's when Geanopaulos decided to become a student-athlete.
"I wish it happened sooner," Geanopaulos said. "But I am just happy that I got into it when I did. It's kind of fun that coming into my senior year I'm a college athlete now, and I am embracing that."
So far, Geanopaulos has been making the most of his one year as part of the first men's volleyball team. With the inaugural season approaching, he's confident that the program is building a winning culture for the future.
"I can't wait to look back and see the progress the team has made and know that I was able to contribute to getting the program started," Geanopaulos said.
The New Guy
Robbie Maida, a first-year student from Lockport Ill., knew he wanted to continue his volleyball career in college, but wasn't sure that would happen. Previous coaches kept telling Maida that he wouldn't play at the next level. Coach Lasher, however, saw differently. Lasher needed a setter on his roster, and Maida was his guy.
"People didn't think I had it in me to play at the next level," said Maida. "I think it's really cool to be one of the firsts for this program. I have a chance to prove to the people that didn't think I was able to play in college wrong."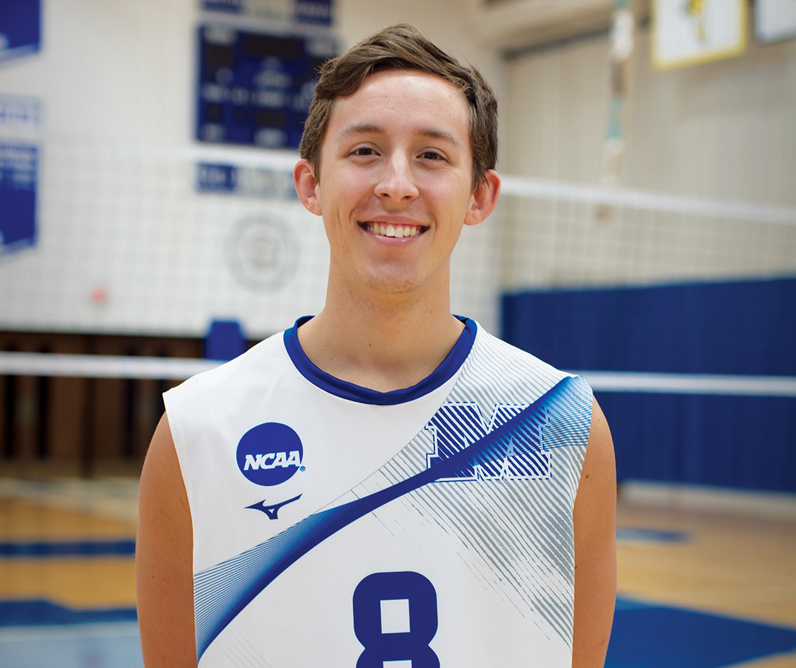 Maida is excited for the upcoming season, and he isn't the only one. With men's volleyball being new to the community, people aren't exactly sure what to expect. The high energy, aggressive and fast pace nature of the game is what Maida thinks is drawing the interest of others.
"It's never happened to me where people have gone out of their way to ask about something that I am a part of. It's really cool that everyone is talking about it and getting the excitement up for the team," Maida said.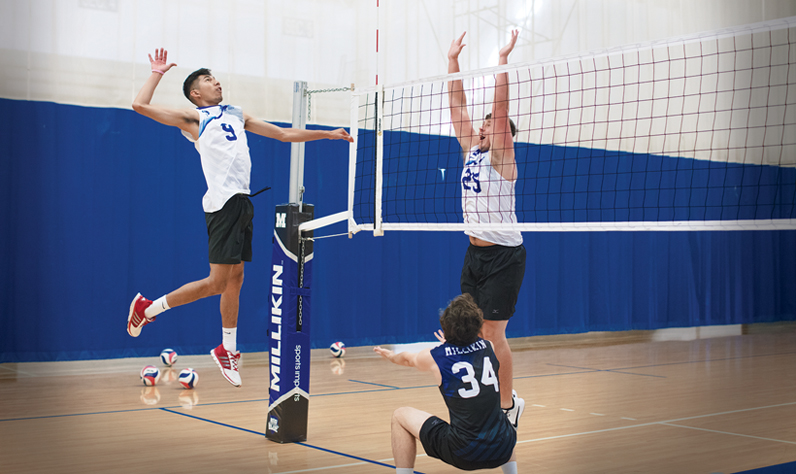 The team begins their season on Jan. 24, 2020, at a tournament in Cincinnati, Ohio. They'll play their first home game at the Griswold Center on Feb. 4 versus Rockford University.