Millikin billiards club promotes teamwork and togetherness
Millikin University's Big Blue Billiards is a club sport organization that promotes teamwork, self-discipline, togetherness and competition. The specific purpose of the organization is to allow college students the opportunity to participate in the sport of pocket billiards.
The Millikin team competes in the Midwest Collegiate Billiards Conference of U.S. Collegiate Billiards which includes Southern Illinois University-Edwardsville, the University of Illinois at Urbana-Champaign and Purdue University, among other schools.
Terry Beer and Millikin graduate David Carr coach the team. Beer, a former tennis coach at Lindenwood University, and Carr, a certified billiards instructor with the U.S. Billiard Congress of America, worked with 2020 Millikin graduate Serena Black to start the club at Millikin to help spread the popularity of the sport.
Black, who has competed at the highest level of amateur billiards, including representing the U.S. in Shanghai, China at the 2016 World Juniors Championships, was last year's captain.
"We advertised and sought out people who had never played the game before," Carr said in an interview with the Herald & Review. "We were looking for a range and a mix to introduce the sport to new folks. We also wanted to be as competitive as we could."
Black recruited members and was an informal assistant coach who shared her years of experience with her fellow students.
"Helping to establish the program was a great moment for me. It was something we had had in mind for years and I don't really know if it would have come to fruition without the students we had join in the first year," Black said. "I acted as the student sportsperson and I was sort of a liaison between the club and anyone that expressed interest."
In June, Alex Romer, a senior mathematics major, was named the new captain of Big Blue Billiards for the 2020-21 season.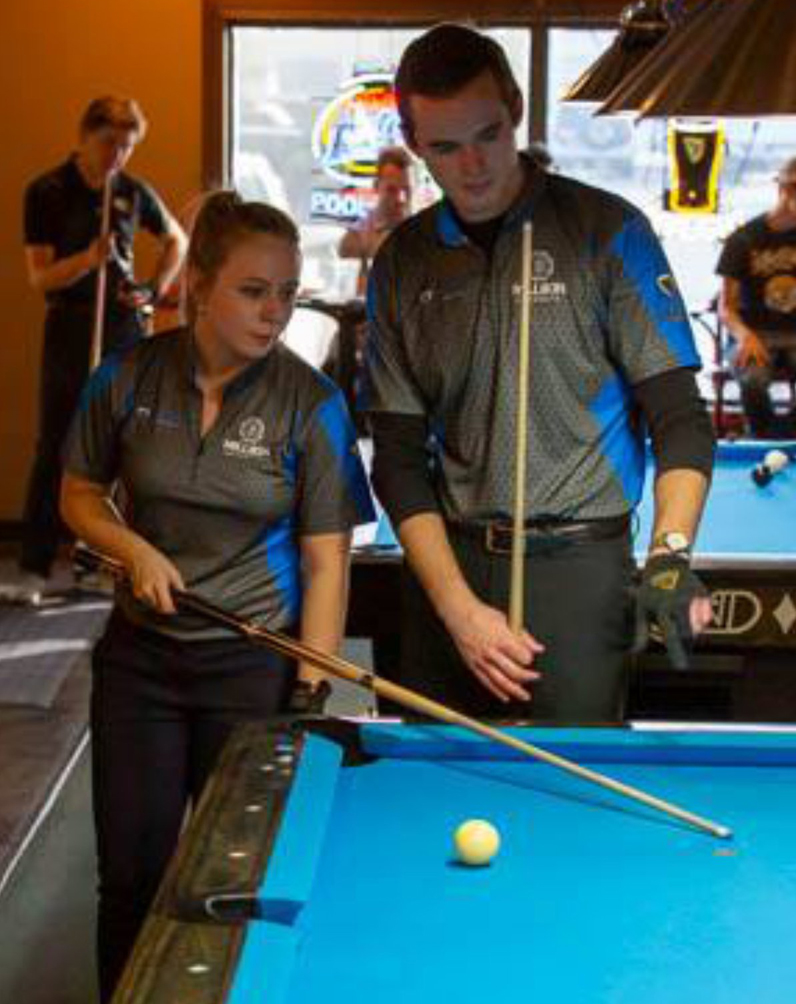 "There is a physical and mental component to the sport," Romer said. "The physical component is the accuracy and the mechanics of it. The mental component is sort of like chess. You have to think several moves ahead and you have to carefully consider the moves your opponent might make if you miss. It is a very strategic game. We have a lot of fantastic players that have been involved with the billiards community here in Decatur (Ill.) for a large part of their lives and we also have new players who are just learning the sport."
As the new team captain, Romer is looking forward to the recruiting process and further promoting the sport.
"My main focus will be on recruiting new players and one of the advantages I have is that I'm new to the sport. I can relate to the new players and I want to get those players that have never held a pool cue and show them what an amazing sport it is," Romer said. "There are ideas for fundraising but we don't have anything certain planned yet. That's the big hurdle to overcome in being able to afford the tables and if we can get some tables on Millikin's campus that will be fantastic."
Romer has been able to get a few games in after losing three months of the season due to the COVID-19 pandemic. "I was a little rusty, but it came back quicker than I thought," he said. "That's sort of a cool thing about billiards that you don't need a lot of strength or power — it is just fine movements — and it is something that you can take a break from and you can come back to it at about the same level."