Millikin organization begins another year of providing nourishment to students in need
Big Blue Backpacks, a Millikin University based organization seeking to address food insecurity in the Decatur, Ill., community and the lives of children and families, will begin its fifth year of providing nourishment to students in need at Dennis Lab School on Sept. 11, 2020.
With the support of private donors in the community as well as local agencies, Big Blue Backpacks provides food for students in need at Dennis Lab School. The organization purchases food items and packs them into food bags for over-the-weekend nourishment. Big Blue Backpacks currently serves 80 students at Dennis Lab School with these meals. Big Blue Backpacks provides breakfast, lunch, dinner and snacks to children in hope to ease hunger and related academic deficits.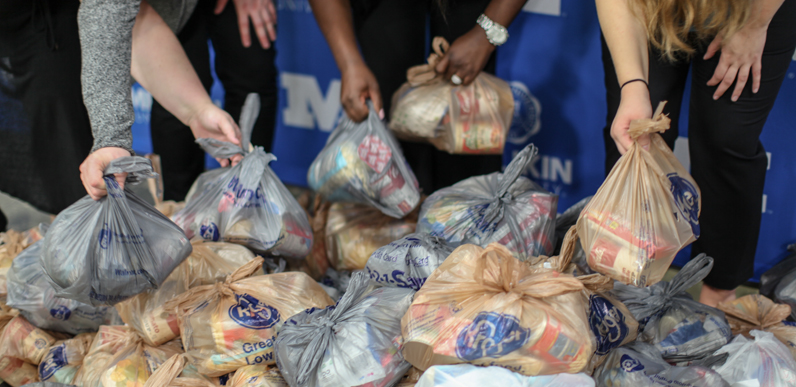 Big Blue Backpacks started providing bags of food for students in need at Dennis Lab School in Sept 2016. Since then, Big Blue Backpacks has continued to raise funding through generous private donations, community agency donations and fundraisers as well as support from the WSOY Community Food Drive. All money raised goes directly to the food that the students receive without any overhead expenses.
"I would like to congratulate the Big Blue Backpacks team for successfully providing weekend meals and snacks to 80 students in need at Dennis Lab School over the past academic year; we were even more successful in doing so when schools shut down due to COVID-19," said Mary Garrison, Big Blue Backpacks advisor and professor of social work at Millikin. "Our community impact is great as students benefit from nutrition that will enhance their academic skills for school success."
Each bag that Big Blue Backpacks provides contains 10 food items for breakfasts, lunches, dinners and snacks. Examples of common items found in the bags include granola bars, oatmeal, breakfast bars, noodles, soups, canned vegetables, pasta, tuna, macaroni, gummy bears, fruit snacks, pudding cups and fruit cups. Additionally, a can opener is included in each bag at the start of the year.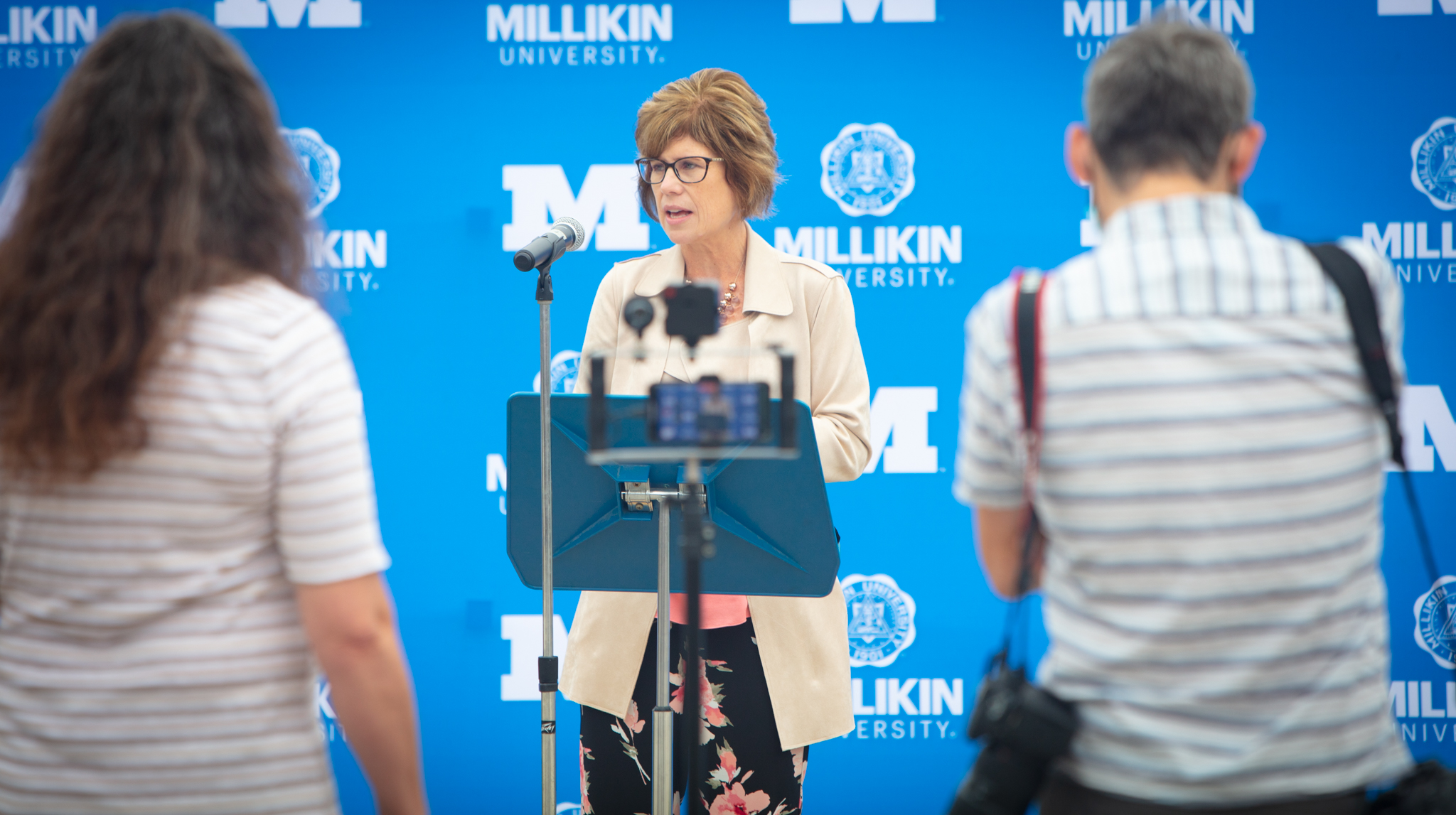 Mary Garrison, Big Blue Backpacks advisor and professor of social work
This year, Big Blue Backpacks will expand their efforts and provide a weekly food supply for the "Little Food Pantry" that sits outside the Dennis Lab School Kaleidoscope Campus, located at 520 W. Wood St. in Decatur.
"Our hope is that individuals and families in need will take food, and that those that can, will leave food for others in addition to the Big Blue Backpacks' weekly supply. We all need to support one another in any way we can," says Garrison.
Garrison added, "When this idea was born six years ago and the first team took a year to create an effective process, I knew it would be successful. Each leadership team since the first has worked tirelessly to continue this program and ensure its sustainability. I am honored to work with such amazing students as their advisor. Today is our kickoff for this academic year and we look forward to a successful year ahead."
Big Blue Backpacks community partners include the Good Samaritan Inn, Decatur Public Schools Foundation and Aldi.
Millikin students involved with the organization this year include Joycelyn VanAntwerp, a psychology major from Kewanee, Ill.; Harrison Atkins, a human services major from Chicago; Mackenzie Dixon, a biology major from Edwardsville, Ill.; Joey Davies, a chemistry major from Tinley Park, Ill.; and Katie Gessford, a human services major from Decatur.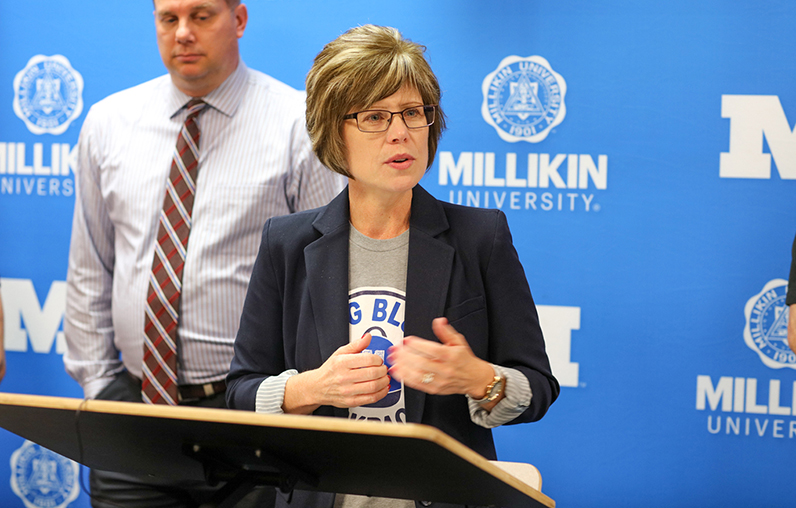 Millikin student Joycelyn VanAntwerp
Families enrolled in Big Blue Backpacks do not pay anything; the program is free to those receiving the food. This means that fundraising by the leadership team is ongoing to ensure the program's continued success. It only costs $80 per student during the academic year to provide them with the resources that they need in order to have the chance to succeed.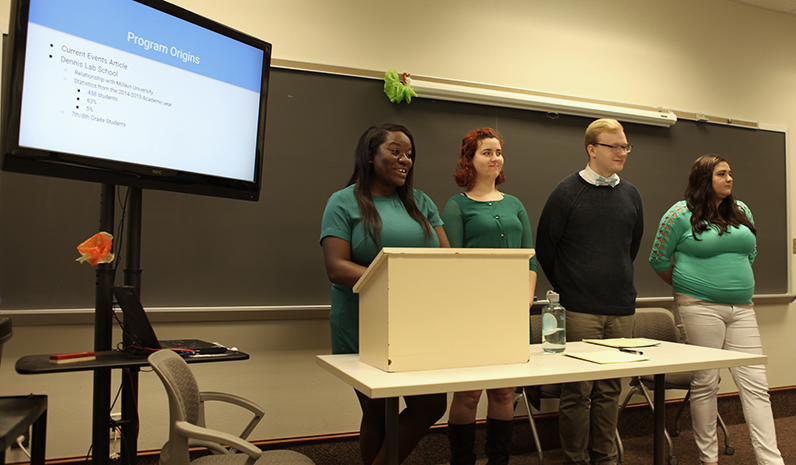 Dennis Lab School Principal Dan Lynch
Any financial donation is helpful and Big Blue Backpacks is currently offering the following sponsorship tiers for donors to choose from:
School Desk ($80): Sponsors 1 student for an academic school year
Lunch Table ($800): Sponsors 10 students for an academic school year
Classroom ($2,000): Sponsors 25 students for an academic school year
School Bus ($4,000): Sponsors 50 students for an academic school year
Anyone wishing to donate can make a check out to Big Blue Backpacks and send it to Professor Mary Garrison at Millikin University, 1184 W. Main St., Decatur, IL 62522.
For more information about Big Blue Backpacks, visit facebook.com/BigBlueBackpacks, call 217.424.5074 or e-mail mgarrison@millikin.edu.