Big Blue Backpack program impacts local community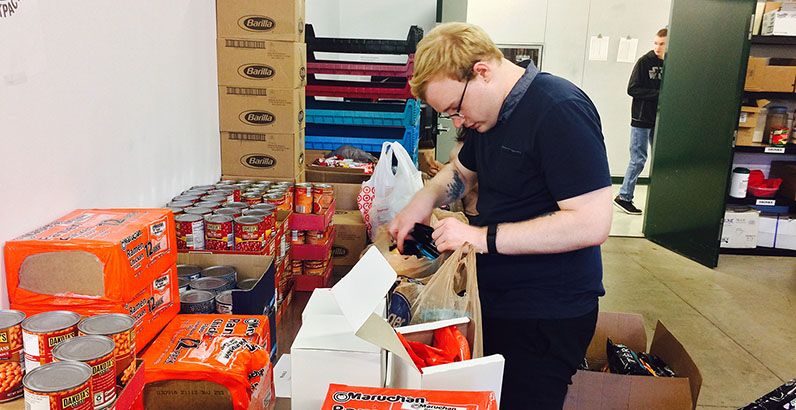 A new Millikin University student-run organization is making an impact on the local community by helping alleviate childhood hunger. The organization, Big Blue Backpacks, is providing bags of food for students in need at Dennis Lab School.
In partnership with the Good Samaritan Inn, the Big Blue Backpacks organization is feeding nutritious, nonperishable food items to needy students at Dennis Lab School every weekend for the entire school year.
Big Blue Backpacks purchases all of its food from the Central Illinois Foodbank in Springfield, Ill. The Millikin students then store and pack the bags of food at the Good Samaritan Inn in Decatur, Ill.
In a recent interview with WAND-TV, Jonathan Rieck, a senior human services major from Elgin, Ill., said, "We try to make sure we get as much food into the kids' backpacks as we can. We try to make sure they don't have the same things over and over again."
Big Blue Backpacks was created over the past year and was launched in April 2016 during a presentation at Millikin University's annual Celebrations of Scholarship. Recent graduates and other current students involved with the organization include: Trista Smith, a senior human services major from Farmer City, Ill.; Danna Herbach, a senior art therapy major from Wheaton, Ill.; Kayce Fuentes, a junior human services major from Homer Glen, Ill.; Katie Posch, a junior human services major from Midlothian, Ill.; LaTasha Wilson '16, from St. Louis, Mo.; Bryn Agnew '16, from Towanda, Ill.; and Ashley Horan '16, from Batavia, Ill.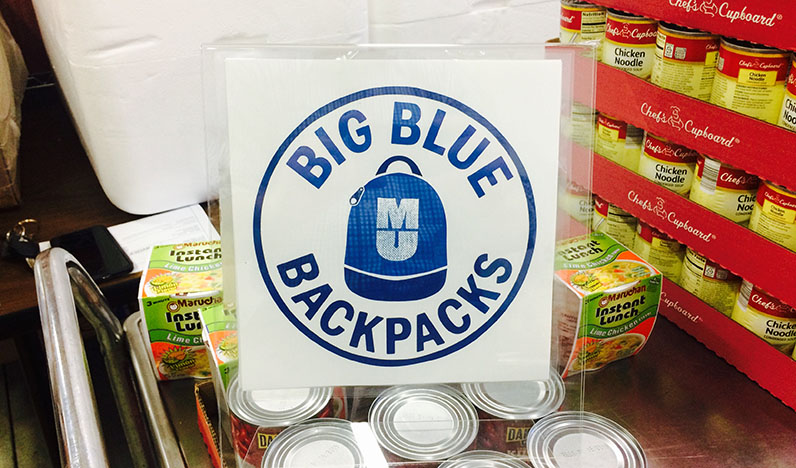 "We all jumped on board and thought it was a great idea for the community," said Trista Smith.
Each student in the program is budgeted $80 per year, which will provide them with the resources that they need in order to have the chance to succeed. Every financial donation is appreciated, and Big Blue Backpacks is currently offering sponsorship tiers for donors to choose from:
School Desk ($80): Sponsors 1 student for an academic school year
Lunch Table ($800): Sponsors 10 students for an academic school year
Classroom ($2,000): Sponsors 25 students for an academic school year
School Bus ($4,000): Sponsors 50 students for an academic school year
The Millikin students are led by faculty advisor Professor Mary Garrison, Millikin associate professor of social work.
"This program will have a significant impact on our community as it works to provide supplemental food to students in need at Dennis Lab School each weekend during the academic year," Garrison said. "Providing 80 students with seven meals over the weekend from Friday night dinner through Sunday night dinner will allow students the opportunity to increase their concentration, energy and motivation and most importantly, improve their academic performance."
For more information on Big Blue Backpacks, contact Professor Mary Garrison at 217.424.5074 or by e-mail at mgarrison@millikin.edu.
View Coverage