Millikin honors the Class of 2021 at Winter Commencement
Families and friends gathered in Kirkland Fine Arts Center on Millikin University's campus on Dec. 12 to recognize the newest Big Blue alums from the Class of 2021 at Winter Commencement. Millikin conferred 104 baccalaureate and graduate degrees.
This year, Millikin honored traditional undergraduates and those receiving their Doctor of Nursing Practice degrees with an in-person commencement ceremony.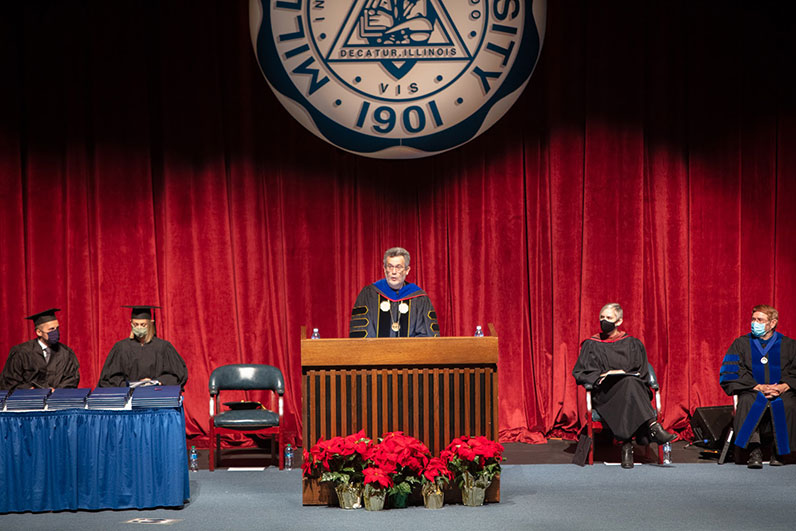 From left to right: Zach Uttich, Kirsten Uttich, Dr. Jim Reynolds, Mary Black and Dr. Randy Brooks
"More than any other university event or program, commencement has very special and symbolic significance. It's the culmination of many years of hard work for our students and their families, and represents a demarcation point for us all," said Millikin President Dr. Jim Reynolds. "For many of us, today is 'payday,' it's a time for all of us, who have given our best to our students, to receive a special reward knowing that in some small way we helped make a difference in their lives."
Reynolds added, "Today, you are offering a gift to all of us who will remain behind at Millikin University as you go off into your bright futures. Thank you for giving us the opportunity to know you and to be a small part of your exceptional lives."
Audrianna Bartholomew, of Pasadena, Calif., who earned a Bachelor of Arts in Musical Theatre, led off the celebration with a speech dedicated to the "unknown."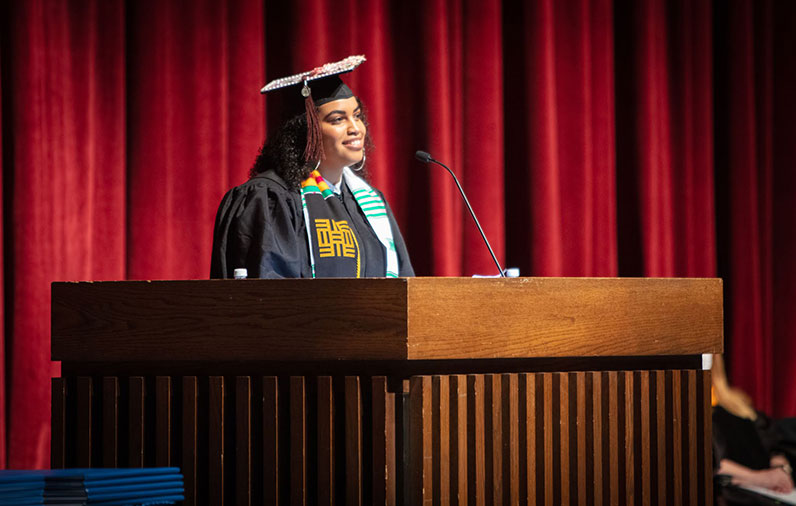 Audrianna Bartholomew
"We're all here as a testament that when things happen, and it felt like our world was falling apart, we still endured and survived," she said. "The unknown never goes away especially during these unprecedented times that we are in. It grows with us and changes and shows its face in many ways. Don't wait … take on the Big Blue unknown with all that you have learned during your time here at Millikin. Become the heroes you were meant to be."
Graduate programs speaker Bear Emerson Evan Haring was among 15 graduates to earn a Doctor Nursing Practice in Nurse Anesthesia. Haring shared insight into his life's journey that began in a small West Texas town called Wink. Haring also referenced the speech of retired United States Navy four-star Admiral William H. McRaven titled, "If You Want to Change the World."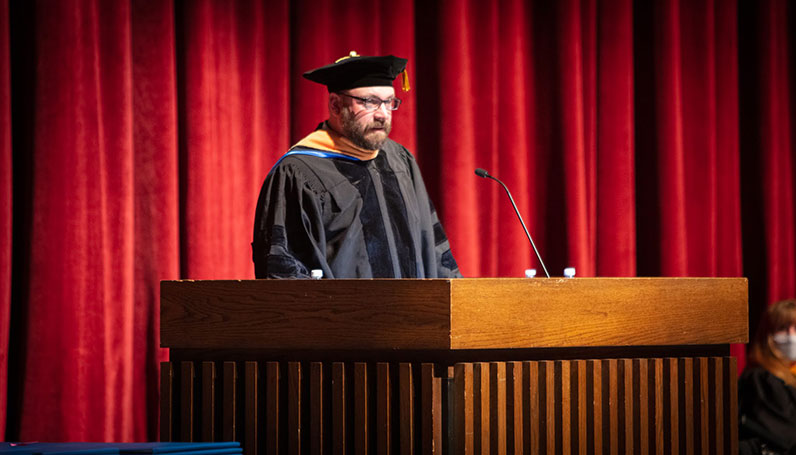 Bear Emerson Evan Haring
"Class of 2021, believe in what you have accomplished today. Don't be afraid to be challenged in life … the hardest things in life will challenge us more than you can imagine. These are also the challenges that will yield us the most return," Haring said. "Thank you for giving this small town kid an opportunity to share with you some of the things that I have learned in life at this point."
Lastly, Winter Commencement keynote speakers Zachary "Zach" Uttich and his wife, Kirsten Williams Uttich, Class of 2007 Millikin graduates, took the stage to deliver their message, "You Don't Know What You Just Learned."
Kirsten graduated with a Bachelor of Science in Fitness and Sport while Zach graduated from Millikin's School of Theatre & Dance with a Bachelor of Fine Arts in Acting.
"Be creative," said Kirsten Uttich. "This helps to keep the outlook fun and exciting. And say and spell people's names correctly … it makes a gigantic impact. And, once you've mastered that, learn to remember people's names as soon as you meet them."

Zach and Kirsten Uttich
Zach and Kirsten have made a name for themselves as custom clothiers. Owners of Chicago's BLVDier, the Uttichs' business model has been guided by the mantra, "make it better." Using this guiding principle has paid off — in 2020, BLVDier opened a new storefront nearly double the size of its previous space. At the same time, they dramatically expanded the clothing and accessory options they offer, all while continuing to focus on adding non-traditional customers to their growing clientele.
"Be nice to everyone, especially to those who appear the lowest on the workplace ladder," said Zach Uttich. "A little kindness early can pay big dividends later. The world is awfully small."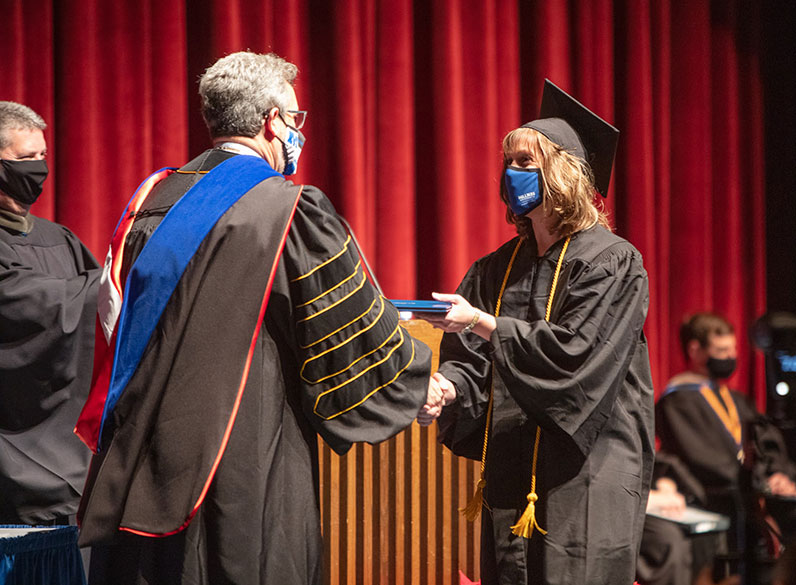 In an interview with the Herald & Review, nursing graduate Sera Bebon, of Erie, Ill., said, "I would say come to Millikin to study because the staff is very attentive. I believe it's truly hard to fail here because you have a lot of people who look after you and care about you and want you to succeed."