Backstage Pass to Disney
It's hard to find anywhere else in the world that does design better than Disney, specifically shows, environments and experiences; so what better way to learn the elements of design than by seeing it first-hand through the Walt Disney World lens.
Two years ago, Millikin University theatre faculty members Jana Henry Funderburk and Matt Albrecht created a travel course called Designing Disney. The course provides opportunities for students to meet with Disney designers and performers, experience events in the parks and reflect on what makes Disney special.
Thirteen Millikin students in this year's January Immersion course spent a week at Disney where they met the cast of Finding Nemo; got a backstage tour of the Indiana Jones Epic Stunt Spectacular; and received advice from Disney Designers and Imagineers.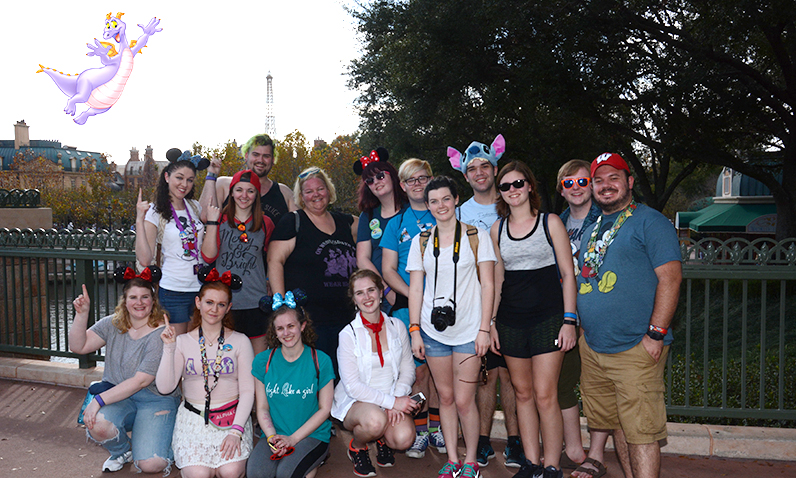 "We spent the first week of class discussing the history of Disney and practicing our own design abilities," said Marielle Tepe, a junior theatre major from Harlan, Iowa. "As a group, we created our own Disney attraction by putting everything we learned into practice. We got to witness everything we talked about in the classroom while at Disney."
The students were asked to write reflections about their experiences every day at Disney.
"We were to able see performers, stage managers, designers and stunt coordinators," said Tepe. "We were able to see Disney from so many different angles and it gave us a deeper appreciation for what Disney does and how well they do it."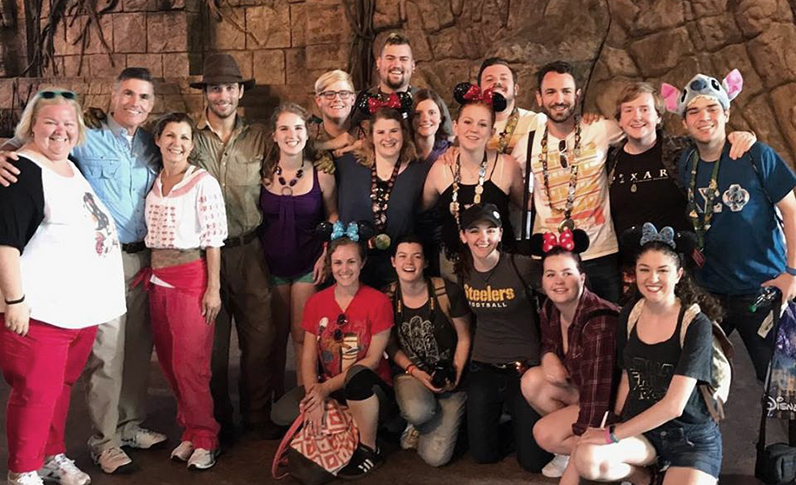 Millikin alumna Jamie Kern '03, a former production manager at Disney World, provided the students access to certain areas of the park including business offices and creative costuming.
"Some of the basic design elements we learned were shape, line, color and form, and how Disney takes those to the next level," said Isaac Brown, a sophomore theatre major from Indianapolis, Ind. "You notice things in the parks that make everything so unique."
For us, to be able to show our students design done on the ultimate level is an incredible opportunity.
Amanda Donohoe, a junior musical theatre major from Chicago, Ill., added, "Each of the different 'lands' at Disney have different architecture including the stores and the pavement. I was very impressed with how Disney is dedicated to making the most realistic and immersive experience so that no detail is left out."
The students also met Millikin alumnus Jason Weitkamp '01 who is part of the cast of Finding Nemo at Walt Disney World.
"Having the opportunity to talk with the Finding Nemo cast was inspiring because they all enjoy working at Disney, and they reminded us that we can do whatever we put our minds to," said Tepe.
The students learned about forced perspective at Epcot Center, and met Rob Lott, a Disney cast member, who provided a tour of Main Street USA at the Magic Kingdom. Lott showed many of the details which make the Main Street USA area unique.
"The students learned that it's important to be someone who people want to call and want to work with," said Matt Albrecht, assistant professor of theatre and dance. "In the end, Disney was happy to have us and they loved talking with our students."
Amanda Donohoe says the experience opened up a new avenue of work for her career going forward. "I definitely want to work there at some point in my life," said Donohoe. "For people like us, it shows us the options and I wouldn't have had that without the class."
Jana Henry Funderburk, associate professor of theatre and dance, noted, "There are other avenues in the theatre field, if maybe traditional theatre isn't for you, and that's one of the things the students learned during this course. For us, to be able to show our students design done on the ultimate level is an incredible opportunity."
Funderburk and Albrecht say Millikin University will be offering an IN-250 Disney course at the end of the spring 2017 semester.