Millikin event planning class creates fundraising event
The Digital Media Marketing curriculum in Millikin University's Tabor School of Business puts students in the middle of the rapidly evolving world of marketing with hands-on learning opportunities. Students can take part in initiatives from creating an integrated marketing communication campaign to designing a social media strategy.
Among the courses in the program include overviews of brand loyalty, personal selling and event planning – where students learn how to successfully plan an event such as a fundraising initiative.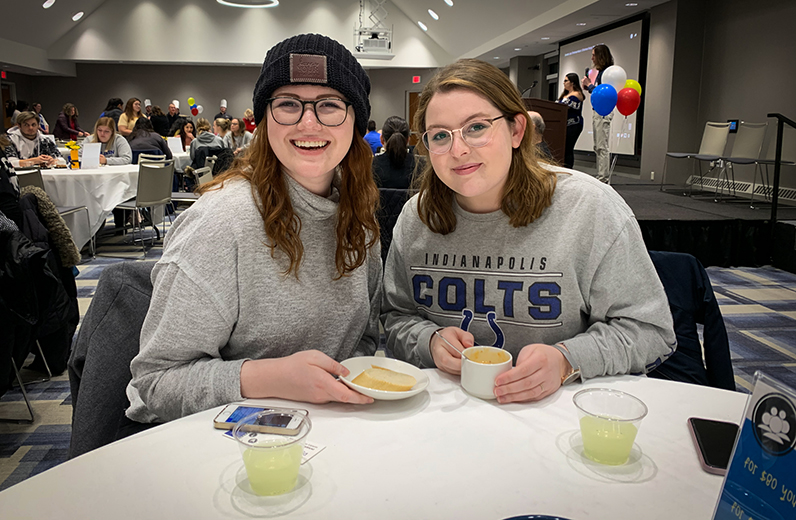 On Dec. 3, 2019, the culmination of Millikin's Event Planning course was delivered through a fundraising event titled "Back the Big Blue Backpacks." The class, led by Millikin Chief of Staff Marilyn Davis, spent the entire semester gaining a perspective on how to execute a successful event – from the initial planning stage, to budgeting, to marketing.
The overall concept of the class was centered on creating a soup dinner that serves as a fundraiser for an organization of the class' choice. When the class first heard about the Big Blue Backpacks initiative, led by Mary Garrison, professor of social work at Millikin, it was a unanimous decision that the event would be held for the student-run organization.
With the support of private donors in the community as well as local agencies, Big Blue Backpacks provides nourishment and wellness for students in need at Dennis Lab School in Decatur, Ill., by purchasing food items and packing them into bags to give to students for over-the-weekend nourishment. The program benefits the children at Dennis Lab School in many ways including their attendance rates, health, academic success and confidence in self.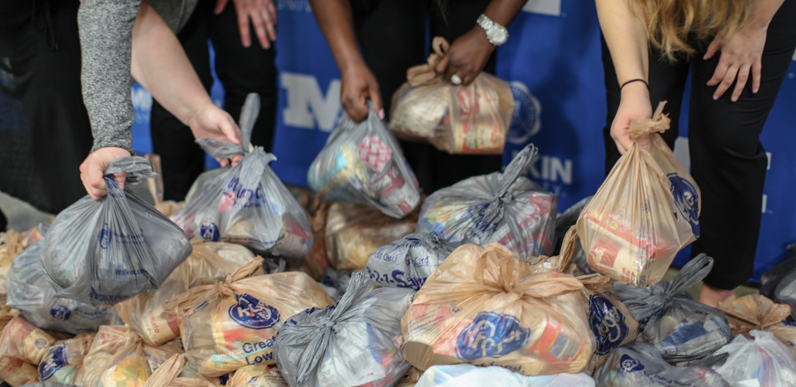 Big Blue Backpacks provides food bags for 80 students over 27 weeks during the school year, and has provided meals for over 500 students in the last three years. Members of Big Blue Backpacks put the bags together every Wednesday from 11 a.m. to 12 noon at The Good Samaritan Inn and they are distributed to students the following Friday. Backpacks go home every Friday filled with two breakfast meals, three dinners, two lunches, two snack items and hygiene products.
In order to provide the students with backpacks each weekend, the organization relies solely on financial donations to run their operation.
Students from the Event Planning course and Big Blue Backpacks worked together to sell 225 tickets for the event. The dinner included soups, biscuits and desserts, provided by Chef Brian Pehr, Millikin's executive chef for dining services, and Aramark.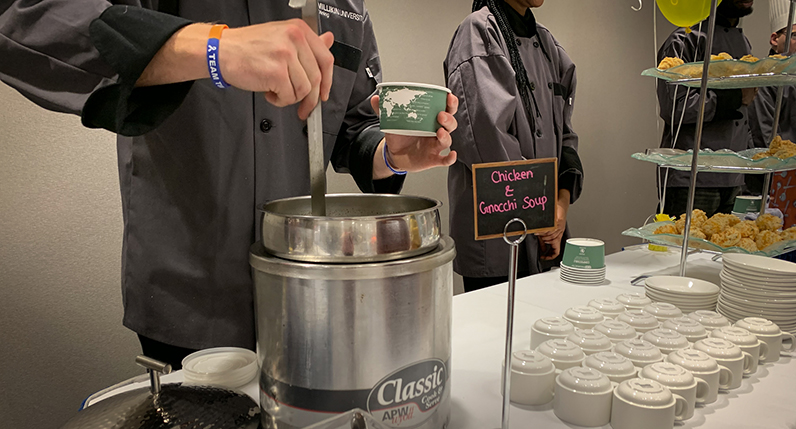 Tammy Moore Ashby, owner of Makin-Memories Rentals & Moore, was among the guest lecturers that presented to the marketing class throughout the semester. Moore Ashby also created and donated the decorations used for the event.
Skielyr Trenkle, a junior business management major from LeRoy, Ill., had the opportunity to work with Moore Ashby firsthand creating the decorations.
"It was so great for Tammy (Moore Ashby) to work with our class and donate her time and supplies to our fundraiser. Part of a successful event is creating an appealing atmosphere for the guests and she helped us do just that," Trenkle said.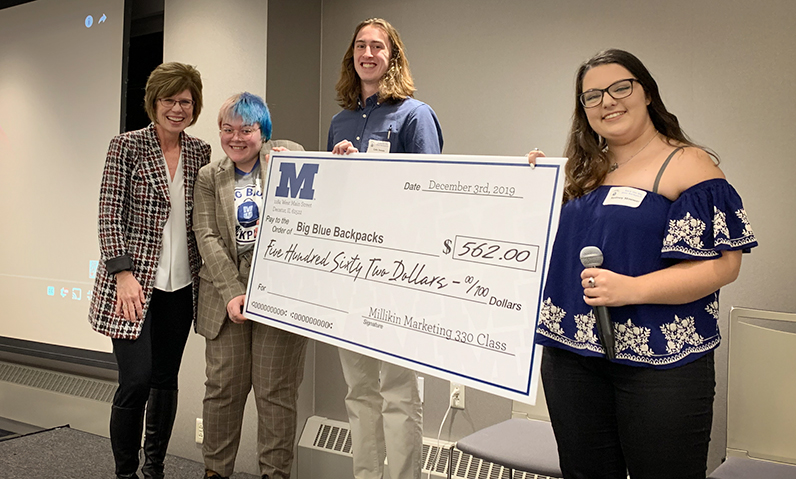 Combining ticket sales, silent auction bids and donations, the class raised a total of $700 in support of Big Blue Backpacks and donated hundreds of pencils to Dennis Lab School that were used as centerpieces for the event.
"Having a class that focused around a Performance Learning project that benefits an organization with such a great purpose was amazing," said Trenkle. "This wasn't just another class assignment … we made an impact in other people's lives."