Art Therapy undergrad named Robert Crowder Artist-in-Residence at Blue Connection
​Millikin University's Art Department and Center for Entrepreneurship have named Madison Ciaccio the 2017 Robert Harrison Crowder Artist-in-Residence at Blue Connection, Millikin's student-run retail art gallery.
Ciaccio is a junior art therapy major from Mahomet, Ill. She is currently studying painting and drawing, and works under the guidance of Professor Lyle Salmi, chair of the Art Department at Millikin. Ciaccio will showcase her artwork from May 22 – June 30, with After 5 Live showings on Friday, June 2, and Friday, Sept. 1. Her gallery hours will be 10 a.m. – 4 p.m., Tuesday – Friday.
"When I discovered I had received the Robert Crowder Residency, it simply felt right," said Ciaccio. "Never have I felt so enthusiastic or motivated to advance my own work. I have only recently begun to understand my own creations and what they really need to feel successful to me, personally. Because of this, I am so excited just to get into the studio and go."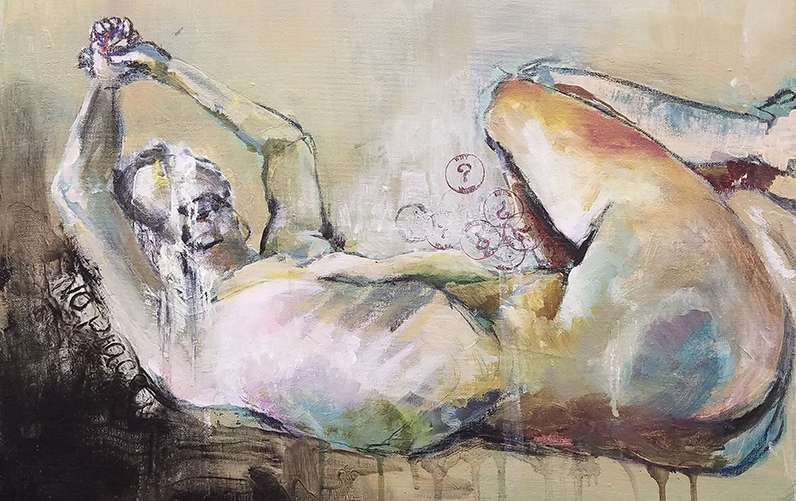 Ciaccio says she is most inspired by the complexities of the human form and explores these complexities using dual media. In her artwork Ciaccio addresses concepts of ambiguity and existence and finds herself drawn to specific color palettes and emotions.
"I also look forward to documenting my work in new ways, such as GoPro video, time lapse and process photos," said Ciaccio. "This residency will be a great opportunity to advance those kinds of skills with which I'm still experimenting. I hope to upgrade to even larger canvases and perhaps begin attempts at multiple-figure pieces."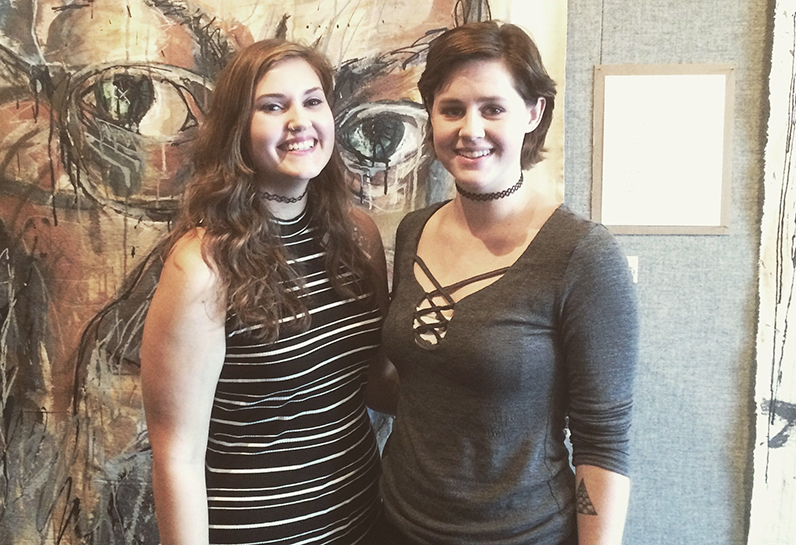 Ciaccio's mixed media work depicts the human form addressing boundaries of reality and questions of mortality. Her paintings attempt to evoke a sort of personal reflection and understanding of human existence.
"Perhaps the most crucial component of my work is the mingling of dual mediums," said Ciaccio. "Tension is captured between the rich line quality of charcoal and the varying, layered forms built with paint. Ultimately, the figure should pose a resolution to all the tension. Likewise, the tension helps viewers to understand what the figure is and why it exists the way it does."
Robert Harrison Crowder
The late Mr. Crowder, a member of the Millikin class of 1933 and a native of Bethany, Ill., owned his own art production firm in Los Angeles and specialized in Japanese-style painting that garnered a Hollywood clientele that included Elizabeth Taylor, among others. Today, his name lives on through his successful company, Robert Crowder & Associates. The design firm is now owned by Mr. Yasumasa Tanano, who established the Blue Connection Artist-in-Residency in memory of his mentor and former employer.
Julie Shields, director of Millikin's Center for Entrepreneurship, said, "Madison was chosen by a process that started with the Blue Connection students reviewing applications and making a recommendation to the Center for Entrepreneurship, Art Department and Alumni and Development Office. We're excited for Madison to be using the gallery as both a studio and a display place. She's a talented artist and we're sure the community will enjoy meeting her."
Blue Connection
Opened in 2003, Blue Connection is Millikin University's student-run retail art gallery located in the Madden Arts Center in downtown Decatur, Ill., and is currently led by program coordinator and adjunct faculty member Kate Flemming. Focused on arts and specialty businesses, the retail location is used by students in Millikin's Arts Entrepreneurship Program to grow their businesses. Products are conceived, designed and/or crafted by the students who sell them.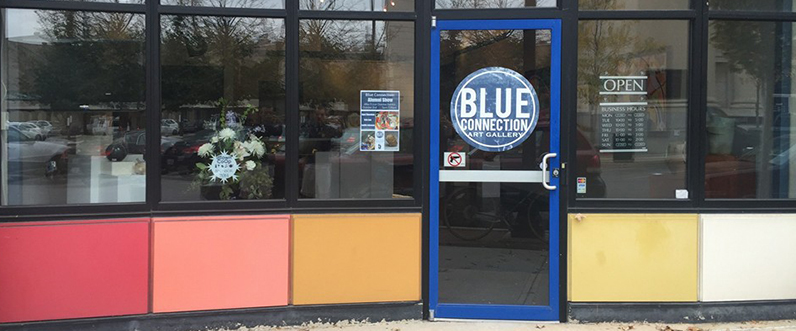 Millikin's Arts Entrepreneurship Program is a six-credit course sequence providing learning-based business opportunities for students to practice self-employment. The program utilizes curricular-based, experiential activities and student-run ventures to give students a live laboratory experience in developing, launching and growing a business. Rather than learn before doing, students are expected to learn while doing by first launching a micro-venture in the program's introductory course The Art of Entrepreneurship. Then, students explore growth though Blue Connection.
For more information about Millikin University's Blue Connection, visit blueconnectionartgallery.com or contact the gallery at 217.428.0112.