Millikin student artist to showcase ceramic work during residency
Millikin University's Art Department and Center for Entrepreneurship have named Margaret Luckenbill the 2020 Robert Harrison Crowder Artist-in-Residence at Blue Connection, Millikin's student-run retail art gallery.
Luckenbill is a senior art therapy major from Forsyth, Ill., with concentrations in ceramics, primarily wheel throwing, and black and white film photography. Luckenbill's residency runs July 13 – Aug. 21.
"The residency is something that will be beneficial to my growth as a maker," Luckenbill said. "Being named the Robert Harrison Crowder Summer Artist-in-Residence helped solidify that I have potential as a potter."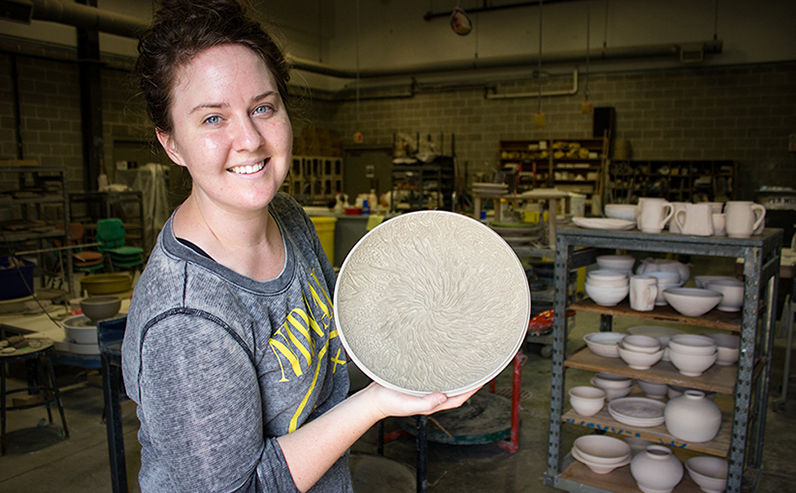 In the early stages of her artwork at Millikin, Luckenbill made pottery based on what felt good and what her eye was drawn to. But due to COVID-19 and courses transitioning to distance learning last spring, her attention was moved from "making to reflection." Currently, she has been focusing on hand carving.
"Hand carving acts as an active meditation. As an art therapy major, one of my favorite exercises is derived from something known as Zentangle. The purpose of this exercise is using lines and repetition to reach a meditative state," Luckenbill said. "Another reason I love hand carving is because it incorporates elements from what I absolutely love about my second concentration, which is black and white film photography. I admire the simple things, and I am mesmerized by shadow and light."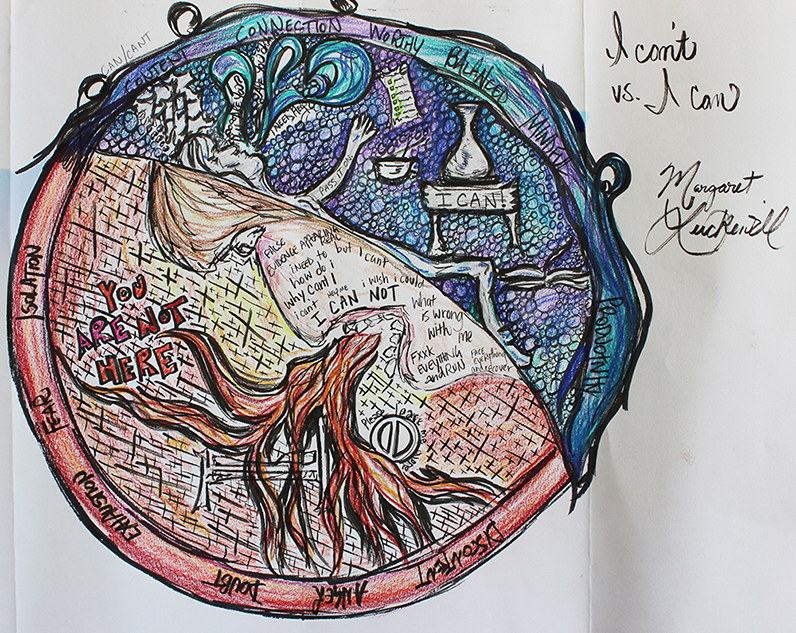 During her residency, Luckenbill will be creating a wall of bowls at the retail art gallery. She aims to further develop her own artistic expression through clay and plans to capture time-lapse videos of her ceramic work and the process by using a GoPro headset. She plans to showcase the bowl wall during an exhibition at Blue Connection in September. All of the proceeds from the bowl wall will be donated to the Good Samaritan Inn, a local not for profit organization that improves the lives of economically disadvantaged neighbors through daily nourishment, life skills education and job training programs.
Luckenbill says Millikin's art facilities, including Blue Connection, are the "epitome of Performance Learning."
"We are learning how to work by doing the work in an environment surrounded by experienced professors that have already done the things that I hope to do," she said. "It is very exciting to see the entanglement of the academic process, the artistic process and the exhibition process through this residency. This is a way to see the whole process come to light and that it is attainable for me after I am done with my studies at Millikin."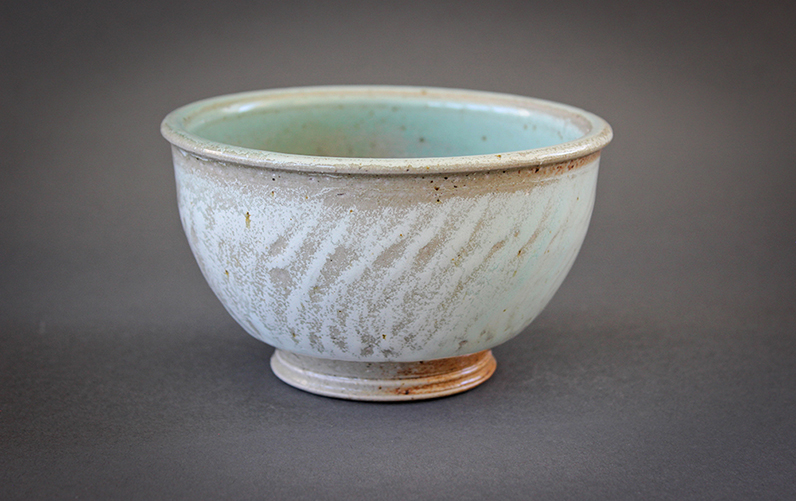 Luckenbill's residency will be under the guidance of Professor Lyle Salmi, chair of the Art Department, and Ed Walker, associate professor of art, who teaches the Blue Connection course at Millikin.
"The Robert Crowder Residency is a wonderful opportunity for select student artists to showcase what they do and to also highlight the importance of art, entrepreneurship and Performance Learning via one of Millikin University's most prominent student-run ventures, the Blue Connection Gallery," Salmi said. "Supporting Millikin's mission of combining theory and practice, the residency encourages students to find innovative ways in which to interact with the Decatur community."
Luckenbill hopes those who see her artwork will find a way to relate with it. "I'm hoping for some sort of engagement – within themselves or the world around them – but just appreciation of the form is more than what I could ask for," she said. "My hope is that my work provides a sense of calm from the fluid nature of the form."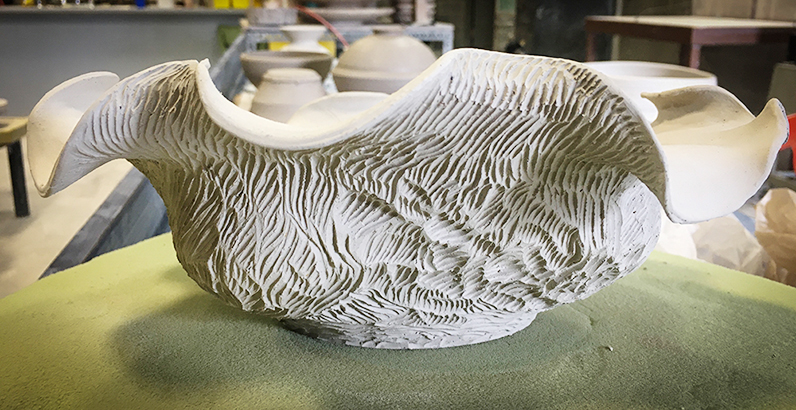 Robert Harrison Crowder, a member of the Millikin Class of 1933 and a native of Bethany, Ill., owned his own art production firm in Los Angeles and specialized in Japanese-style painting that garnered a Hollywood clientele that included Elizabeth Taylor, among others. Today, his name lives on through his successful company, Robert Crowder & Associates. The design firm is now owned by Mr. Yasumasa Tanano, who established the Blue Connection Artist-in-Residency in memory of his mentor and former employer.
"I can proudly say my knowledge is well-rounded from what I have learned at Millikin," Luckenbill said. "That is why I want to give back to the community through the bowl wall. I want to help others because so many have helped me along the way."
Blue Connection
Opened in 2003, Blue Connection is Millikin University's student-run retail art gallery located in the Madden Arts Center in downtown Decatur and is currently led by Associate Professor of Art Ed Walker. Focused on arts and specialty businesses, the retail location is used by students in Millikin's Arts Entrepreneurship Program to grow their businesses.
Millikin's Arts Entrepreneurship Program is a six-credit course sequence providing learning-based business opportunities for students to practice self-employment. The program utilizes curricular-based, experiential activities and student-run ventures to give students a live laboratory experience in developing, launching and growing an arts-based business.