Spring 2018 Commencement ceremonies set for May 19-20
Millikin University's Spring 2018 Commencement ceremonies for all graduating students will be held on the weekend of May 19-20.
Millikin's traditional ceremony for students will be on Sunday, May 20 at 2 p.m. at the Decatur Civic Center. The commencement ceremony will be available for live stream viewing at millikin.edu/graduation.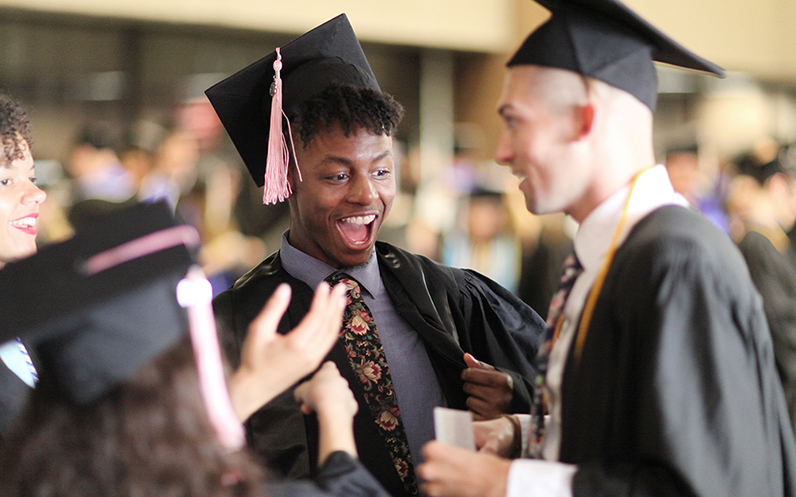 Millikin will host a ceremony for graduates of its Master of Business Administration (MBA) Degree Program on Saturday, May 19 at 7 p.m. at Albert Taylor Theatre inside Shilling Hall on Millikin's campus. Tickets are required for admission to both ceremonies.
Traditional Commencement
Millikin's traditional commencement ceremony on May 20 will mark the graduation of approximately 300 students.
Millikin alumnus and current Army Head Football Coach Jeff Monken '89 will deliver the commencement address. A native of Joliet, Ill., Monken graduated with a bachelor's degree in physical education from Millikin in 1989. He is set to begin his fifth season at Army in 2018.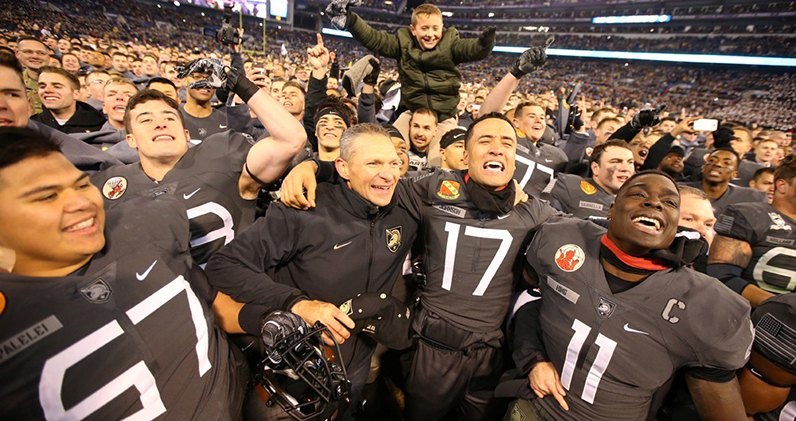 In 2017, Monken led Army to its first 10-win season since 1996, including a win over Navy and a bowl win over San Diego State in the Armed Forces Bowl. Jeff Monken was named Army's 37th individual head football coach on Dec. 24, 2013.
Monken was inducted into the Millikin University Athletic Hall of Fame in 2013.
​Monken began his coaching career as a graduate assistant football coach at the University of Hawaii during the 1989-90 season. After earning his master's degree in higher educational administration there in 1991, Monken served as a graduate assistant wide receivers coach at Arizona State University for one season and assistant coach for the wide receivers and tight ends and recruiting coordinator at the State University of New York at Buffalo from 1992-94.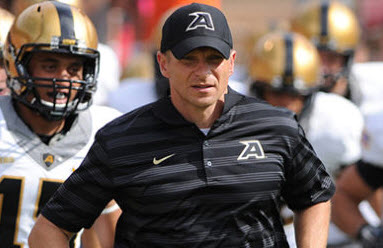 After a brief stint coaching at Morton High School in Berwyn, Ill., and at Concordia University in River Forest, Ill., Monken coached slotbacks and punters at Georgia Southern from 1997-2001. In 2002, Monken became slotbacks coach for the U.S. Naval Academy. Monken was slotbacks coach and special teams coordinator for Georgia Tech from 2008-10.
He returned to Georgia Southern in 2010 as head football coach. His 31 victories in three seasons ranked first in the Southern Conference and second nationally. He was named Southern Conference Coach of the Year and American Football Coaches Association Regional Coach of the Year in 2011.
As a Millikin student, Monken was a wide receiver on the football team. He also lettered twice in track and was co-captain of the 1989 track team.
The ceremony on May 20 will also include remarks by student Katie Meyer of Oswego, Ill., who is graduating with honors from Millikin with a Bachelor of Fine Arts. Meyer is a double major in communication and dance. Upon graduation, Meyer will begin a position at Limelight Theatre Company as a director and instructor, and hopes to continue her career and work as an actor in the Chicago market.
MBA Commencement
The commencement ceremony on May 19 will honor students receiving their Master of Business Administration degree from Millikin University.
The MBA commencement address will be delivered by Erik Brechnitz, who served on the Millikin Board of Trustees from 1996 to 2008 and now serves as Trustee Emeritus. Brechnitz is senior vice president of the Brechnitz Group of Raymond James & Associates, Inc. Erik and his wife, Nancy, currently divide their time between their homes in Decatur, Ill., and Marco Island, Fla.
The ceremony will also include a speech by MBA student speaker Scott Fawley. Fawley graduated with a Bachelor of Science in Biology from the University of Illinois at Urbana-Champaign in 1993. Fawley is originally from Carbondale, Ill., and is currently a maintenance supervisor at Mueller Company. Scott and his wife Jami live in Decatur with their four children.