Millikin softball pitcher leads Big Blue to unfamiliar territory
Millikin University senior softball pitcher Aly Armstrong, who recently earned a business management degree, has helped lead the Big Blue to unfamiliar territory this spring.
Armstrong recently threw two shutouts against Illinois Wesleyan helping the Big Blue win the CCIW Tournament and advance to the NCAA Division III Softball Championships. During the CCIW Tournament, Armstrong allowed only four hits and no runs in 12 innings of work.
This season, the Effingham, Ill., native posted a 19-4 record with a 1.79 ERA. She recorded 140 strikeouts in 156 innings pitched for the Big Blue.
"Aly is very stoic on the mound, that is our word for it. She is very composed and when we make an error or we give up a hit, it doesn't faze her," Millikin co-head coach Whitney Sowers said in an interview with the Herald & Review. "She is able to move on from pitch to pitch and makes adjustments on where she is throwing very well and is very composed on the mound."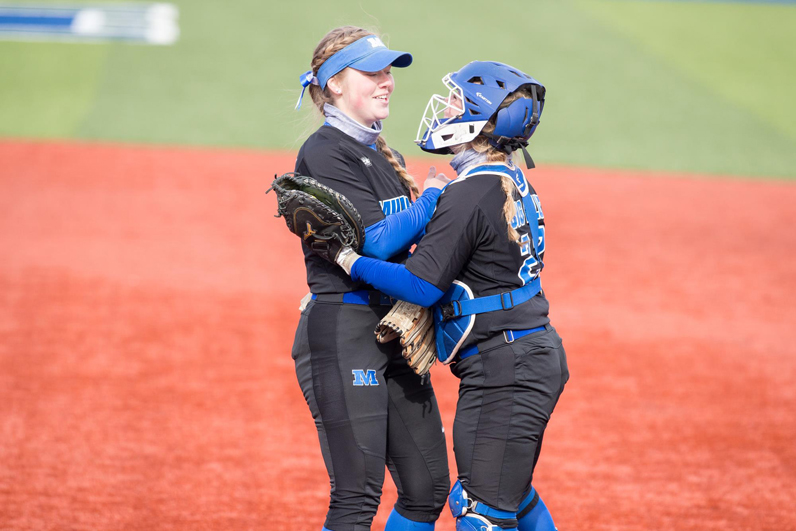 Sowers added, "She is very knowledgeable and she knows what she wants to do with the ball. She moves it around enough to keep batters off balance in the box and that makes it a lot easier to be successful."
"I'm trying to treat it just like any other game," Armstrong said. "You don't want to treat it any different. This season I have just been enjoying the time I'm getting to spend playing with my teammates and we are doing the best we can."
Senior center fielder Skielyr Trenkle, from Le Roy, Ill., said the motto for the season is "Forever for Each Other."
"This season has not been like the rest. It was hard at first to find ways for everyone to get together and bond, as well as make memories. But once we found ways to do that, just in smaller groups, it became a breeze," Trenkle said. "Our team found ways to smile beyond the mask and that clearly is showing now."
Whitney Sowers says the team has seen a lot of production from a lot of different people in the lineup.
"We really don't have times when just one person is producing, which is a really good thing," Sowers said. "That's what we have been seeing the last couple of weeks of our season and I think going into the regional we will see the same thing. We are also very connected as a team which is exactly what you want when your team is playing for way more than just wins and they are playing for each other."